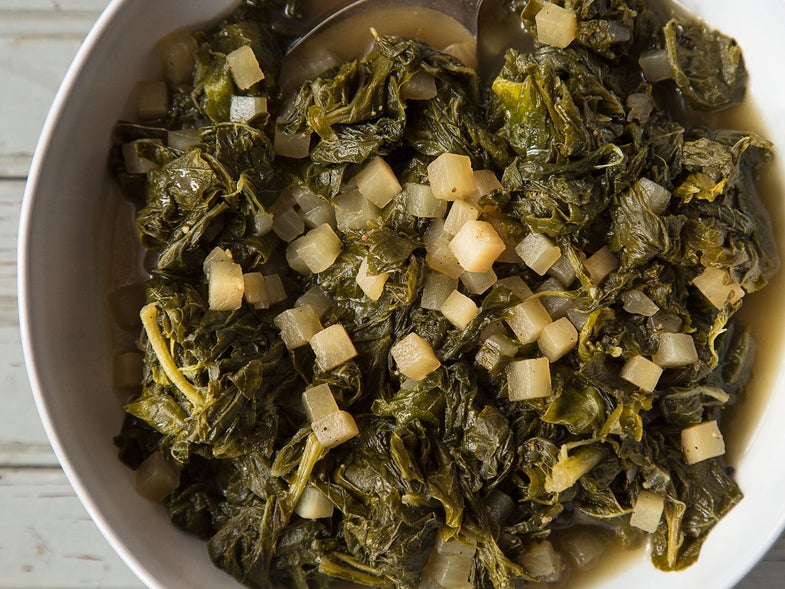 There's no shortage of greens you can cook, but the Memphis BBQ Company goes for turnips. The vegetables grow wild in the Mississippi Delta, and the greens can be cooked just like collards. Cube up the turnip roots for a full side dish.
Featured in: 4 Barbecue Side Dishes to Bring Home, No Smoker Required
Braised Turnip Greens
A lighter alternative to the typical collards.
Time: 3 hours
Ingredients
2 cups chicken stock
2 cups water
2 tbsp. olive oil
1 tbsp. + 1 tsp salt
1 tbsp. black pepper
1 tbsp. sugar
3 lb. washed turnip greens, coarsely chopped
2 medium turnips, peeled and cut into ½-inch cubes (about 2 cups)(optional)
1 to 2 ham hocks
Instructions
In a large pot or Dutch oven, combine the chicken stock and water; bring to a boil over high heat. Stir in the salt, pepper, and sugar. Add the greens and ham hocks, then bring the mixture back to a boil. Cover the pot and reduce to a simmer. Let cook until tender and the flavors have deepened, 1 ½ hours.