Recipes
Rhubarb Red Onion Chutney
Perk up everything from grilled cheese to roast meats with this sweet-savory spread.
Serves

Makes 2 cups

Cook

2 hours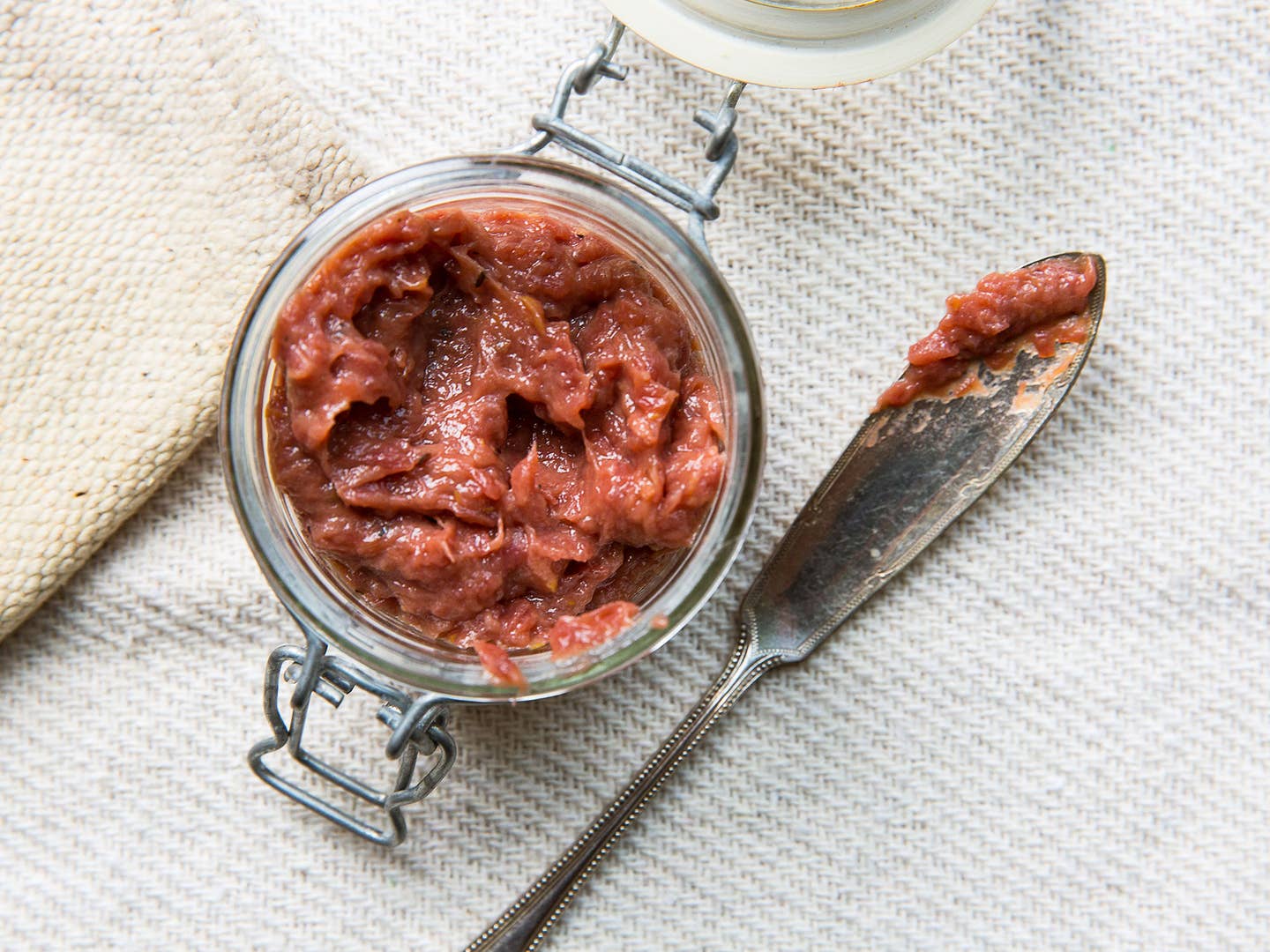 This rhubarb red onion chutney recipe comes from Anna Lise Kvan, of Paris's Holy Belly Café. She rightly calls it a labor of love since it requires patience and a little elbow grease—it's important to keep stirring to make sure the rhubarb and onions caramelize without sticking. Make a big batch, so you can keep it in the fridge for up to two weeks. She suggests pairing the chutney with roasted pork cutlets or tenderloin, or spreading it on turkey, chicken, or ham sandwiches. We also like adding it to grilled cheeses and charcuterie boards.
Ingredients
2 Tbsp. unsalted butter
2 Tbsp. olive oil
4 medium red onions, thinly sliced (7 cups)
1 tsp. fine salt
1 tsp. sugar
1⁄2 tsp. freshly ground black pepper
2 whole cloves
6 rhubarb stalks, cut into 1⁄4-in. pieces (4 ⁄2 cups)
1 Tbsp. finely grated lemon zest
Instructions
Step 1
In a medium pot over medium heat, heat the butter and oil until the butter melts and begins to foam, about 2 minutes. Add the onions and cook, stirring occasionally, until the onions are jammy and deep brown, about 1 hour. Add the salt, sugar, black pepper, cloves, and rhubarb and turn the heat to low. Cook, stirring occasionally, until the rhubarb is soft and broken down, about 50 minutes. Remove from the heat and stir in the lemon zest.