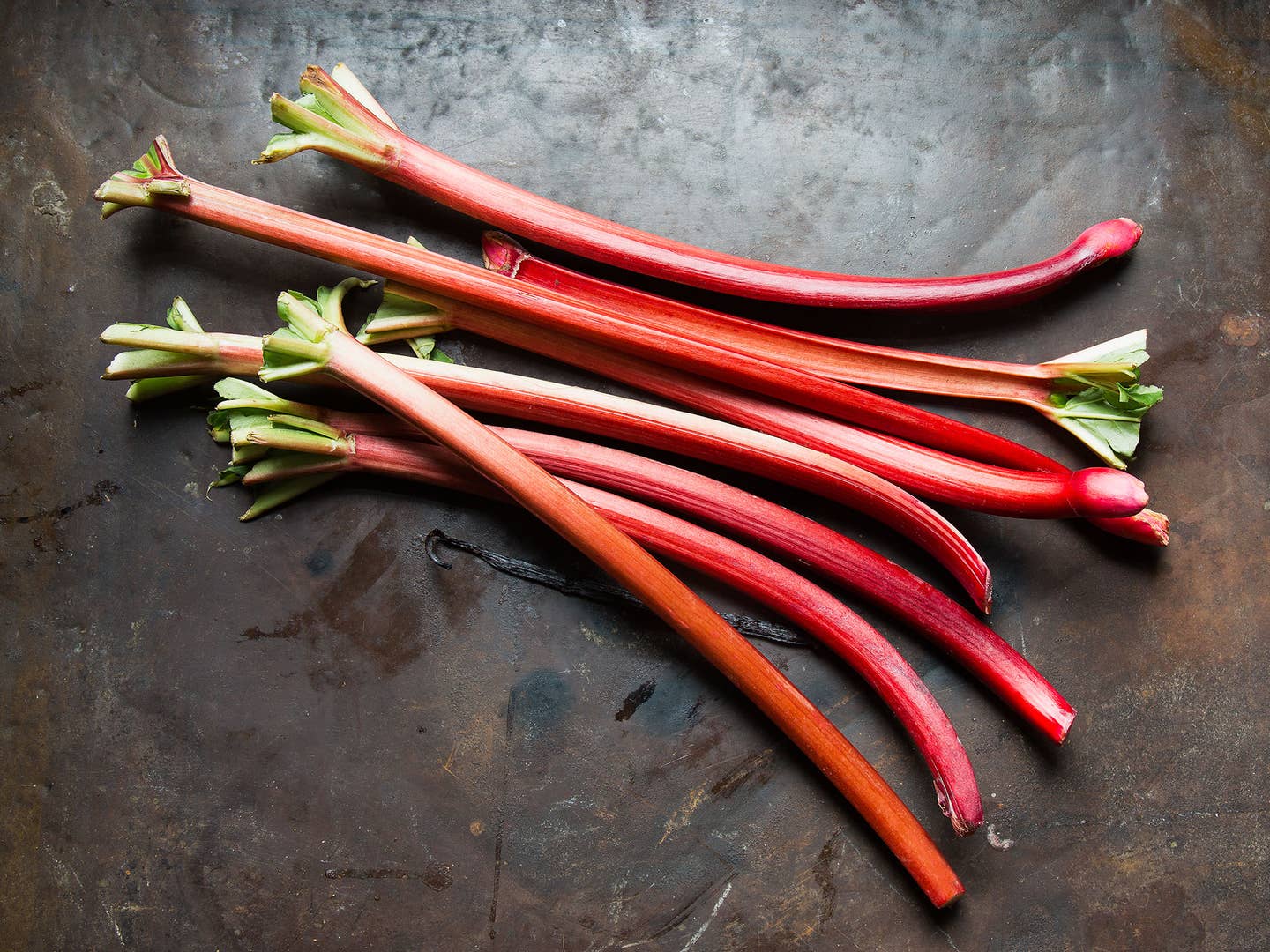 Techniques
How to Cook With Rhubarb (Beyond Turning it Into Pie)
The complete guide to shopping for and making the most of our favorite early spring produce
Being excited about the arrival of rhubarb is about as original as, well:
It might be a cliche, but there's a good reason for the annual excitement. As Renee Erickson, chef/owner of some of Seattle's most beloved restaurants, including Walrus & Carpenter, The Whale Wins, and Bar Melusine, puts it: "Rhubarb is one of the first spring ingredients that tells me I will make it through the dark cold days here in the Northwest."
You don't have to live in Seattle to appreciate her sentiment. After months of stored apples and wrinkly pears, finding bright magenta stalks of rhubarb at the farmers market is like seeing Technicolor after living in black and white all winter. It should be showing up any minute and, in case you can't tell, I'm excited about this stuff.
Rhubarb originated in western China, where it was prized as a medicinal ingredient. According to Zoroastrian lore, the first human couple emerged from the rhubarb plant. It made its way to Europe through Russia. In 17th-century England, it was used only medicinally, and was more expensive than opium. Europeans didn't start eating rhubarb until 1778. In the U.S., it was first grown in Maine just before 1800. It's a hardy plant that thrives in cold climates, and is a relative of buckwheat.
You might be used to mixing it with with sugar and primarily serving it for dessert but, technically, rhubarb is a vegetable. In 1947, the U.S. Customs Court ruled it a fruit because it's most commonly used in sweet dishes. This legal loophole (and complete disregard for phylogeny) made importing rhubarb less expensive—imported vegetables had higher taxes than fruits. In any case, rhubarb, the vegetable, is a versatile ingredient from which a lot of delicious things can be made.
Rhubarb can be grown in a hothouse or in a field. Extra-pampered stalks are grown in pitch-black hothouses and are harvested in candlelight; these stalks are known as forced rhubarb, and are a specialty of Yorkshire, England. But Yorkshire rhubarb doesn't make it to the States. If you see rhubarb that's bright magenta from end to end, it's likely forced rhubarb from Holland.
Hothouse rhubarb can show up as early as January and can last through April. Field-grown stalks can hit farm stands as early as March, and depending on climate, and can stick around through summer months. Take note: spring rhubarb is the most tender and juicy.
When shopping for rhubarb, look for stalks that aren't curled or limp. Fresh stalks are flat and firm. Check both ends for decay and insect activity. You don't want the stalks to feel pithy. Stalks with leaves are certainly beautiful, but please don't ever eat the leaves—they're poisonous.
Store rhubarb in the coldest part of your fridge, loosely wrapped in plastic. Only for a few days. It's a hardy plant, but it doesn't have the longest shelf life once picked.
How to Cook With Rhubarb (Beyond Strawberry Rhubarb Pie)
Try it Savory (and Juice It)
Jeremy Tannenbaum at Gramercy Tavern told me about a savory dish that uses rhubarb in various forms:
I'm really into the idea of making rhubarb juice, For those of us without juicers, Tannenbaum gives this advice: "To get rhubarb juice without a juicer, you need to slice it up small and blend it raw with a little bit of water to get it spinning, then let it drain overnight in a coffee filter to get all of the solids out."
Sarit Packer of Honey & Co. in London adds it to stews:
Chef Gerardo Gonzalez of Lalito in New York is imagining up a sweet rhubarb tamale: