Recipes
Roasted Apples and Bacon with Onions and Thyme (Æbleflæsk)
Serves

serves 8

Cook

45 minutes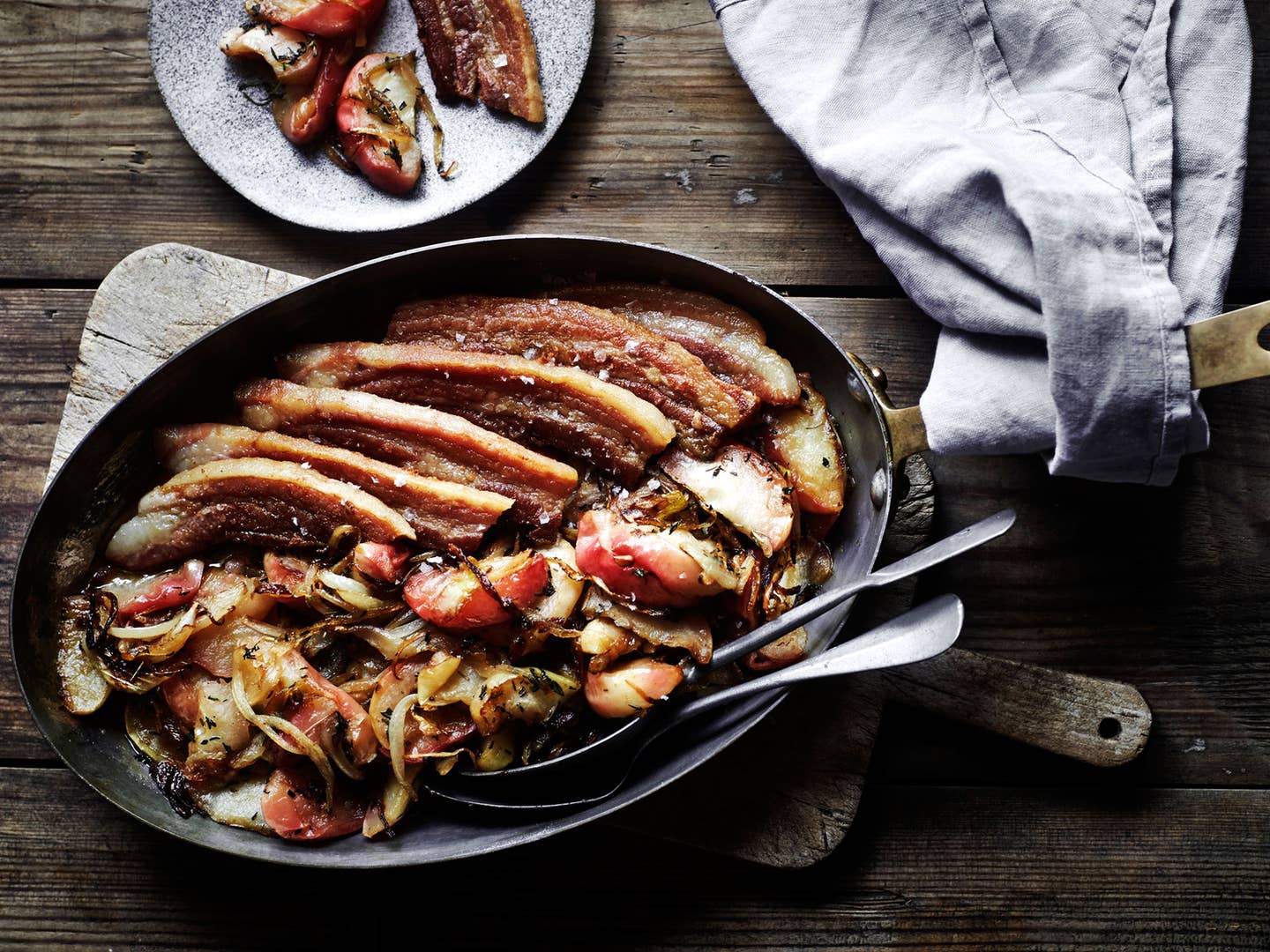 In a classic Danish treatment, sweet red apples are roasted with onions, caramelized in bacon fat, and served under thick steaks of smoked belly bacon. Use a hearty baking apple, such as Braeburn or Gala, that will stand up to roasting and keep its shape while becoming tender and caramelized.
Ingredients
4 tbsp. unsalted butter
1 whole (1-lb.) piece slab bacon, cut across the grain into eight 1/2-inch-thick slices
Kosher salt and freshly ground black pepper
2 large yellow onions, thinly sliced lengthwise
1 tbsp. thyme leaves
2 1⁄2 lb. (about 6) medium sweet baking apples, cored and cut into 12 wedges each
Instructions
Step 1
In a 12-inch nonstick skillet, melt the butter over medium-high heat and season the bacon with salt and pepper. Add half the bacon slices to the skillet and cook, turning once, until caramelized on both sides and tender, 8 minutes. Transfer the bacon to a plate and repeat with the remaining 4 slices of bacon.
Step 2
Heat the oven to 400°. Drain off all but 1⁄4 cup of the rendered fat and return the skillet to medium heat. Add the onions and cook, stirring occasionally, until caramelized and soft, about 20 minutes. Stir in the thyme, remove the skillet from the heat, and scrape the onions into a 9-by-13-inch baking dish or small roasting pan.
Step 3
Add the apples to the onions, toss to coat evenly in the fat, and bake, stirring once halfway through, until the apples are just tender and lightly caramelized, about 20 minutes. Using tongs, push the apples and onions to one side of the baking dish and nestle the bacon slices next to them. Continue baking until the apples are very tender and the bacon is warmed through, about 10 more minutes. Transfer the dish to a rack and let cool for 10 minutes before serving.