Recipes
Dried Apricot and Fig Clafoutis with Rum
Serves

serves 8 people

Cook

1 hour 30 minutes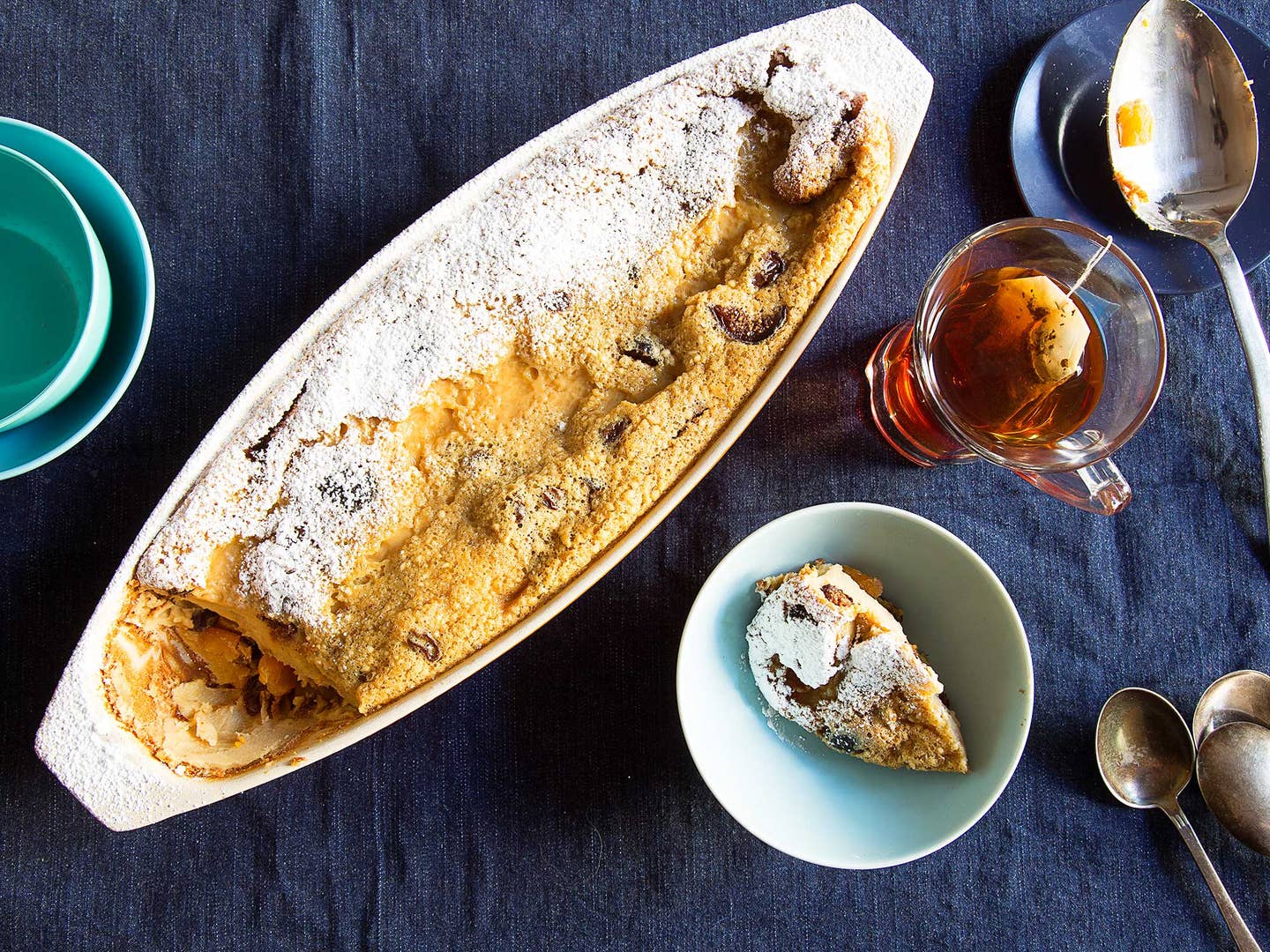 Clafoutis is a French dessert that's trickier to pronounce than to make. A simple mixture of flour, eggs, dairy, and a little sugar, it's like a pancake, but more custardy, and it's baked instead of griddled. It looks and tastes impressive the way classic French desserts often do, but it's simple enough to whip up any weeknight. Rum-soaked dried apricots, figs, and raisins add their caramelized and honeyed flavors to this creamy version, perfect for cold weather when there's no fresh fruit around.
If you like, pour the reserved rum in a small saucepan, bring to a boil, and reduce to about 2 tablespoons. Let the reduction cool completely then fold into 2 cups whipped cream to serve alongside the clafoutis.
Ingredients
1⁄3 cup (2 oz.) golden rasins
1⁄2 cup (3 oz.) dried apricots, cut into quarters
1⁄2 cup (3 oz.) dried figs, stemmed and cut into quarters
1 cup dark rum
Unsalted butter, for greasing
3⁄4 cup (5 1/4 oz.) sugar, plus more for the pan
1⁄4 cup unsulphured molasses (not blackstrap)
5 large eggs, at room temperature
1⁄2 vanilla bean, seeds scraped
1 1⁄2 cups (6 3/4 oz.) all-purpose flour
1 tsp. kosher salt
2 cups half-and-half
Confectioners' sugar, to garnish
Whipped cream, for serving
Instructions
Step 1
In a small bowl, soak the raisins, apricots, and figs in the rum for 24 hours. Alternatively, cover the bowl with plastic wrap and microwave the dried fruit in rum for 2 minutes let cool completely. Drain the fruit from the rum and reserve each in separate bowls.
Step 2
Heat the oven to 350°. Grease a 10-inch baking dish with butter then sprinkle with some sugar to coat. In a large bowl, whisk the 3⁄4 cup sugar with the molasses, eggs, and vanilla seeds until smooth. Add the flour and salt and stir until just combined, then whisk in the half-and-half. Pour the custard into the prepared baking dish then sprinkle with the soaked fruit. Bake until the custard is puffed, golden brown, and set, 45 minutes to 1 hour.
Step 3
Transfer the baking dish to a rack and let cool for 10 minutes. Dust the clafoutis with confectioners' sugar then spoon into serving bowls and dollop with whipped cream.