Recipes
Salted Fried Shrimp
Dunk these crunchy bites in sour lime juice or pop them down the hatch, heads and all.
Serves

serves 4

Cook

45 minutes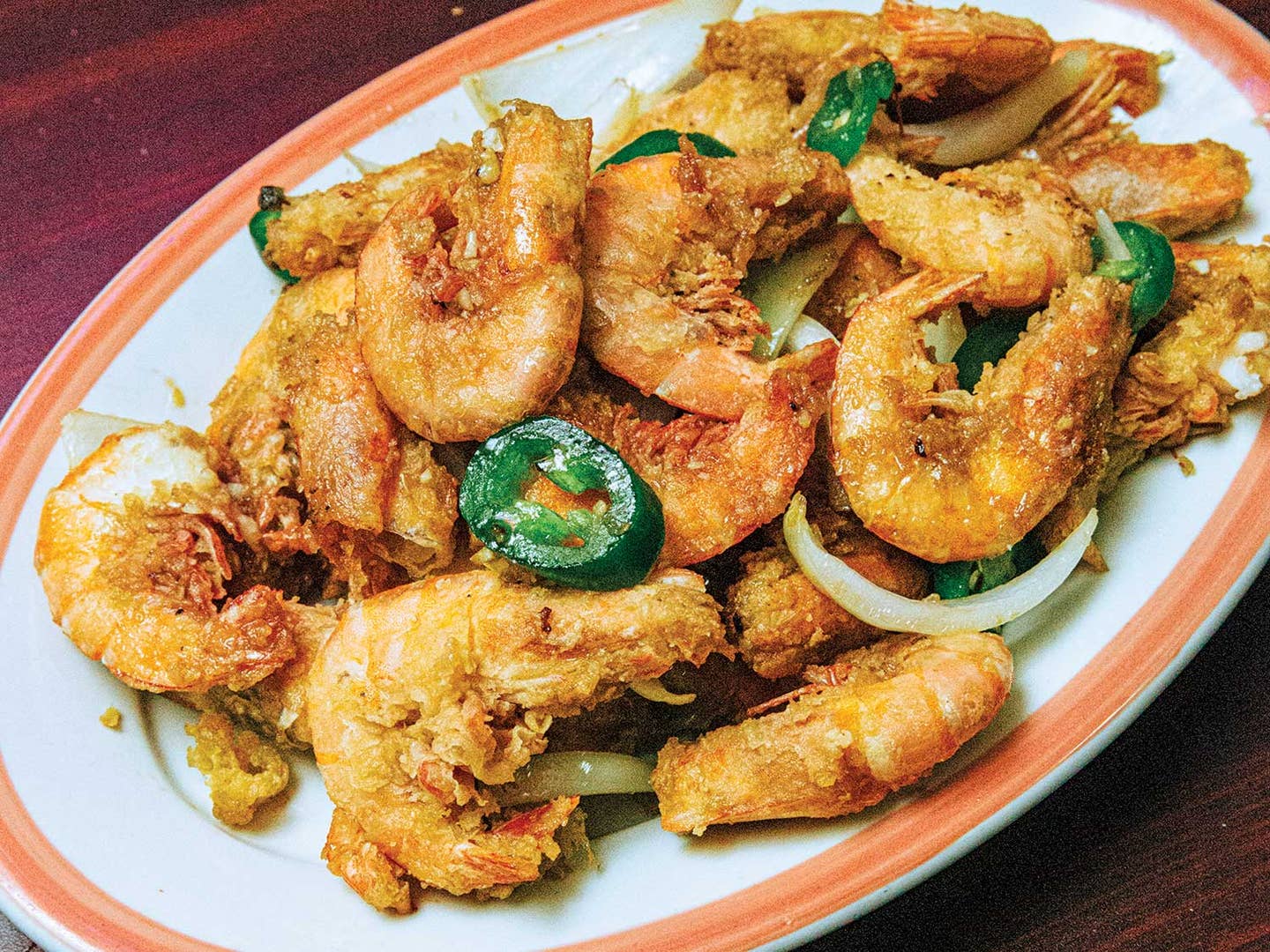 The crunchy shells of these twice-fried shrimp from karaoke bar Hoàng Gia in East New Orleans are fully edible. Local shrimpers of Vietnamese descent enjoy this dish as a snack or appetizer, dunked in a salty-sour lime juice. Fry the shrimp in batches and avoid crowding the pot, which will lower the temperature of the hot oil.
Ingredients
2 tbsp. vegetable oil, plus more for deep frying
¼ cups fresh lime juice
Kosher salt and freshly ground black pepper
⅓ cups rice flour
1½ tsp. sugar
2 large eggs
3 lb. jumbo head-on shell-on Gulf shrimp
1 tbsp. finely chopped garlic
2 tbsp. oyster sauce
2 tbsp. sesame oil
½ medium yellow onion, thinly sliced
2 large jalapeños, sliced into ¼-inch-thick rounds
Instructions
Step 1
Attach a deep-fry thermometer to a skillet or Dutch oven set over medium-high heat and pour in vegetable oil to a depth of 2½ inches.
Step 2
While the oil heats, in a small bowl, whisk together the lime juice and a generous pinch each of salt and black pepper; set aside.
Step 3
In a large bowl, whisk together the rice flour, sugar, eggs, and salt and black pepper to taste. Add the shrimp and turn to coat with batter.
Step 4
Line a baking sheet with paper towels and place it beside the stove. When the thermometer reads 350°F, fry one quarter of the shrimp, turning occasionally, until crisp and cooked through, 3–6 minutes. Use a slotted spoon to transfer to the lined baking sheet, then repeat with the remaining shrimp.
Step 5
To a large wok set over high heat, add the 2 tablespoons of oil and swirl to coat. Add the garlic and cook, stirring continuously, until fragrant (do not brown), about 1 minute. Add the oyster sauce and sesame oil followed by the fried shrimp, onion, and jalapeño slices. Cook, tossing or stirring continuously, until the shrimp are evenly coated in the sauce, 1–2 minutes.
Step 6
To serve, turn out onto a warmed platter alongside the seasoned lime juice for dipping.