5 Great Rosé Sparklers for Summer
Water's overrated. Take chef Sarah Simmons' advice and drink sparkling rosé instead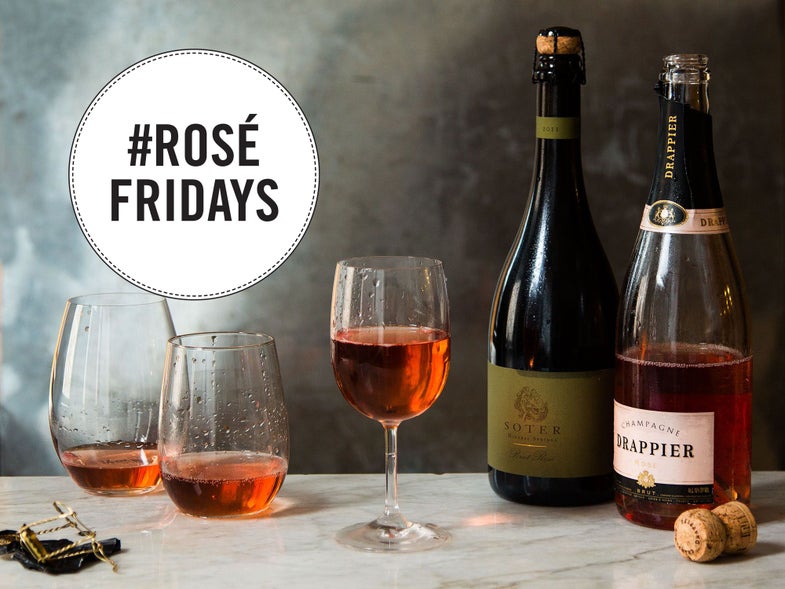 For chef Sarah Simmons, summer means bubbly rosé—and lots of it. Sparkling wine is an everyday indulgence for the New York-based chef, who's bringing her Southern-influenced cooking to our 6th annual Summer Cookout next week. Her restaurant Birds & Bubbles was founded on the idea that "you don't have to wait for Sunday Supper to have fried chicken, or a wedding or anniversary for Champagne," and the menu features over fifty bottles of bubbly in service of that principle. Here, she shares her favorite five bottles for drinking with picnic foods, grilled dishes, or just with a friend on a porch.
I love rosé in general, but sparkling rosé has a brightness and acidity and effervescence that make it a particularly nice complement to most foods—especially rich, spicy, meaty foods. Right now I can't stop thinking about a grilled ribeye with chimichurri, drizzled with a little Calabrian chile oil and paired with a bottle of crisp, sparkling rosé. When former Ma Pêche chef Tien Ho came to cook at CITY GRIT, our reservations-only supper club for visiting chefs, he served a corn crêpe with a really spicy bacon chile jam that I often wish would magically appear when I pop open a dry, fruity bottle.
Every night at Birds & Bubbles, at some random point in the evening, we have "Today's Toast" when everyone in the dining room stops—no matter what course they are on—and we have a shot of sparkling to celebrate the day. Lately we've been toasting with a lot of sparkling rosé—or as we like to call it, "summer water." And we definitely have our favorites. Here are our top picks from the new rosés that our beverage director, Ariel Arce, has added to the menu for summer, along with a few we drink year-round:
Georges Vigouroux Bellefleur de Haute-Serre Brut Rosé: This is a sparkling Malbec from Cahors that is super elegant and feminine with lots of soft red fruit and white flower notes. We love to recommend this with our Shrimp Rillette and Roasted Carrot & Avocado Salad. $44 at brooklynwines.com
Soter Mineral Springs Brut Rosé: Made through methode champenoise—meaning it's bottle-fermented and bottle-aged the way Champagne is—this Pinot and Chardonnay blend from Oregon is full of body with luscious fruit. Ariel thinks Soter is the best American producer making sparkling wines with this method. It's a great complement to shrimp and grits. $57 at empirewines.com
Larmandier Bernier Brut Rosé de Saignée: This wine from Vertus drinks like a red wine with bubbles. It's nice, tannic, and dry, even though it looks like fruit punch. We love this one with fried chicken or a grilled steak. $63 at saratogawine.com
H. Billiot Brut Rosé Champagne: This is a Birds & Bubbles favorite because it stands up well to spicy or boldly flavored foods. It tastes like raspberries and tangerines and summer! This would be lovely with the jerk wings we are serving at the SAVEUR cookout. $55 at klwines.com
Drappier Brut Rosé: Made from 100% pinot noir, with no dosage, the small amount of sweet wine added to bottles made in the methode champenoise before bottling, this wine tastes like tart summer cherries. It would be the perfect pairing for a picnic packed with cold fried chicken, salads, deviled eggs, and sweets. $59 at wine.com
Sarah Simmons is the founder of CITY GRIT and the chef and owner of Manhattan restaurant Birds & Bubbles.