Recipes
Grilled Farmer Sausage with Pepper Relish (Boerewors Rolls with Chakalaka)
Serves

serves 8

Cook

50 minutes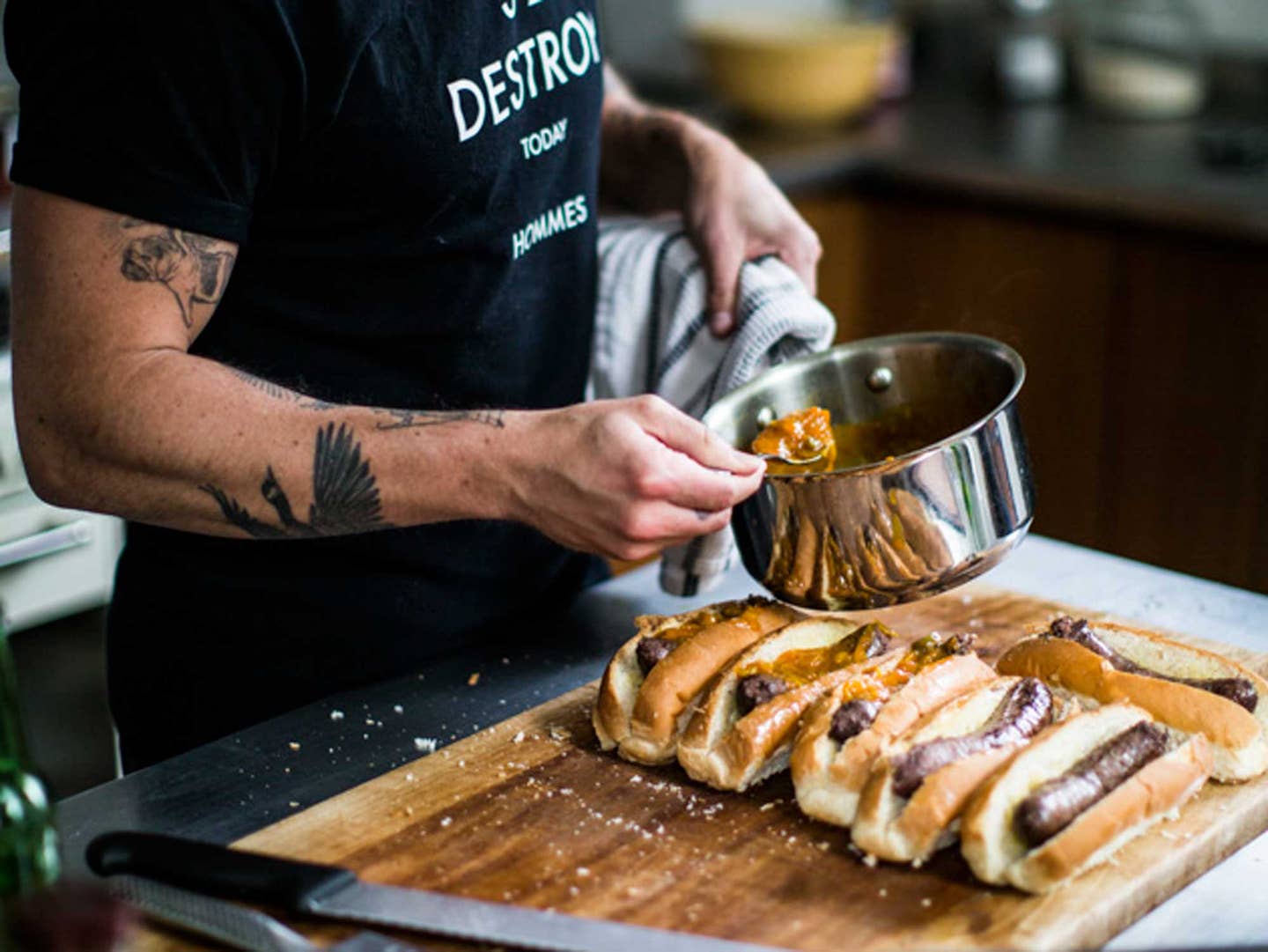 "Ask any South African the first thing they buy for a braai. They'll tell you it's boerewors," says butcher Andy Fenner. Uniquely South African, boerewors is a sausage made from ground beef, roasted coriander seeds, salt, and vinegar, thrown on the grill and sometimes served in a bun. Instead of mustard or ketchup, Fenner opts for a homemade chakalaka, a spicy pepper relish local to the region.
In Cape Town, summer means braai—the unifying tradition of good, old-fashioned, gather-round-the-fire barbecue
Ingredients
For the sausages
8 boerewors or another spiced beef or pork grilling sausage (about 2 1/4 lb.)
1 tbsp. olive oil
8 hot dog buns, toasted if desired
For the chakalaka
3 tbsp. olive oil
1 large yellow onion, finely chopped (2 cups)
Salt
1 each green, red, and yellow bell pepper, finely chopped (4 1/2 cups total)
2 tbsp. mild curry powder
2 green bird's-eye chiles, minced (1 Tbsp.)
2 large garlic cloves, minced
One 2-inch piece ginger, peeled and grated (2 Tbsp.)
5 large carrots, scrubbed and coarsely grated (4 cups)
1 3⁄4 cups canned diced tomatoes and their juices (14 oz.)
2 tbsp. tomato paste
Leaves from 2 thyme sprigs
Freshly ground black pepper
Instructions
Step 1
Prepare the sausages: On a large plate, rub the sausages with the oil. Let rest to dry out the casings slightly (this allows for a snappier texture once cooked), 30 minutes.
Step 2
Meanwhile, make the chakalaka: In a large skillet over medium-high heat, heat the olive oil. Add the onion and season with salt; cook, stirring, until translucent, 10 minutes. Stir in the bell peppers, curry powder, chiles, garlic, and half of the ginger; cook, stirring, 2 minutes. Add the carrots, season with salt, and stir. Add the tomatoes and their juices, 1 cup water, and the tomato paste, stirring to combine. Lower the heat to medium and simmer until the vegetables have softened and the mixture has thickened slightly, about 15 minutes. Remove and stir in the thyme, the remaining ginger, and salt and pepper to taste.
Step 3
Preheat the grill to medium heat. Add the sausages and cook, turning occasionally, until browned and no longer pink in the centers, 12–15 minutes (check sausages in one place to avoid juices escaping).
Step 4
Place each sausage in a bun. Top with chakalaka and serve.