Recipes
Sautéed Maitake Mushrooms with Red Chiles and Cilantro
Serves

serves 6-8

Cook

25 minutes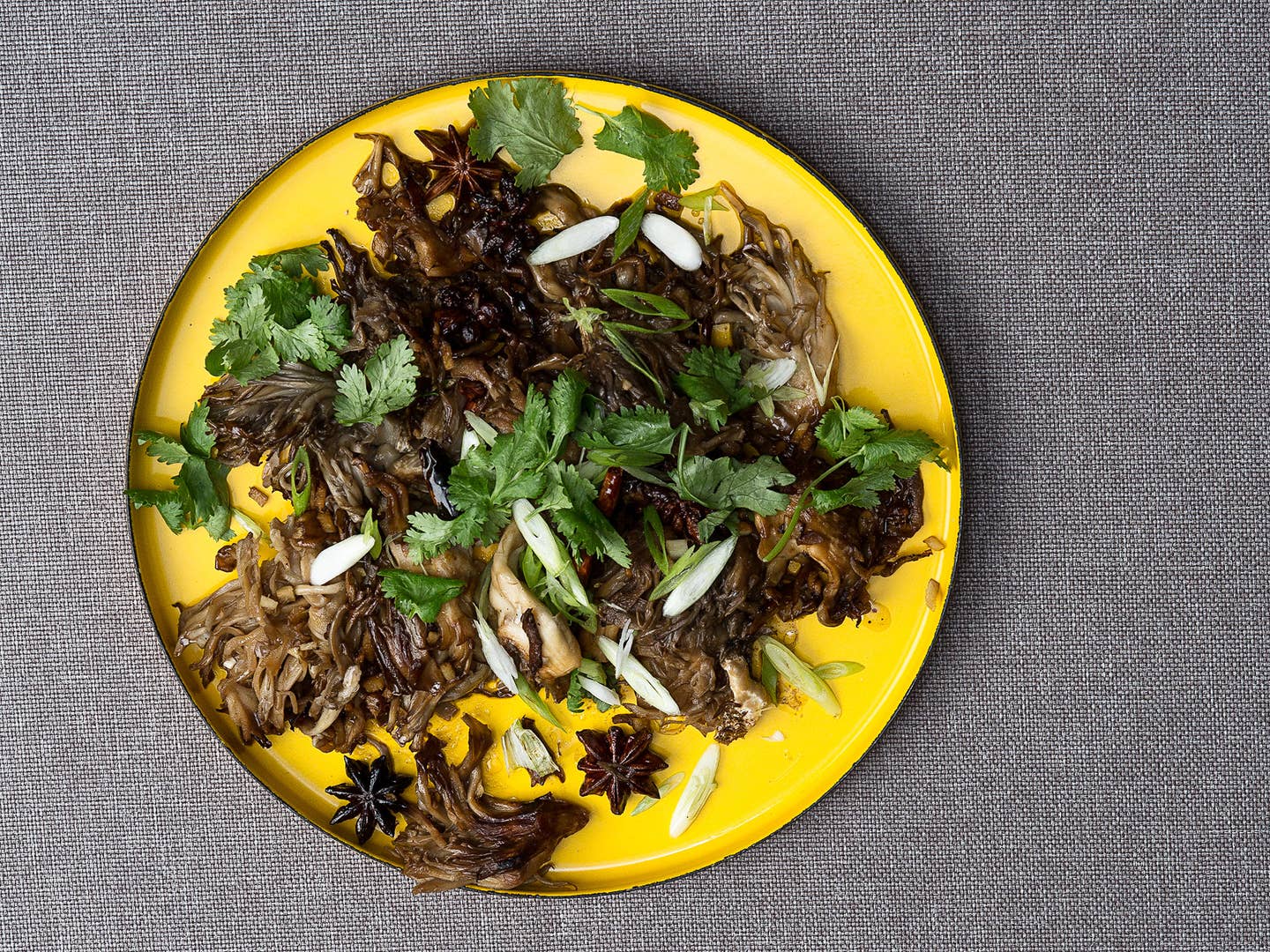 Adapting her mother's Shanghai-style mushroom stir-fry—fragrant with star anise, chiles de árbol, and cilantro—Cara Stadler of Tao Yuan in Brunswick uses meaty maitake mushrooms, which are abundant in Maine in the fall. Keep the mushrooms in large chunks so they can brown to a crisp on the outside while remaining tender inside. If you can't find maitake mushrooms, use oyster, hen of the woods, or whole chanterelle mushrooms as a substitute.
Ingredients
1⁄4 cup plus 2 tbsp. vegetable oil
10 dried chiles de árbol
8 whole star anise
2 lb. maitake mushrooms, torn in half by hand into large 3–4-inch pieces
2 tbsp. minced ginger
1 tbsp. plus 1 tsp. minced garlic
1⁄4 cup soy sauce
2 tbsp. vegetable stock
1 tbsp. plus 1 tsp. packed light brown sugar
1⁄2 cup loosely packed cilantro leaves
3 scallions, thinly sliced crosswise on the bias
Instructions
Step 1
In a large wok or high-sided skillet, heat the oil until it begins to smoke. Stir in half the chiles and star anise and toss in the oil until fragrant, about 20 seconds. Add half the mushrooms in a single layer, toss in the oil, and cook, undisturbed, until caramelized and crisp on the bottom, about 4 minutes. Toss again and cook, undisturbed, until caramelized and crisp, about 2 minutes more.
Step 2
Using a slotted spoon, remove the mushrooms, chiles, and star anise from the wok and transfer to a plate. Return the wok to the heat and repeat with the remaining chiles, star anise, and mushrooms.
Step 3
Return all the chiles, star anise, and mushrooms to the wok along with the ginger and garlic and cook, tossing, until fragrant, about 30 seconds. Pour in the soy sauce, stock, and sugar and cook, tossing, until the sugar dissolves and the garlic and ginger are tender, about 1 minute. Transfer the mushrooms, spices, and chiles to a large serving platter and sprinkle with the cilantro and scallions before serving.