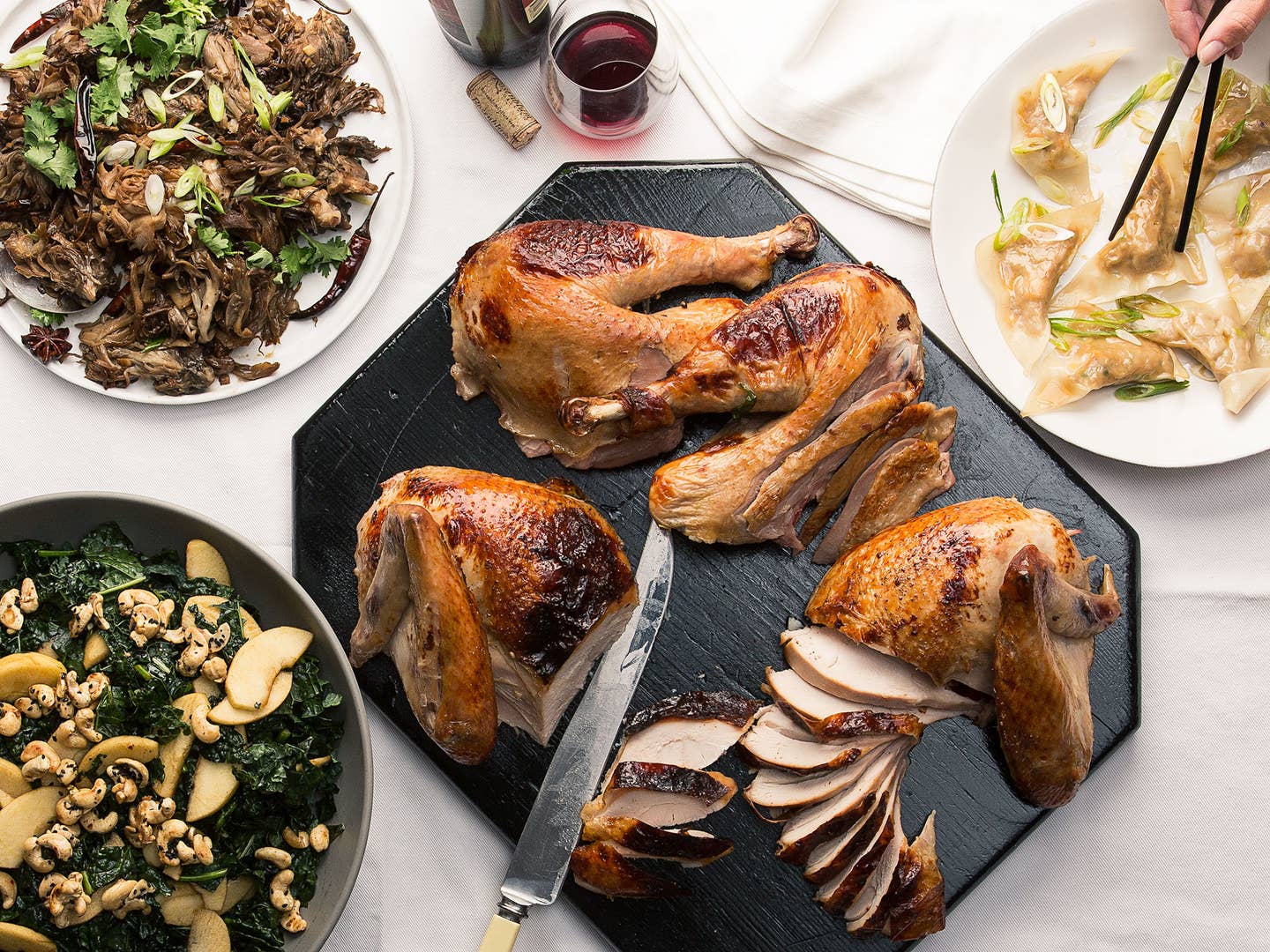 Recipes
A New England Thanksgiving with a Chinese Twist
After returning from Beijing, chef Cara Stadler prepares a Thanksgiving Feast with a few Far East touches
My girlfriend still gives me flak about it. "Do you remember that time you didn't make Thanksgiving on Thanksgiving?" she asks, peeved.
That was our first year living in Maine, and I had the half-cracked notion to do an all-Chinese Thanksgiving replete with Peking-style duck. After seven years of cooking professionally in various cities—Berkeley, California; Philly; Paris; Singapore; and, most recently, Beijing—I had just returned to the U.S. I missed the food from China, all those full, intense flavors, the slow burn of Sichuan peppercorns. So on Thanksgiving Day, I bought ingredients for a cauliflower, bacon, and scallion stir-fry; another with bok choy, whole chestnuts, and shiitake mushrooms; wok-fried potatoes; and Peking-style duck.
"Why can't you just make a turkey and mashed potatoes like every other family?" she asked, as she helped me take down the duck I had hung in my kitchen to dry before roasting. Two other chefs, who were too busy to go home, would be arriving soon.
The funny thing is: I grew up with the turkey-and-mashed-potatoes Thanksgivings. Food holidays were big in our house, and even though we were a culturally mixed family, the celebrations were strictly traditional. My mother is Chinese and my father is Jewish, so we had both Chinese New Year and Passover. Thanksgiving was all New England. Every year, we drove from our home in Massachusetts to my dad's family's house in the thick of the Maine woods. Packed with more than 20 relatives, it was very big and it was very loud. The adults would each make their own special dishes. My mother, who typically cooked homey Shanghai food, always brought a cranberry bread and relish. Afterward, we would all play charades.
The year of the Chinese duck Thanksgiving, my parents were living in Beijing, and it was the first time I cooked the holiday meal. Everything was delicious, but I got the sense that our small group of displaced chefs just wanted what they grew up eating. If the world's greatest chef offered to cook for you on Thanksgiving, you'd probably still want turkey and Brussels sprouts.
So for this Thanksgiving, I've tweaked the menu to be a play between the holiday's traditional dishes and Chinese flavors. In Maine, we get great foraged maitake mushrooms, which I use in my mother's home-style Shanghainese dish with star anise, ginger, and soy. The local winter squash are also phenomenal, and I mix them into pork dumplings. I use Brussels sprouts, that staple Thanksgiving side, for a Sichuan-style stir-fry with bacon and chestnuts. And the raw kale salad with black-sesame maple cashews and a punchy Shanxi vinegar dressing is my girlfriend's recipe. Instead of duck, I brine a turkey with the Peking spices—Sichuan peppercorns, star anise, black cardamom, and more. I don't have one of the special Peking duck ovens that are crucial for that crackly skin, but I do have a simple smoker, which adds a depth of flavor to the meat. The turkey is exceedingly moist and permeated with earthy Chinese spices and smoky flavors. It may not be exactly what you've always had on Thanksgiving, but it's so drop-dead delicious that you just might consider starting a new tradition.