Up Your Mushroom Game With This Shanghai Stir-Fry
Maitake mushrooms get crisped up with a bit of spice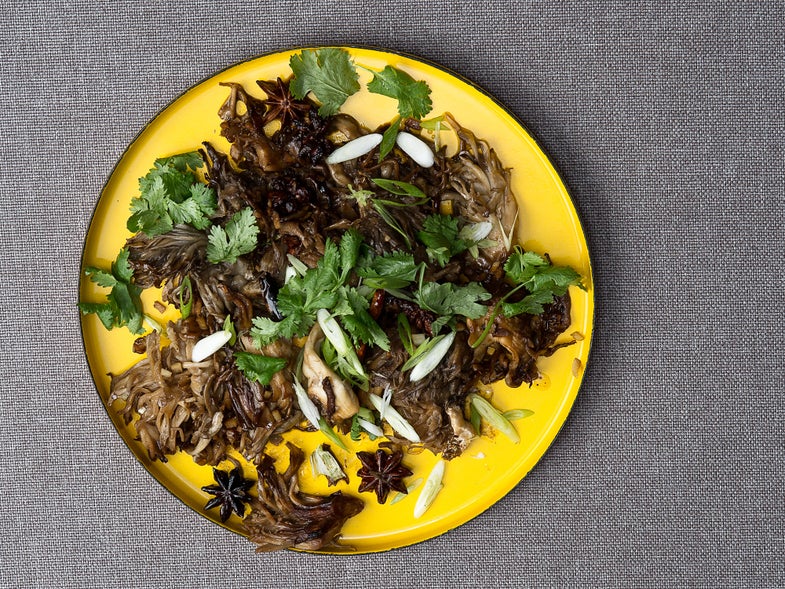 If you're looking to change up your stir-fry game, this Shanghai-style mushroom dish delivers an intense punch of flavor. The mushrooms, kept in large pieces, get crispy on the outside and remain tender on the inside, and become fragrant with star anise, chiles de árbol, and cilantro.
Chef Cara Stadler of Maine restaurant Tao Yuan made these, a tweaked version of her mother's recipe, alongside a smoked and spiced turkey for a fusion Thanksgiving dinner, combining some of her Chinese favorites and traditional American dishes. In her version, maitake mushrooms, which are abundant in Maine in the fall, are spiced with ginger, soy, and star anise.
If you can't find maitake mushrooms, oyster, hen of the woods, or whole chanterelles work well as a substitute. Pair the stir-fry with these Roasted Squash and Pork Dumplings and an Apple and Kale Salad with Black-Sesame-Maple Cashews and you've got a menu where full, intense flavors play front and center.