Recipes
Apple and Kale Salad with Black-Sesame–Maple Cashews
Serves

serves 6-8

Cook

35 minutes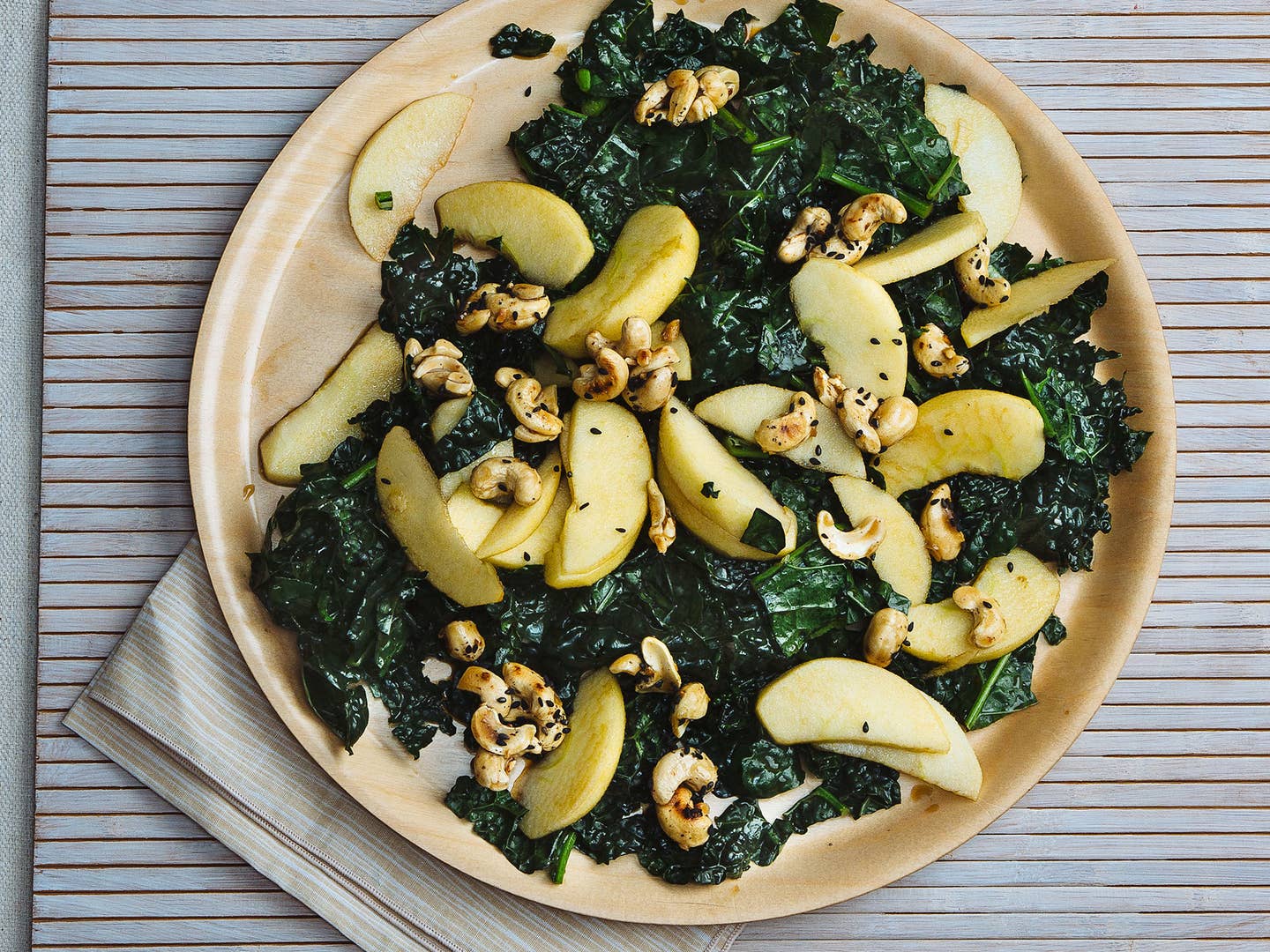 Crunchy cashews coated with maple syrup and sesame seeds, and a boldly piquant dressing of Shanxi vinegar, add texture and verve to the classic kale salad from chef Cara Stadler of Tao Yuan in Brunswick, Maine. This vinaigrette is sharper than most, so if you prefer less acidity, add up to 1/4 cup more vegetable oil.
Ingredients
1 cup cashews
1 tbsp. black sesame seeds
2 tbsp. maple syrup, preferably Grade B
1⁄2 cup plus 2 tbsp. Shanxi vinegar
1⁄4 cup apple cider
1⁄4 cup sugar
2 tbsp. vegetable oil
4 cups packed roughly chopped lacinato kale
Kosher salt and freshly ground black pepper
1 Cortland apple, peeled, cored, and cut into 16 wedges
Instructions
Step 1
In a small skillet, heat the cashews over medium-high, tossing, until lightly toasted, about 2 minutes. Transfer to a plate and return the skillet to the heat. Add the sesame seeds and toast until fragrant, about 45 seconds. Transfer the sesame seeds to another plate and return the skillet to the heat. Add the maple syrup and cook until reduced and thick, about 1 minute. Return the cashews to the skillet and stir to coat in the syrup. Spread the cashews onto a sheet of foil, sprinkle with the sesame seeds, and let cool completely.
Step 2
In a small bowl, whisk the vinegar with the apple cider, sugar, and oil until the sugar dissolves. Pour 1⁄2 cup of the vinaigrette into a large bowl, add the kale, and season with salt and pepper. Massage the kale with the vinaigrette and let stand until slightly wilted, at least 15 minutes. Toss the kale with the vinaigrette again and transfer to a serving platter. Toss the apple wedges in the dressing left in the bowl and arrange over the kale. Break the cashews up into small pieces and sprinkle over the salad just before serving.