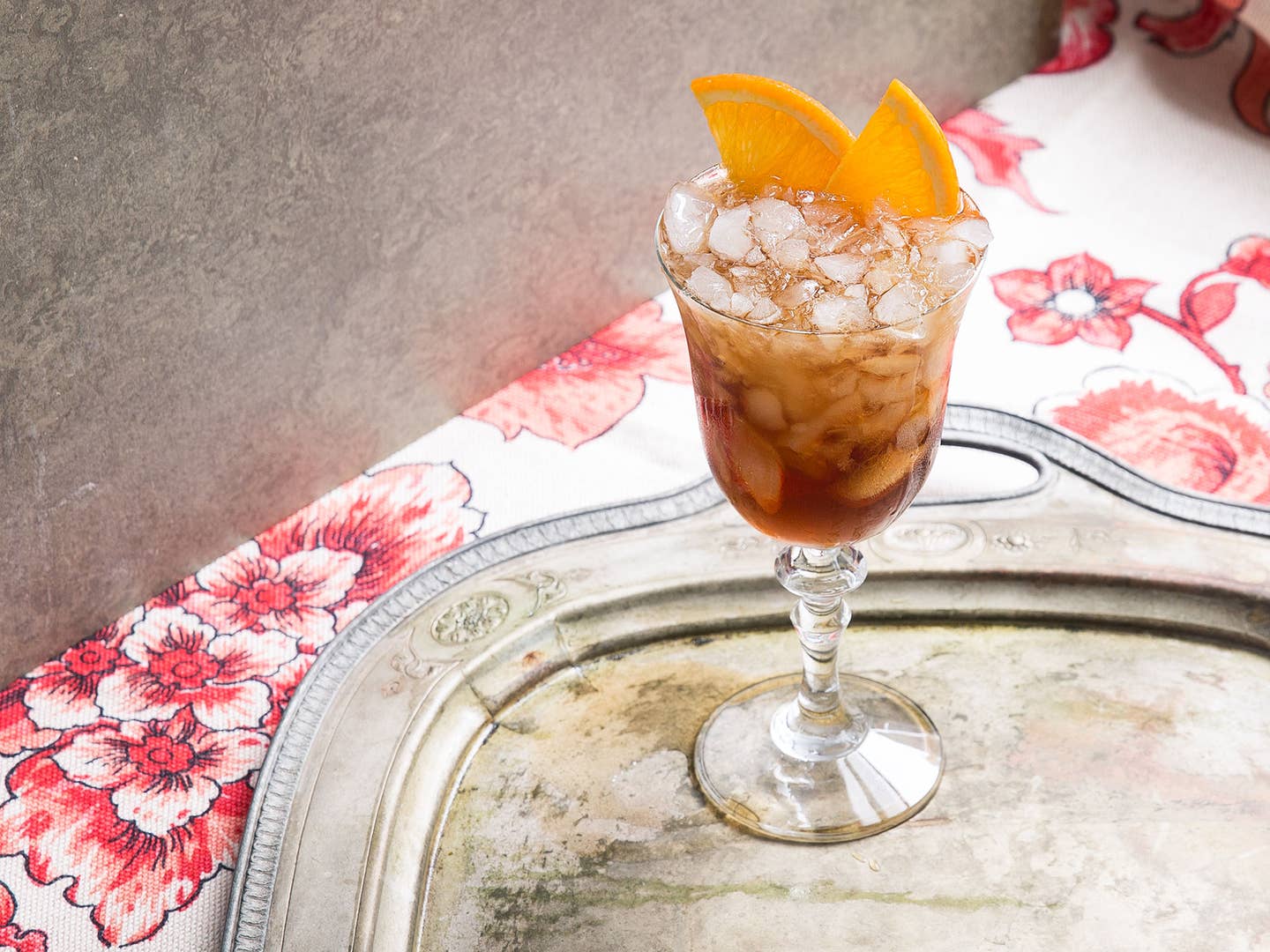 Drinks
How an Old Sherry Drink Defined an Era of American History
The legacy of the sherry cobbler
The 1840s were a boomtime for American mythologies. The democratic experiment of 1776 was proving to be a great success. Pioneers were expanding the country's territory and population. The United States was defining itself in history, politics, commerce, art, and literature. It was time, in short, for a national cocktail.
Though no drink officially commanded that title, there is certainly one that embodies the particular cultural circumstances—and technological advances—of the time: the sherry cobbler. A simple cocktail by 2015 standards, the sherry cobbler blended together some of the most urbane ingredients of its day: three ounces of sherry, shaken with a tablespoon of sugar, poured over a tall glass of crushed ice, and garnished with slices of orange or seasonal berries.
After his celebrated tour of the United States in 1842, Charles Dickens worked the drink into his latest novel, The Life and Adventures of Martin Chuzzlewit, as a refreshing taste of the possibilities of life in the States. A decade on, Nathaniel Hawthorne used the sherry cobbler as a mark of decadence in his dystopian satire, The Blithedale Romance. Washington Irving recorded it in his History of New York in 1809, and even across the pond, Queen Victoria sampled it at a garden party in 1899. Much as Champagne was to the Roaring Twenties and cosmos were for the "Sex and the City" crowd, the sherry cobbler served as the symbol of an era.
Here's the story behind that symbol. It touches on everything from wine importing to ice harvesting and territorial expansion, all unrelated until the sherry cobbler brought them together in a single glass. None of the elements of this drink would have been available with the same ease even a decade prior, and few cocktails speak better to the new self-made cultural identity that the U.S. was establishing for itself.
Chief among those urbane ingredients was sherry.  A fortified wine, sherry originated in medieval Andalusia, but had been popular in London since Shakespeare's day. By the early nineteenth century, several prominent British merchants controlled sherry businesses in Spain and in England, and high consumer demand (and possibly some political connections) dropped import tariffs in half by 1825.
For nineteenth-century Americans, sherry became at once foreign, fancy, and affordable. Domestic wine production, by contrast, was a limited and local affair. So through the final decades of the nineteenth century, Americans relied on imported bottles, and sherry (as well as its fortified cousin, madeira) were among the most popular.
The real novelty of the sherry cobbler, however, was ice. Ice was of course not new in the 1840s, but ice harvesting had become rapidly industrialized in the decade prior. For nearly a century before the invention of refrigeration, tens of thousands of workers cut huge chunks of frozen New England river or lake water during the winter and early spring, stored them in enormous, insulated depots called ice houses, and transported them year-round on specially outfitted trains or ships. Wealthy residents of spots as warm in the winter as Havana and Martinique could imbibe the water of Walden Pond as it melted into their rum under the hot Caribbean sun.
Meanwhile, if New England ice was flowing to the Caribbean, Caribbean sugar was flowing back. Most of the sugar consumed in the U.S. in the 1840s came from slave plantations on islands colonized by British, Dutch, French, and Spanish agents. When temperate Florida was absorbed into the US (as a territory in 1822 and as a state in 1845), domestic production of sugar and well as citrus increased, helping to move these goods more inexpensively to market in Northern cities.
Decidedly an artifact of its time and place, the sherry cobbler has made an unexpected comeback in the past five years in hip bars, blogs, and backyards. In the 1840s, the sherry cobbler's popularity had something to do with how decidedly modern it was. But in 2015, it's all about reviving something antiquated.
Those once-exotic ingredients are now thoroughly common, and as today's cocktails are obsessed over down to the smallest details of how ice is crushed and sugar is mixed, there's something refreshing about the cobbler's relative simplicity. It's as good a reason as any to raise a glass to this historic drink, for what it meant then and now.
Jordan Alexander Stein teaches about early American literature and culture at Fordham University and tweets at @steinjordan.