Chefs and Pitmasters Agree: The Best Carving Knives Balance Weight and Comfort
Cut through brisket and birds like butter with these expert picks.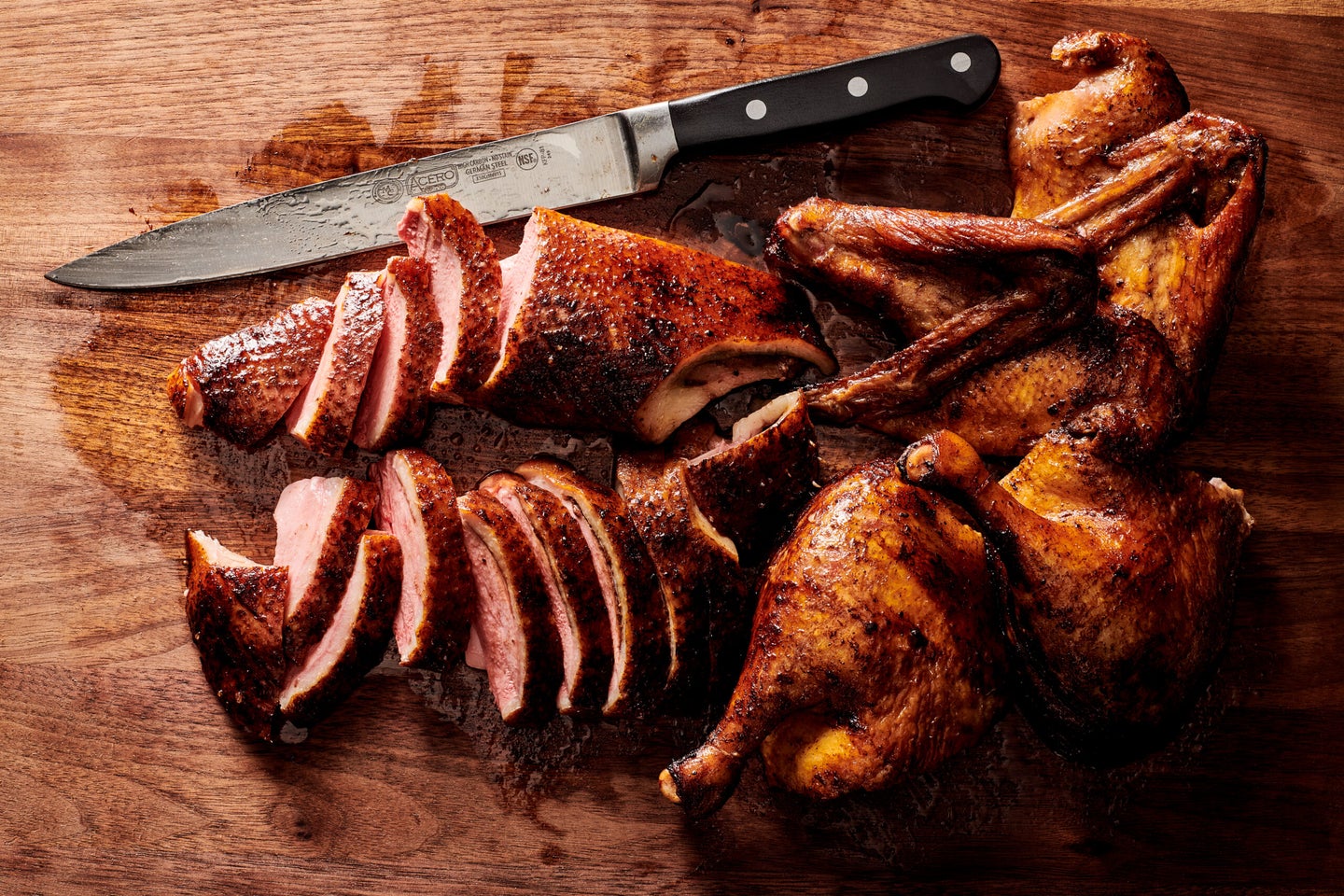 We may earn revenue from the products available on this page and participate in affiliate programs.
Just as there's a wine glass for every varietal, there's an ideal knife for every task—but if you already have a paring and chef knife dedicated to daily work like dicing vegetables, chopping herbs, and even cutting meat, you may not be convinced to jump on the carving bandwagon. But when it comes time to bring a big bird or brisket out of the oven, you may find yourself yearning for a blade with a bit more finesse than your everyday implement.
To help you grow your collection, we had five industry experts share their favorite carving knives for home chefs. Simply purchasing from the list of recommendations below, however, is just the first step towards easy-breezy holiday meals; you'll also need to properly care for these pieces, too. "You retain more nutritional value in your food with a sharp knife—you damage less cellular structure in your cuts that an otherwise dull knife could compromise," explains Jacquline Blanchard, former chef and current owner of Coutelier NOLA. "Ever notice your herbs quickly turning black on the cutting board after you've cut them? Or your scallions and chives leaching out moisture? It's because the chlorophyll is getting crushed, leaving the herbs to oxidize and the green onions to leach their juices—losing flavor and vitamins. A sharp knife alone makes a massive difference." 
The same concept applies to ham, turkey, or pork. That's why we made sure to also answer your burning questions about proper knife maintenance, whether you're serving meat weekly or just a few times a year for a special occasion. The best carving knives are more than just your initial purchase, they're an investment in long-term care. 
Our Top Picks
Weight: 8.2 ounces | Size: 10.5 Inches | Dishwasher-Safe: No
Why we chose it: Same high quality as more popular knife brands, but with greater staying power and a more achievable price tag. 
Pros
---
25-year warranty
Resin Pakkawood handle
Although perhaps a lesser-known brand as far as the slicing scene goes, chef Kieron Hales of Zingerman's Cornman Farms swears by Mac Knives. And for carving, you can't go wrong with the MKS-105 model. Why? Hales lists hardened steel (high-carbon chrome Molybdenum steel, to be exact), Japanese angle cut, and ability to retain a sharp edge longer than most blades he's used as prime examples. "They all also feature an incredibly comfortable handle and tang, which makes it easy to use during long kitchen shifts," he shares (which means at-home tasks will be a breeze). Though Hales admits he's always looking out for tools with "hand-me-down" potential for his two kids, in which case he'd point other knife enthusiasts to Bloodroot Blades, a custom maker out of Georgia.  
Weight: 8.9 ounces | Size: 8 Inches | Dishwasher-Safe: No
Why we chose it: The biggest bang for your buck if you're not regularly roasting. 
Pros
---
Less than $30
NSF-certified
Wears well over time
Cons
---
Shorter than the average carving knife
Just because this blade is less than $30 doesn't make it any less superior. Yes, pitmaster Rodney Scott of Rodney Scott's Whole Hog BBQ in South Carolina, Alabama, and Georgia will be the first to share that while you get what you pay for when it comes to cheap knives, Winco's German, forged carbon steel is nothing to scoff at. "I have a few carving knives that I really love that were gifted to me, but the one that I'd recommend to any home chef would be the WINCO Knife," he shares. "It's perfect for carving chicken or ribs and provides a smoother cut with the way I hold my knife. Mine is well-worn and still has life left to it!" 
Weight: 4.2 ounces | Size: 12 Inches | Dishwasher-Safe: No
Why we chose it: A multi-functional workhorse lighter than most carving knives.  
Pros
---
Ambidextrous, walnut handle
Handmade
"My favorite knife to recommend to home chefs would be our 165mm Bunka by Okeya from Sakai, Osaka in Japan. A bunka is a fun, unique shape that's becoming very popular and is a great go-to knife for all the things," shares Blanchard. It's ginsan stainless steel, so it's easy on the maintenance spectrum and has a beautiful walnut octagonal handle, making it ambidextrous for lefties and righties. Made at a small, multi-generational shop, the biggest benefit of this knife is its ability to slice through just about anything, so you needn't worry about it being left untouched collecting dust throughout the year. 
Weight: 4.1 ounces | Size: 12 Inches | Dishwasher-Safe: No
Why we chose it: A classic showpiece set for those who want to serve their holiday meal in style. 
Pros
---
Black and olivewood with brass rivets
Fully forged construction
Comes with wooden storage box
The Thiers Issard caving set comes boxed and ready for the biggest events. "Made specifically for slicing the most impressive roasts and turkeys, this carving knife comes with a fork for stabilizing and serving," explains Adrianna Fie, co-founder of Flotsam + Fork, who stumbled across the brand when searching for the finest Sabatier—the French technique that holds a knife's honed edge. "What Solingen is to Germany, Thiers is to France—it's the historic center of French knife making," offers Fie, whose interest in knives originated through her passion for food and cooking. That passion has connected her and business partner Joe Hasler (Flotsam + Fork's other half) to suppliers and factories across Europe, and helped them bring specialty products back home to their stores in Brooklyn, New York, and Minneapolis. "We knew we were onto some good knives when our local butcher shop asked us to special order a Thiers Issard boning knife for them!" 
Weight: 6.4 Ounces | Size: 12 Inches | Dishwasher-Safe: No
Why we chose it: Famed BBQ owner Aaron Franklin loves this knife so much, he put his name on it. 
Pros
---
Affordable price point
Made in the U.S.
Textured handle
Cons
---
Serrated edge
Rubber handle
"With a 12-inch, serrated blade that can wrangle larger cuts, the scalloped slicer is perfect for holiday ham, turkey, or smoked brisket," says Franklin. "Barbecue enthusiasts will appreciate the textured handle that won't slip from your hands when you're handling ridiculously rich, juicy meats. Mostly, the perfectly balanced, lightweight knife just feels really good." As a renowned pitmaster, TV show host, and author of two books on the topic of fired meats, we'd wager Franklin's stamp of approval is perhaps as good of a recommendation as you're going to get. 
How We Chose These Products
Comfort, weight, and hardness of the steel should be at the top of your shopping checklist when searching for the best carving knife. Our product list is an assortment of recommendations from people with multiple titles and diverse experience, whether they're a chef, author, or specialist seller. 
Features to Keep in Mind When Shopping for the Best Carving Knife 
Dimensions
A typical carving knife can vary in length, but generally falls somewhere between 8 and 12 inches. "I certainly prefer a larger knife when possible," notes Hales. "It allows for longer, larger, and fewer slices." A shorter blade, of course, won't do when faced with a bulky roast, but does lend itself to delicately maneuvering around smaller cuts. Blanchard notes that you'll want to aim for at least 9 inches to ensure a long, clean draw for smooth slicing. "That helps the meat retain its moisture because it isn't being shredded," she adds. 
And just like length, weight is largely up for preference. While Blanchard and Franklin like to reach for a lighter tool, Hales and Scott prefer something a bit heavier. Either way, the weight of the blade itself will almost always cause the handle to fall forward during a cut. In general, Japanese cutlery naturally falls forward, which Blanchard shares makes prep work far more enjoyable. Western-styled knives, in comparison, are heavier with a greater center balance. The difference, says Blanchard, is the handle. 
Handle and Design 
Handles in Western knives simply feature more material, Blanchard continues, listing the full tang, scales, pins, and bolster as culprits. And as an arthritis sufferer, Blanchard prefers the lighter Japanese "wa"-style wooden handles. "It's less compounding on my hands and wrists," says Blanchard. "It performs with ease and doesn't tire me out as quickly." 
One of the easiest ways to separate the average knife from a high-quality one is the grip. Scott always looks at the stability and thickness of the handle when searching for the best carving knife. Hales agrees this feature is super important. You want something that fits well in your hand, he adds, particularly a hefty handle to counteract a longer knife. Avoid plastic if you can, or opt for POM—a stiffer type of plastic—that's easy to clean, though the experts note you can't go wrong with wood. Regardless of the material of your knife's handle, it should never, ever go in the dishwasher, which both degrades any material and dulls the blade.
Stamped VS Forged 
In Hales' kitchen, it's forged knives or nothing. For someone gripping a knife nearly 14 hours a day, investing in a long-term piece can mean the difference between stamped and forged steel. "Generally, hand-forged knives are made individually by a craftsman," shares Blanchard. "After being precisely measured to the appropriate temperature, an individual steel bar or billet is forged into its shape by hydraulic hammer intervaled with hand-hammering." This process influences how stable and durable the steel will be before it's refined on a water wheel and blasted one final time with heat, she says. This process, adds Blanchard, is why forged knives call for higher price tags. 
Stamped blades, on the other hand, are punched from large sheets of various steel. "The shapes are then heat-treated, handled, and sharpened in a more mechanical manufacturing process. That's not to say all stamped knives are inferior or do not have a human involved in each part of the process," she points out, though warns there are still cheap options out there. In Hales opinion, a stamped knife generally tends to wear more easily as it holds the edge poorly. 
Ask the Experts
Q: Should I use serrated knives for carving?
Most carving knives feature a plain- or straight-edge blade, though not always. Typically, a serrated edge—a saw-like look—is designed to get through tough, awkward exteriors, whether it's a loaf of bread or pliable tomato skin. For Franklin, it's best for slicing thick and fatty meats, like brisket, to minimize tears and produce a clean cut. 
Q: How do I sharpen my carving knife and how often should I do it?
"Believe it or not, I recommend sharpening your knives as little as possible," offers Scott. "That's why it's important for folks to always use a cutting board so you don't dull the knife on a countertop or stainless steel table." If you do have to sharpen your knife, Scott recommends a high-quality sharpener and to only pull the blade in one direction. 
Hales is an advocate for electric sharpeners, which will only come in handy about two to three times a year, but adds maintenance in the form of honing. In other words, keeping up with your existing edge by placing it back into alignment. "Sharpening and honing are two different things," he explains. "I hone all my knives before and after each use with diamond steel. Sharpening is something I do monthly with all of my knives using oiled stones that carpenters use for chisels." 
Otherwise, pay attention to how the knife is starting to feel when you cut, suggests Blanchard. "If you notice you have to make more of an effort to get a nice slice or are sawing through, it's time," she says. "We always recommend sharpening on a whetstone. It's the only way we sharpen knives at our shops. You don't want to generate heat on your edge during the sharpening process and a water stone has a cooling effect during traction. It's also the best way to achieve the optimum geometry for edge retention with the just right amount of abrasion." 
Q: Are carving knives only for cutting meat? 
Not necessarily. Some larger fruits—think melons—have strong, stubborn exteriors and fleshy texture similar to meat that a carving knife can cut clean through, though do keep in mind a carving knife isn't meant for cleaving. If you're looking for more of a multi-tasker, we'd suggest a chef's or santoku knife to satisfy your daily dicing needs.
Our Take
"A knife is all about personal preference," warns Blanchard, so the best carving knife is the one that you feel comfortable handling.