From Simmering Soups to Baking Sourdough, the Best Dutch Ovens Can Do It All
Chefs and editors share their go-tos.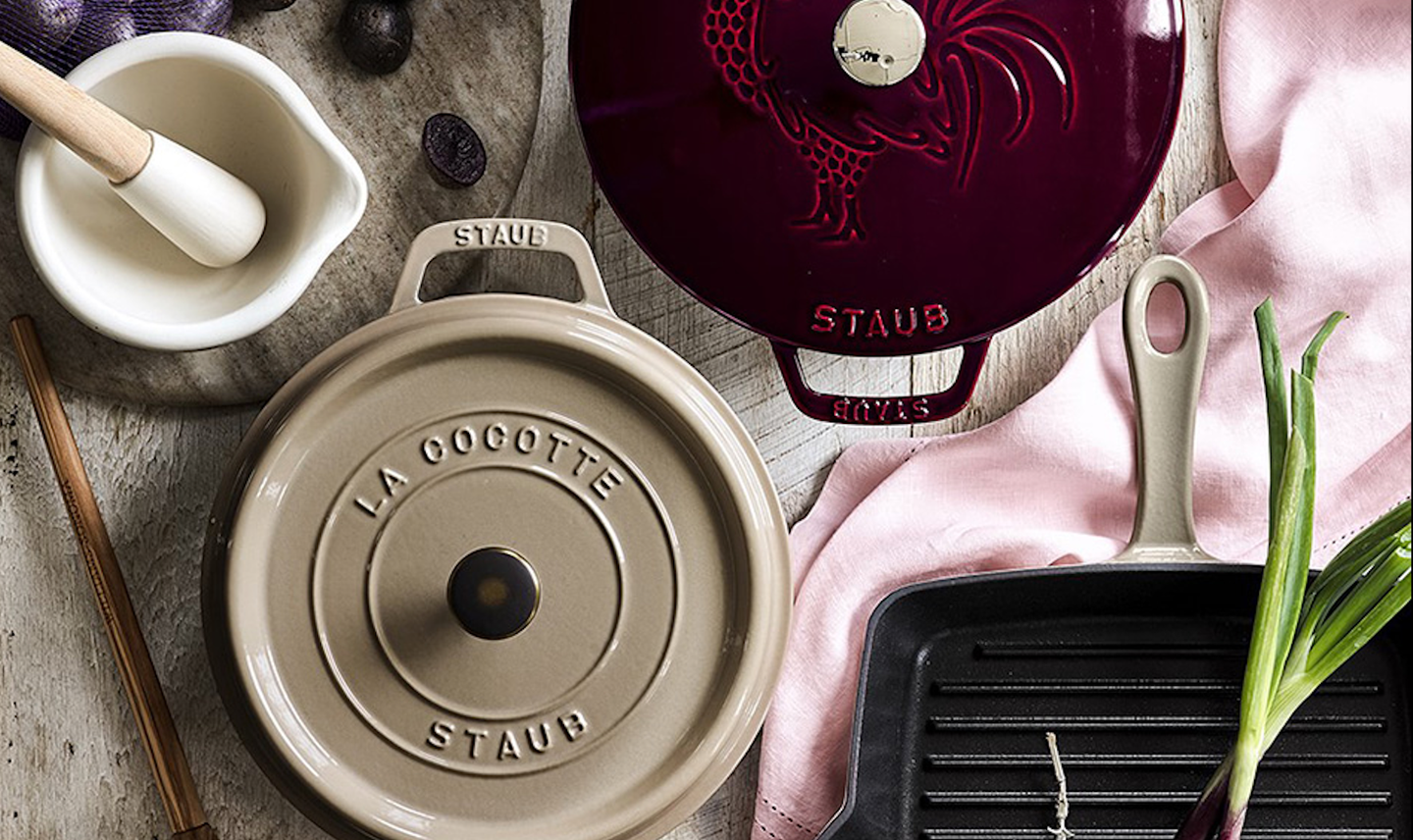 We may earn revenue from the products available on this page and participate in affiliate programs.
If there is one cooking workhorse that emerged from 2020, it's the Dutch oven. The iconic cast iron pot worked double duty during quarantine, reasserting itself as a staple in our kitchens (and in our Instagram feed) for baking boulangerie-worthy sourdough, roasting buttermilk chicken, and almost everything in between. 
Finding the best Dutch oven is undeniably tricky because of just how many material options and brands there are to choose from—and the fact that every home cook is adamant theirs is the best definitely doesn't make the choice any easier. So, we reached out to a group of chefs, recipe testers, and editors who use theirs every day to find out which models stand the test of time. Whether you want something simple and affordable or a self-basting investment piece with a lifetime warranty, there's something on this list for you.
Features to Keep in Mind
Shape and Size
Dutch oven sizes range from a half quart to 15 quarts, and are sold in a variety of shapes and heights. Circular options are best for baking bread and general day-to-day cooking, whereas oval-shaped models are better suited to roasts. In general, it's good to start by investing in a larger multi-purpose oven and gradually adding smaller sizes to your collection as needed.
Heating Capacity
Both non-enameled cast iron and ceramic can handle temperatures up to 500 degrees Fahrenheit. Just be sure to avoid moving a ceramic Dutch oven directly from intense heat to a cool surface to prevent cracking. Enameled cast iron shouldn't be heated above 450 degrees Fahrenheit—more than that could ruin the delicate coating. And aluminum and stainless steel should be reserved for lower temperatures only.
Types of Dutch Ovens
Cast iron: A properly cared-for cast iron Dutch oven can last for generations, but maintaining the seasoning and preventing rust formation will involve more effort than other varieties.
Enameled cast iron: This variety can handle the same high heats as non-enameled cast iron without nearly as much maintenance. It's also easier to clean and has a sleek polished finish.
Ceramic: Ceramic Dutch ovens are far lighter than their cast iron counterparts but are also more sensitive to temperature changes, making them susceptible to cracks.
Cast aluminum: Perhaps the lowest maintenance of all the options, cast aluminum is light, dishwasher safe, and naturally non-stick. The downside is that it isn't as durable and may warp over time.
Our Top Picks
While definitely not cheap, Le Creuset lives up to its reputation for producing high-quality cookware—it was the most recommended brand by chefs and experts we spoke with. (Even Julia Child was a fan) Made in Fresnoy-le-Grand, France, each product is cast in individual black sand molds that are recycled after use so that no two creations are the same. Unlike cheaper imitations, the thick exterior enamel resists chipping and fading, which means you can pass this heirloom piece onto the next generation. 
In terms of durability and warranty, these Dutch ovens also have other versions beat. "I've had mine for five years now and I expect it to last a lifetime," Maiko Kyogoku, chef at Bessou in NYC, tells Saveur. Edson Diaz-Fuentes, author of Ciudad de México: Recipes and Stories from the Heart of Mexico City, takes his 6.7-quart pot with him every time he moves. "It has adapted to ceramic glass and gas [cooktops] and induction hobs while moving from London to New York over the past 10 years." Even if it does end up getting damaged over time, Le Creuset is one of the few brands that will replace their product free of charge. 
"Staub has a cult-like following for good reason—their cookware is well-designed, long-lasting, and just a joy to use," says Sophie Miura, commerce content director at Saveur. Though it's one of the pricier options, reviewers agree that this French oven (a modern, enameled version of a Dutch oven) is well worth the investment for both its sleek design, heat retaining abilities, and longevity. "I've owned the 3.75-quart Food52 x Staub model for four years and it looks as good as it did on day one with zero maintenance," she adds. 
In addition to being safe at temperatures of up to 500 degrees Fahrenheit, these Dutch ovens are also adorned with self-basting Chester spikes to ensure the best results every time. "It has these cool nubs inside the lids, which ensures uniform cooking even when [roasting] over a campfire," says Helene Henderson, chef at Malibu Farm Restaurants and author of Malibu Farm Sunrise to Sunset. 
It can be hard to justify investing in specialty cookware if you only plan to use it for the odd dinner party or for when it's your turn to host Thanksgiving dinner. Lodge's enameled cast iron pot is a good option for occasional home cooks; It shares some of the benefits of a classic Dutch oven—including even heating and distribution—at a fraction of the cost. 
Although it is one of the most-reviewed models on Amazon (with 25,000 ratings and counting), the quality of materials and craftsmanship varies a lot and unlike its pricier competitors, Lodge doesn't offer a warranty. That hasn't been an issue for Hunter Evans, chef at Elvie's in Jackson, Missouri, though, who tells Saveur that he uses his grandmother's Lodge oven and its condition hasn't deteriorated since she first added it to her collection. 
"The best part about a non-enameled Dutch oven like the one made by Smithey is that you don't need to worry about damaging the lining—which means you can really get the surface of the pan ripping hot," says Kat Craddock, editorial director of recipes at Saveur. "This comes in handy whenever you need to get a good sear on a large piece of meat for a classic braise, like this epic pot roast," she adds. Its signature polished interior also makes it easier to season and maintain than other non-enameled cast iron pots and pans because it's naturally non-stick and doesn't scratch easily. 
"I've been using Caraway's Dutch oven since the brand launched in 2019 and the reason I love it actually has very little to do with cooking," Miura explains. In addition to being sleek, comparatively lightweight, and made with a non-toxic mineral-based ceramic coating, she's a fan of this pan for its numerous accessories, including magnetic pan racks that click together "like magic" and a hanging lid storage unit that helps her keep her cabinets organized. "My only regret is choosing the cream colorway, which stained after about three months," she adds. Choose a darker hue like sage or midnight to ensure that doesn't happen.
This casserole dish—which has the look of a Dutch oven, but a shallower, more lightweight construction—is available in two-quart and four-quart sizes. "The petite one is perfect for solo cooking—a cup of rice, soaking some dried beans, braising vegetables, making a little soup," Natasha Pickowicz, New York-based pastry chef and creator of the pop up Never Ending Taste, tells Saveur. "The material is also a little thinner so it's not that heavy and I love that the lid doubles as a trivet when I want to rest my pot on the table," she adds. Though dainty, it can handle a lot of heat. In some cases, she'll even put it directly on the grill when reheating posole soup or steaming mussels right over the charcoal. 
One of the only enameled cast irons made in the United States, Craddock can't get enough of this Dutch oven. "I love its kind of brutalist lines," she begins, "and that the enamel is black so it doesn't show stains." Large, hooped handles make it easy to move from one surface to the next and the lid is crafted from one piece of cast iron, so you don't need to worry about the knob melting or coming loose over time. "I also love that it's made in New York State!" 
Ask the Experts
What can you make in a Dutch oven?
Depending on the size, just about anything can be made in a Dutch oven. Kyogoku uses hers to ensure braised ribs are always fall-off-the-bone tender. And Becerra swears by it for making perfectly cooked pulled pork. While non-enameled cast iron isn't suited to high-acid dishes, Craddock has no problem using her enameled option for sweet and sour Filipino-style adobo and green tomato and watermelon rind achaar.
What's the best way to clean my Dutch oven?
Properly caring for cast iron cookware means doing very little to it, Henderson explains. "You're more likely to damage a cast iron Dutch oven by over cleaning it than under cleaning it." Whether enameled or non-enameled, the best way to keep it clean is to use a bit of regular dish soap instead of any strong detergents, warm water, and a gentle sponge. Every once in a while, New York-based chef Camille Becerra will use Bar Keepers Friend Powdered Cleanser to remove any stuck-on bits without damaging the coating. Alternatively, you can soak enameled versions overnight with a bit of dish soap and anything that remains will slide right off the next morning, says Kate Berry, head of content and creative at Saveur.