Chamomile Roast Chicken
Roasted in pieces upon a bed of alliums, this spring chicken is a dinner party dream come true.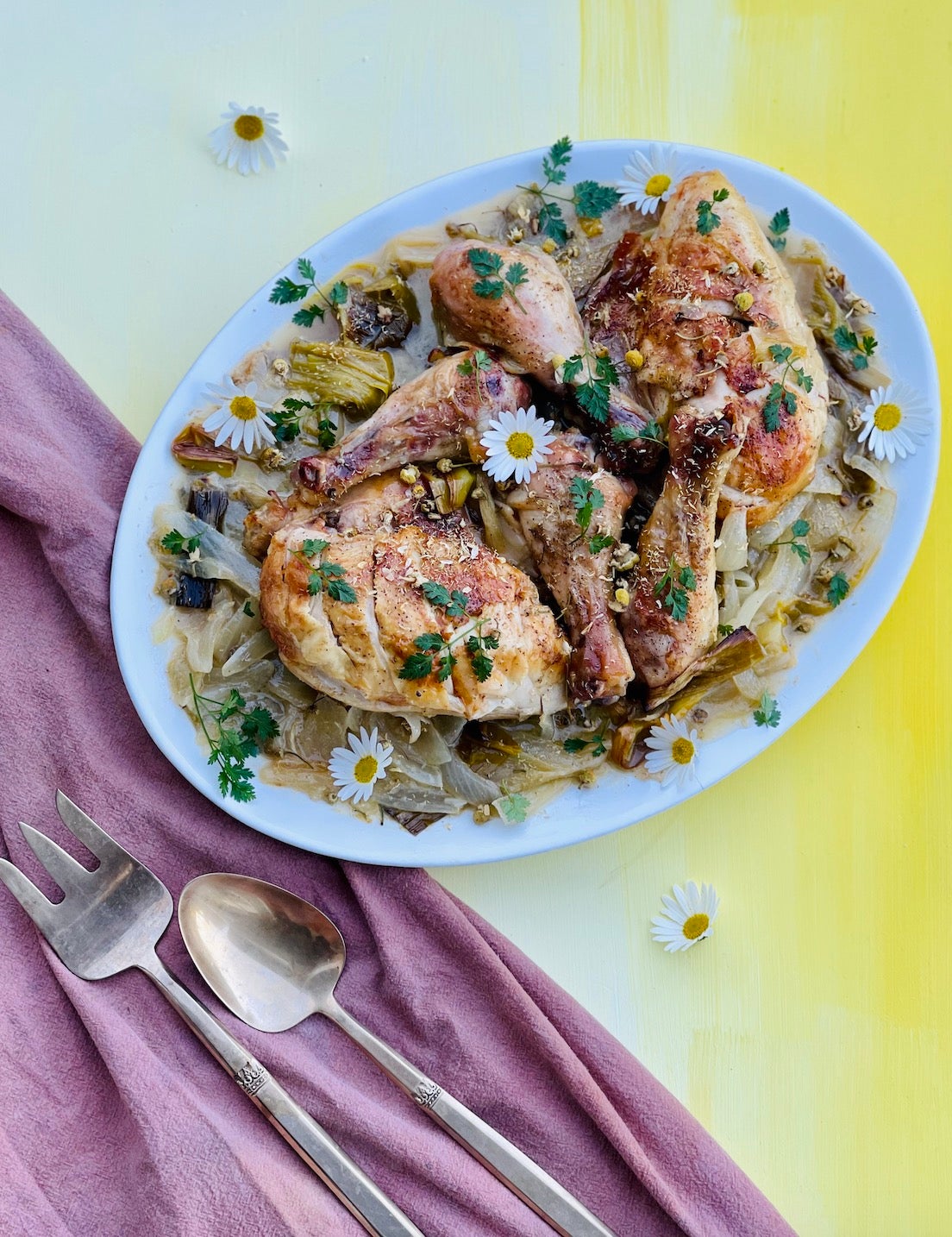 Los Angeles baker and caterer Loria Stern incorporates concentrated floral flavors into both sweet and savory dishes using dried flower infusions. Golden chicken, roasted over a bed of chamomile-scented alliums, makes for an unexpectedly elegant spring supper. Look for dried chamomile flowers in Latin American or Middle Eastern markets, or in the tea section of your local grocery store. If all else fails, order them online from Kalustyan's.
Select a wide roasting pan that will allow the pan juices to concentrate and intensify as the bird cooks.
Read more about Stern's botanically-inspired recipes in "Loria Stern's Floral Kitchen."
Yield: serves 4
Time: 2 hours
Ingredients
3 tbsp. dried chamomile flowers, or substitute 6 chamomile tea bags
1 5–6 lb. chicken, cut into 8 pieces
2 large leeks (1 lb.), halved lengthwise, rinsed thoroughly, and cut into 2-in. pieces
1 large onion (14 oz.), peeled and coarsely chopped
1⁄4 cup extra-virgin olive oil, divided
Kosher salt
3 tbsp. fresh lemon juice
1 cup dry white wine
2 tbsp. fresh chamomile flowers, for garnish (optional)
Instructions
To a heatproof liquid measuring cup, add 1½ cups boiling water and the dried chamomile flowers or tea bags. Set aside to steep at room temperature for 30 minutes.
Preheat the oven (with one of its racks positioned in the center) to 425°F. Strain the chamomile infusion, discarding the solids. Measure 1 cup of the liquid (drink or reserve any remainder for another use).
In a large roasting pan, toss the leeks and onion with 2 tablespoons olive oil and season to taste with salt. Rinse the chicken pieces, then blot dry with paper towels and arrange skin side up atop the vegetables; drizzle with the lemon juice and remaining olive oil and season lightly with salt. Transfer to the oven and cook until the onions begin to turn translucent, about 20 minutes. Carefully pour the wine and the reserved chamomile infusion into the roasting pan and continue cooking until the liquid is simmering and the chicken begins to brown, about 20 minutes more. Turn down the oven to 400°F and continue cooking until the chicken juices run clear and a thermometer inserted at the thickest part of the thigh registers 165°F, 25–35 minutes.
Remove from the oven and set aside to rest for 15 minutes. Transfer the chicken and vegetables to a serving platter, drizzle with any accumulated cooking juices, garnish with fresh chamomile flowers, if desired, and serve warm.