The Best Garlic Presses for Mess-Free Mincing
Keep those cutting boards clean.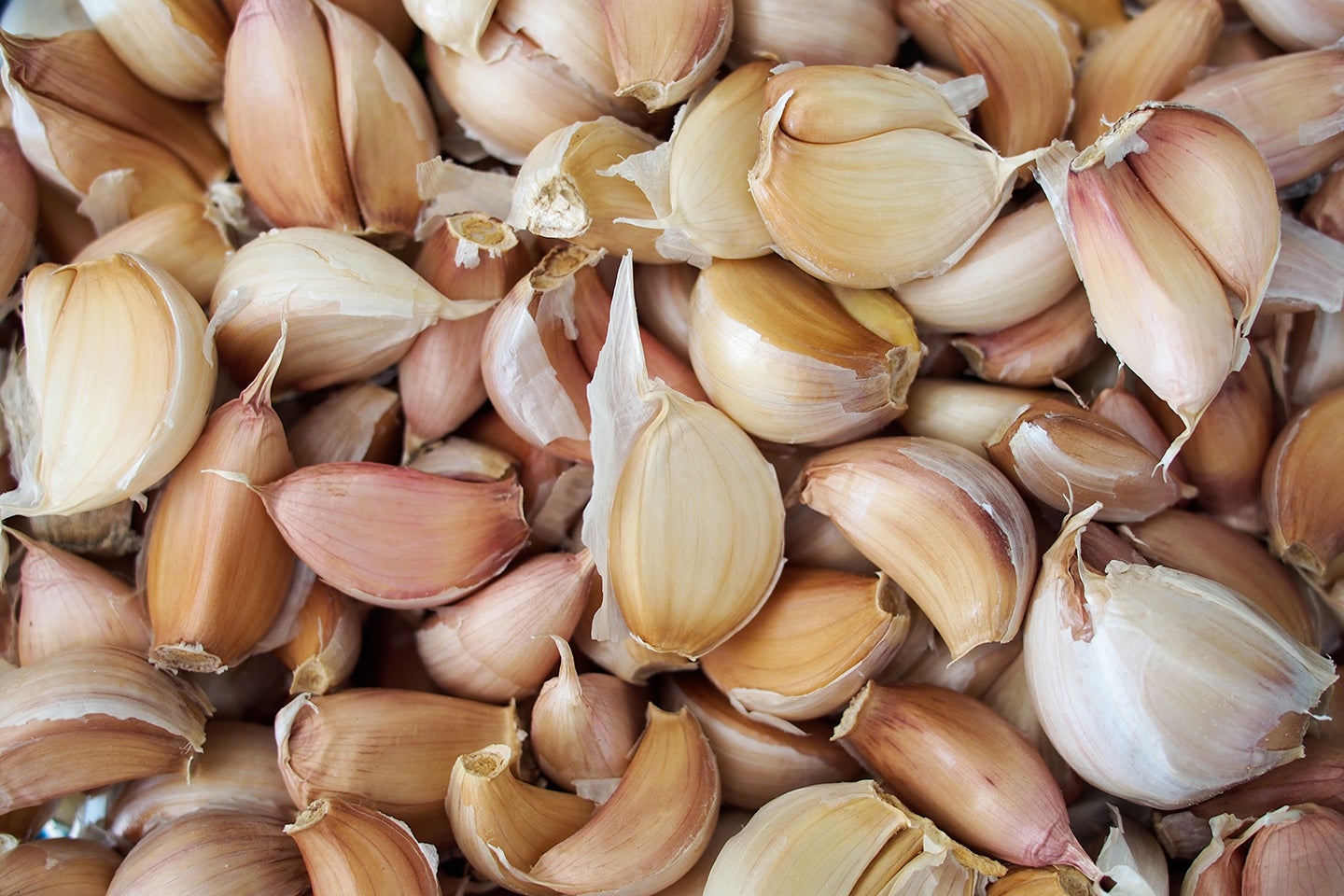 Garlic deserves a permanent spot on every grocery list—because if a recipe doesn't have garlic, are you really even cooking? The ubiquitous aromatic plays a fundamental supporting role in savory dishes around the world. We wouldn't dream of whipping up sinangag (Filipino garlic fried rice) or Julia Child's garlic mashed potatoes without a whole bunch of cloves at the ready. There's only one thing we don't love about garlic: preparing it. Peeling the cloves taints our fingers with a garlicky smell; mincing them inevitably leaves little pieces stuck to the knife. No wonder it can feel like a chore! 
Luckily, the best garlic presses can ensure nothing gets between you and your beloved garlic bread. These useful tools handle mincing (and in some cases, peeling, too) while keeping your fingers clean and your cutting board spotless. There are lots of options on the market, so we consulted a few garlic experts to find out their go-to garlic presses and why they love them. Read on to shop their picks for a garlic-filled future.  
Features to Keep in Mind 
Material
Stainless steel is an ideal material for garlic presses. The metal is strong enough to easily press through garlic, sturdy enough to withstand the test of time, and odor-resistant. Plus, the non-reactive material won't produce funky smells or flavors after coming into contact with garlic's natural acids (or anything else in the kitchen).
Ease of Use
Red, achy palms aren't a fair trade for evenly minced garlic. Avoid the stress by selecting a garlic press with an ergonomic, streamlined design that's easy to clamp and simple to operate. Look for slim handles and rubberized grips, as they're easier on the hands and won't make you feel like you're wielding a grip strengthener.
If you frequently cook with more than a couple of cloves of garlic, you might prefer a press with a chamber large enough to accommodate more than one clove in a single go. Choose one that can swing open a full 180 degrees to easily load in the cloves.
Cleaning
You want a tool that makes cooking and cleaning easier, not one that leaves even more disarray. Avoid this by looking for a model that "ejects" the peels, saving you the trouble of digging them out with your fingers. Other models make it easy to scrape out all the minced garlic with built-in cleaning tools to insert into nooks and crannies.
If you'd like the option of popping your garlic press into the dishwasher, look for a dishwasher-safe one (many today are). Extra points go to one-piece models, rather than those that separate into multiple parts which require disassembly and reassembly.
Our Top Picks
With its functional design, heavy-duty build, and affordable price, the Alpha Grillers' garlic press is a game-changer. First off, there's no need to peel! The press crushes each clove and pushes the garlic through fine holes to produce a ready-to-use paste, while the peels conveniently remain inside the inner chamber. When you're finished, just toss the tool into the dishwasher or give it a quick rinse by hand (using the included cleaning brush for some extra help, if necessary). You can also use the included silicone peeler tube to roll the papery exterior off the cloves. Patsy Ross, the marketing manager at America's largest garlic grower Christopher Ranch, says a silicone roller is her favorite way to peel garlic. "Thanks to the friction of the cloves on the roller, the skins just pop off," she explains.
This ergonomic press was designed with the comfort of your palms in mind. "It is heavy, stout and easy to use," says Judy Bozzo, a long-time chef in Gilroy, California, the garlic-producing city often touted as "Garlic Capital of the World." Bozzo especially loves this gadget's soft non-slip grips. The chamber is roomy enough to hold a few cloves at a time, so you'll likely only need to clamp down once or twice to produce all the minced garlic you'll need for a meal. The press also features a built-in cleaner to push out any peels or lingering morsels. 
Unpeeled cloves can be tricky for many garlic presses to handle, but this well-designed press minces them with relative ease. A unique and powerful lever design pushes each clove through beveled holes while leaving the skins behind. The sieve on the press also swings outward so you can easily scrape off any remaining garlic or clean the press. Though the stainless steel material makes it a bit heavier than other models, the strong metal cuts through tough peels with minimal resistance. And thanks to curved handles, the press is comfortable to grip as you're squeezing your garlic into a chunky paste.  
Some presses leave little bits of garlic and peel stuck inside. This press anticipates those cleaning pitfalls with a built-in mechanism that scrapes the front of the grill as you open up the press, ensuring every bit of minced garlic makes its way into your meal. Open the press further to reveal a platform of "teeth" that fit perfectly into the holes, so no debris is left behind. The press even makes it easy to remove the skins left from mincing unpeeled cloves—simply push a "peel eject" button! By the time the press reaches the sink, it only needs a quick rinse.
A squeezable press isn't the only contraption for cutting up garlic; you can also twist your way to minced garlic galore. This model uses beveled teeth to cut through cloves bidirectionally, yielding minced garlic piled into neat triangles ready for immediate use. The multifunctional device is also great at mincing up other foods such as nuts, ginger, and herbs. Just give it a swift rinse after using, or let the dishwasher do the work for you.
If a handheld rocking motion sounds preferable to squeezing, this garlic rocker could be just the ticket. Simply grip both sides of the tool, rest the holes on top of a clove, and push down while rocking the plate back and forth to crush. You'll end up with finely minced cloves ready for cooking, just like you would with a press. The stainless steel material is odor-resistant, and you can safely run the tool through the dishwasher when you're finished.
This smart rolling design allows children (or anyone!) to safely lend a hand in the kitchen. Simply place peeled cloves into the interior chamber, snap on the lid, and roll it around on a cutting board or countertop. As the wheels turn, a stainless steel blade slices through the cloves. When they've finished, take the contraption back from your little helper, carefully remove the blade, and wisely bestow upon them the maxim that everything tastes better when you make it yourself. 
Ask the Experts
Can I use a garlic press without peeling the cloves?
While unpeeled cloves pose a challenge for many presses, some models are specifically designed to extract and mince the garlic while leaving the skins behind. Some models also come with handy tools to streamline the peeling process. There's also the old-fashioned way: "Using a large chef's knife, press down on the flat side of the knife (away from the sharp edge) and smash the clove," advises Ross. "The skin will pop off."
Can I use a garlic press for ginger?
Since ginger is denser and more fibrous than garlic, many clamp-down designs will struggle with it. "I usually grate ginger," suggests Bozzo. A microplane would likely do a better job than a garlic press.
Every product is independently selected and vetted by editors. Things you buy through our links may earn us a commission.