Raise a Toast to the Best Highball Glasses
Clink, clink to our 7 favorites.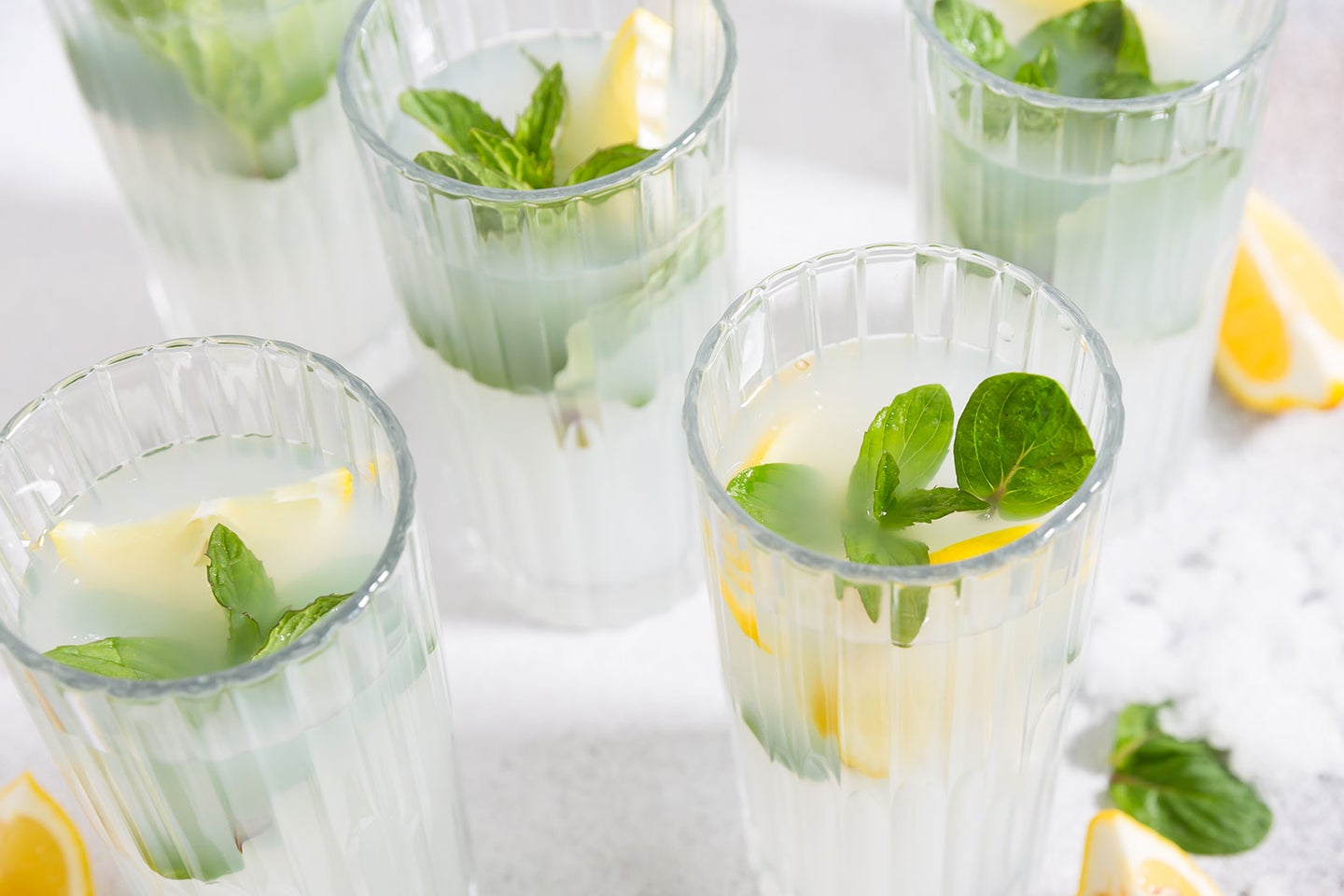 We may earn revenue from the products available on this page and participate in affiliate programs.
The good news: your bar cart is stocked. You've curated a selection of the best spirits around. You're ready to cocktail; perhaps you've already invested in a stellar set of martini glasses. Maybe your wine glasses are up to snuff. But when was the last time you evaluated your highball collection? Yes, we mean those tall, slender glass tumblers that are often used to serve mixed cocktails over ice. What can you serve in a highball? Everything from a vodka tonic to a gin fizz. If it's a cocktail with a mixer served over ice, it probably belongs in one of these glasses. 
And yes, according to our experts: The glassware you use really does matter, whether you're drinking a fragrant, orange peel-adorned old fashioned in a rocks glass, or a bitter, shaken negroni in a stemmed Nick and Nora glass. And for highballs, their very specific components require a glass that will showcase them properly. "Highball glasses allow room for effervescence, fruit, and a tall straw," says Tiffanie Barriere, mixologist and founder of The Drinking Coach.
Like most other types of glassware, highball glasses come in a variety of sizes, colors, and even materials—what you choose is really up to personal preference. And with options that range from high-end, lead-free crystal to etched vintage glass, the vessel you choose to drink from says a lot about the mood you're setting. Casual get-together with friends? Elegant cocktail hour with a significant other? Read on for a look at the best highball glasses for every occasion. 
Features to Keep in Mind
Design
Design not only impacts how your glass looks, says Barriere, but also what you put inside of it. "Effervescence and bubbles allow expansion and openness of a cocktail's ingredients," she says. "When it is in a highball, there is more room to express—and even elevate—a drink."
Size
The standard highball size, says Christian Siglin, Beverage Director & Operating Partner at Fernside Bar, is typically 12 ounces. "The size of glass usually makes me think of crushed ice drinks, or long drinks with soda in them," he says.
Lead-Free vs. Leaded Glass
Some glasses, Barriere says, incorporate lead into the glass-making process, which is a health risk. "Lead-free replaces the lead with zinc or potassium oxide," she says. "The taste can change in lead-free glassware, and also be environmentally safer." Depending on the producer, modern glassware makers less frequently incorporate lead in the glassmaking process, an additive used to soften the crystal and allow thinner rims and more intricate designs, while vintage crystal will contain some lead. 
Durability
Depending on the style, shape, and weight of glass used, hand-washing your highball glasses is usually a good idea to prevent scratches or breakage. Siglin says that the "look and lifespan of your glassware" will be extended by choosing glasses specifically designed to ward off scratches. "If you stack your glasses, this type of glass will help maintain the glass appearance much longer." Many brands specify that their products are dishwasher-safe, as well; make sure to read the details when purchasing. 
Cut of the Glass
Just as size and shape affect how drinkers interact with and taste their cocktails, the cut of glass also has an effect. The cut is determined by the glassmaking process, whether the rim is cut while hot, or cold and then ground into shape. One such cut, called "smooth beam" is preferable, according to  Ryan Welliver, head bartender and master mixologist from The Tavern at Hudson Yards. He adds that the feature "can be noticed most in the rim." Also known as beadless or seamless glasses, this style, he adds, enhances "the drinking experience, due to how it feels to the touch when sipping." He notes that most commercial glassware has a beaded rim, which helps prevent chipping and is more commonly found in large-scale manufacturing. "Generally, a beadless or smooth-beamed glass will be much thinner, which will have a large impact on how you perceive the beverage." These types of glasses are also more delicate, and require more thoughtful care and storage. 
Our Top Picks 
These dishwasher-safe highballs, from Austrian glass company Riedel, are designed with both aesthetics and purpose in mind. The striking ribbed design is easy to look at, and the glasses are wide enough to accommodate both standard ice cubes and the larger, artisanal blocks increasingly common in modern mixology. 
These slim, 10-ounce glasses come in a set of eight for just over $20, a steal for the quality. They're dishwasher-safe and multi-functional: Use them for cocktails, of course, but also double up and use them as water or beer glasses. 
Elegant, formal cut glass is definitely the way to go in more elegant settings. And, when it comes to this style, few producers have more skin in the game than Waterford. This set is substantial, beautiful, and sophisticated. They also make an excellent gift for the cocktail lover in your life. 
These gorgeous crystal glasses, which hold about 15 ounces, are ideal for everyday use. The minimalist design means your cocktail has an opportunity to shine. Plus, they're so versatile that you may end up substituting them for your water glasses. Extra bonus points: they're made from lead-free glass. 
Shizuyo Saegusa, Kimura Kikatsu's in-house designer, has leaned into the traditional technique of Edo Kiriko, a manufacturing method in which colors and patterns are cut into glass. Despite the fact that these glasses are artisan creations, each one looks nearly identical, a testament to the expertise of the glassmaker. These extremely thin glasses are perfect for Japanese whisky-based cocktails—or anything else, really. The delicate, handsome Kimura Kikatsu set adds flair to any home bar.  
A dedication to sustainability can extend to glassware, too. These Polish glasses were mouth-blown using recycled glass as part of a partnership with the United Kingdom's Eden Project. And a subtle green tint—perhaps a nod to their environmental soundness—makes them a stunning addition to any bar or table. 
These slim, fluted beauties, which echo Italian modern design, are made from borosilicate glass, a type of material that is resistant to heat and breakage. Incredibly, they're dishwasher-, microwave-, and oven-safe, which may make you forget that they're also working pieces of art, blown without molds and fluted on the inside. Shaken egg white drinks, with their delicate, frothy caps, look great in these equally delicate glasses. 
Ask the Experts
Q: What is the difference between a lowball glass and a highball glass?
"Lowball glasses or rocks glasses are short, squatty glasses, typically associated with spirits served on the rocks, or simply two- or three-ingredient cocktails," Christian Siglin says. "Highball glasses or Collins glasses are typically tall and usually have a larger quantity of cocktail mixers in them." 
Q: What drinks should I serve in highball glasses?
These glasses are great for drinks with mixers, Siglin says. "Tom Collins, gin rickey, mules, or bucks," he says. "And they are great for long drinks, such as swizzles. They have also become very popular with the Japanese-style highball with Japanese whisky and soda."
Q: Do highball glasses go by other names?
Highball glasses are sometimes referred to as Collins glasses, says Barriere. "Collins glasses are often in the same category with highballs," she says. "Collins tended to be thinner in the early 1900s."
Our Take
You, too, can be the life of the party with a glassware collection that turns heads. Serve your drinks in any of these enviable highballs and your guests are guaranteed to marvel—and they just may be convinced to buy a set of their own.