Versatile and Sturdy, the Best Jelly Roll Pans Are for More Than Cake
But we'd still like to see your best Bûche de Noël.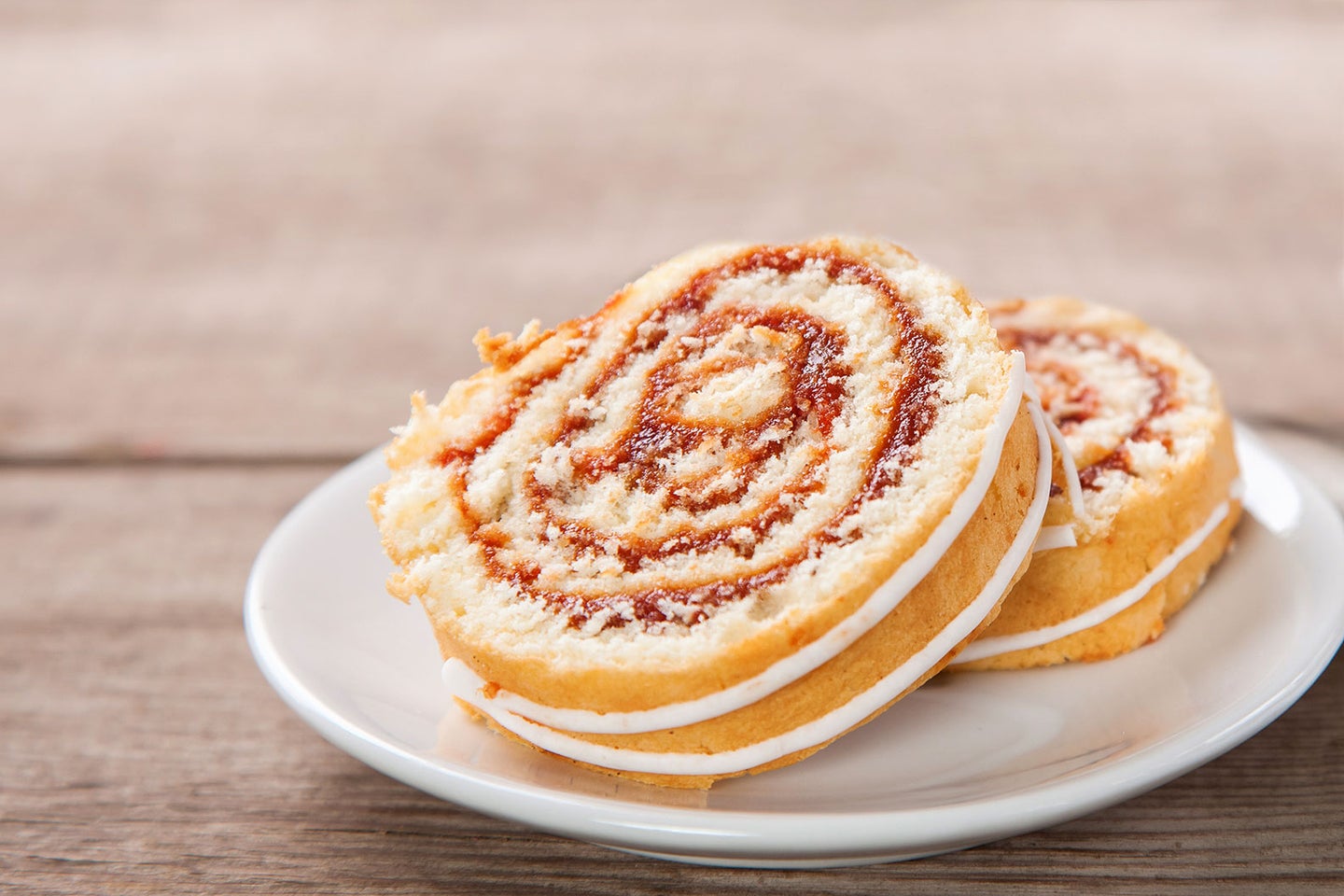 We may earn revenue from the products available on this page and participate in affiliate programs.
Jelly rolls—those pudgy, cylindrical, confectioners' sugar-dusted cakes—provide the ideal canvas for a baker's artistry. Once a mainstay of home kitchens, bakeries, and hotel dining rooms, jelly rolls are direct descendants of the jelly cake, a fancy dessert baked in a very specific cake mold found commonly in France and England in the 17th century. The result was slim cake layers that were then sandwiched with jelly, stacked high, and iced. The molds began showing up in America in the early 19th century, where they found an eager audience in high-end restaurants and commercial bakeries. Labor intensive to prepare, the jelly cake gave way to the streamlined jelly roll. Fashioned out of one long, wide, and thin sponge cake, a jelly roll is filled with jelly (or the likes of mousse, buttercream, whipped cream, mascarpone, or even fresh fruit) and then rolled up and sliced, revealing a dramatic spiral design. Over time, jelly cakes, jelly rolls, and Swiss rolls became synonymous with a circular filled sponge cake.
And did you know: The humble jelly roll pan is a forebear to one of today's most useful pieces of kitchen equipment. It's really an oddly-sized version of its successor: the rimmed baking sheet. Due to the perpetual ebb of food trends, jelly rolls and their diminutive pans became less popular during the rise of television and celebrity chefs, who used commercial-style baking sheets. Home bakers and cooks then realized their multi-tasking potential, planting the seedlings of today's sheet pan-style of cooking. 
But, thankfully, sheet pans can be used for jelly rolls, and vice versa. The best jelly roll pans are more versatile specimens than you might think. They can be used for their eponymous dessert or to bake a glamorous Bûche de Noël, and some are even suitable for a gratin right from the oven. You could use one to prepare a pumpkin cake roll or as a vessel to roast an entire head of cauliflower. Here are six that we think are worthy of space alongside your other kitchen essentials.
Features to Keep in Mind
Material
Bare aluminum pans are lightweight and generally the material of choice, while aluminized steel pans are coated with an aluminum-silicon alloy, making them sturdier and less likely to warp at high oven temperatures. Anodized aluminum resists corrosion and abrasion due to a protective layer of aluminum oxide. Ceramic pans are aesthetically pleasing, but more fragile. Nonstick coatings protect baked goods from sticking, but quality is key; you don't want a flimsy nonstick pan with a coating that flakes off. Some bakers prefer pans without a nonstick finish, opting to line them with parchment paper then grease them, or use a silicone baking mat. When space and budget allow, some bakers like to dedicate one pan to baking and one to high-heat sheet pan cooking. 
Size
Jelly roll pans measure approximately 15.5 inches by 10.5 inches, slightly larger than a quarter-sheet pan and smaller than a half-sheet pan. Half-sheet pans measure 18 inches by 13 inches. Quarter-sheet pans measure 13 inches by 9 inches, half the size of a half sheet. What they all share in common is a 1 inch to 1 1/4 inch depth.
Durability
When selecting a pan, sturdier is smarter. Thin, flimsy pans will tire, scratch, bake unevenly, and warp over time. Poorly-made nonstick pans run the risk of leaving unwanted remnants of coating in your bakes. Gauge refers to the thickness of the pan, but grading is counter-intuitive:  The lower the gauge number, the thicker the pan. Higher-gauged sheet pans are more economical, but are not as durable as lower-gauged pans. So: Look for a pan with a gauge, or thickness of metal, ideally between 10 and 18. (You'll notice our top pick comes in at 20 gauge, but that's because of its excellent quality and craftsmanship.) 
Our Top Picks
This Minnesota-made pan is a workhorse, receiving raves from both pros and home bakers. Made from high-quality, uncoated aluminum, it conducts heat more efficiently and uniformly than aluminized steel or stainless steel. It's a champion at higher heat when roasting vegetables or crisping potatoes, but just as worthy of applause for quickly and evenly baking cookies, bars, and delicate sponge layers. The technical details: A reinforced encapsulated steel rim means the edge of the aluminum pan is rolled around a rectangular frame of steel wire. This keeps the pan bottom flat while pushing against the four sides, ensuring a level pan with even heat absorption. It's durable, easy to clean, and long lasting, and the folks at Nordic Ware consider it "virtually unwarpable". (Plus, their customer service is stellar.)
One of my slim kitchen cabinets is dedicated to these U.S.-made pans, plus their quarter-sheet sidekicks. Sure, there are more economical options on the market, but at less than $20, this is an excellent purchase and well worth it. Boasting a heavy duty 13 gauge, these natural finish aluminum pans weather commercial restaurant convection ovens and home ovens with equal grit. (Some of mine have been in circulation for well over two decades.) They have turned out season after season of sponge layers and sheet cakes, and their tapered design encourages compact stacking. With a little elbow grease and a non-scratch sponge, they clean up easily. Note: It's always a good idea to purchase these pans directly from the manufacturer, a restaurant supply vendor, or visit a restaurant supply store to ensure receipt of the correct gauge. We found similar pans online that were dubbed the same, but in reality, were considerably lighter and not as durable. 
This is the pan that's all dressed up with somewhere to go. Moving seamlessly from oven to table, Crow Canyon Home offers a not-too-big roasting pan that's handcrafted of steel and coated in porcelain enamel. It has an extended lip, making it suitable for any number of bakes and roasts, like a juicy fruit crumble or sheet pan supper for two. Don't forget to use a pair of serious oven mitts and a trivet or cooling rack; enamelware takes heat retention very seriously. (If you can find it, their Small Enamelware Tray is also perfect for jelly rolls and beyond.)
While jelly roll is in its name, this 9.5 inch by 14 inch by one inch baking sheet delivers so much more than it promises. Manufactured by USA Pans and made of recycled steel and aluminum, it straddles the size between a quarter-sheet and a half-sheet. The beauty of this pan is how evenly it bakes; no hot spots around the edges causing corners to get toasty, no dark-bottomed cookies. It is, unsurprisingly, perfect for jelly rolls, which turn out with little, if any, coaxing. The nonstick finish is called Americoat, a clear, non-toxic, environmentally-friendly, FDA-approved, and food-safe glaze. When it's not baking delicate sponge layers, this pan welcomes your favorite cookie jar cut-outs, drop cookies, bars, and even granola. On the savory side, it's convenient for oven-roasted vegetables, a sheet pan supper, or rustling up a few personal-sized pizzas. And don't forget the parchment paper. 
Finally, a pan sized with the dimensions of a classic jelly roll! Measuring 15 inches by 10 inches, this is slightly smaller than a half sheet and larger than a quarter sheet. It's reinforced with ceramic material and constructed from heavy-gauge aluminized steel, so there are no wobbles here. I have dedicated this pan to jelly rolls and find the double layer of coating protects against scratches and stains—the nonstick finish truly turns out delicate cakes with ease. A micro-textured pattern on the bottom is there to minimize the pan's contact with food, which is said to promote airflow and even baking. Cookies, sponge layers, and snack cakes bake up beautifully without over-browning. The square rolled edge makes the pan easy to grip and maneuver. Jelly roll recipes sourced from vintage cookbooks didn't need reconfiguring during testing, thanks to this pan's classic size. Hand-wash it with a little more attention to detail due to the patterned bottom, and dry thoroughly. 
A far cry from the size of a jelly roll, Nordic Ware's 21 inch by 15 inch pan is the one for serious bakers who might be churning out multiple Bûche de Noël to give as gifts, or dozens of bar cookies for an important bake sale. There is a slight learning curve if you have never baked on a pan 35 percent larger than a half-sheet, but this will fit most standard-size ovens and make any holiday infinitely easier. This is just the right gift for anyone who bakes or loves to entertain on a large scale. The Big Sheet handles savories just as happily as sweets, too, and will roast (or toast) a buffet table's worth of eats with gusto.
How We Tested 
Pans were tested in both home and commercial ovens; vanilla sponge cake batter, drop cookies, and bar cookies were baked at 350 degrees Fahrenheit. We also oven roasted a simple sheet pan of root vegetables (potatoes, carrots, beets, and Brussels sprouts) at 425 degrees Fahrenheit. Professional pastry chefs and restaurant chefs weighed in, as well as passionate home bakers.
3 Pro Tips for Getting a Perfect Roll
Jelly rolls are both fluffy and fragile, so use a thick jam rather than a thin jelly to fill the cake, taking care not to overfill. 
Once you have filled and rolled the cake, set it seam side down on a serving platter. 
Be sure to let the cake rest for at least half an hour (preferably more) before cutting to ensure neat slices. This resting time allows the cake to absorb some of the filling and better hold its shape.
Ask the Experts
Q: What is the difference between a jelly roll pan and a baking sheet?
The size is the main difference. A jelly roll pan measures approximately 15 inches by 10 inches by 1 inch, is crafted out of aluminum, and has rolled edges inside of a lip. Specifically designed for jelly rolls, the sides of a jelly roll pan are usually 1 inch deep making them ideal for other baking tasks, such as bar-type cookies. A baking sheet, also known as a sheet pan, has a shallow outer rim around all four sides to keep juices and liquids from escaping. Baking sheets are available in many sizes and are truly multi-purpose, seamlessly crossing the line from sweet bakes to savory roasts.
Q: What's the best way to clean a jelly roll pan? 
Nonstick pans, if well cared for (meaning no exposure to the broiler and not using utensils that will scratch the finish) and hand-washed with a non-abrasive scrubber, should clean up nicely following a quick, soapy sudsing in warm water. Follow with a rinse and a thorough towel dry. Don't ignore those corners where water likes to collect. For pans with a nonstick finish that you want to relegate strictly to delicate bakes, lining them with a sheet of parchment paper or a silicone baking mat will further protect the pan and encourage easy clean-up. For uncoated pans, the same rule of thumb follows: Hand-wash in hot, soapy water, followed by a good rinse and thorough towel dry.