Recipes
Skillet Cod with Brown-Butter Tomato Sauce
Vermouth is put to good use as the secret ingredient in this weeknight fish dish
Serves

serves 2

Cook

25 minutes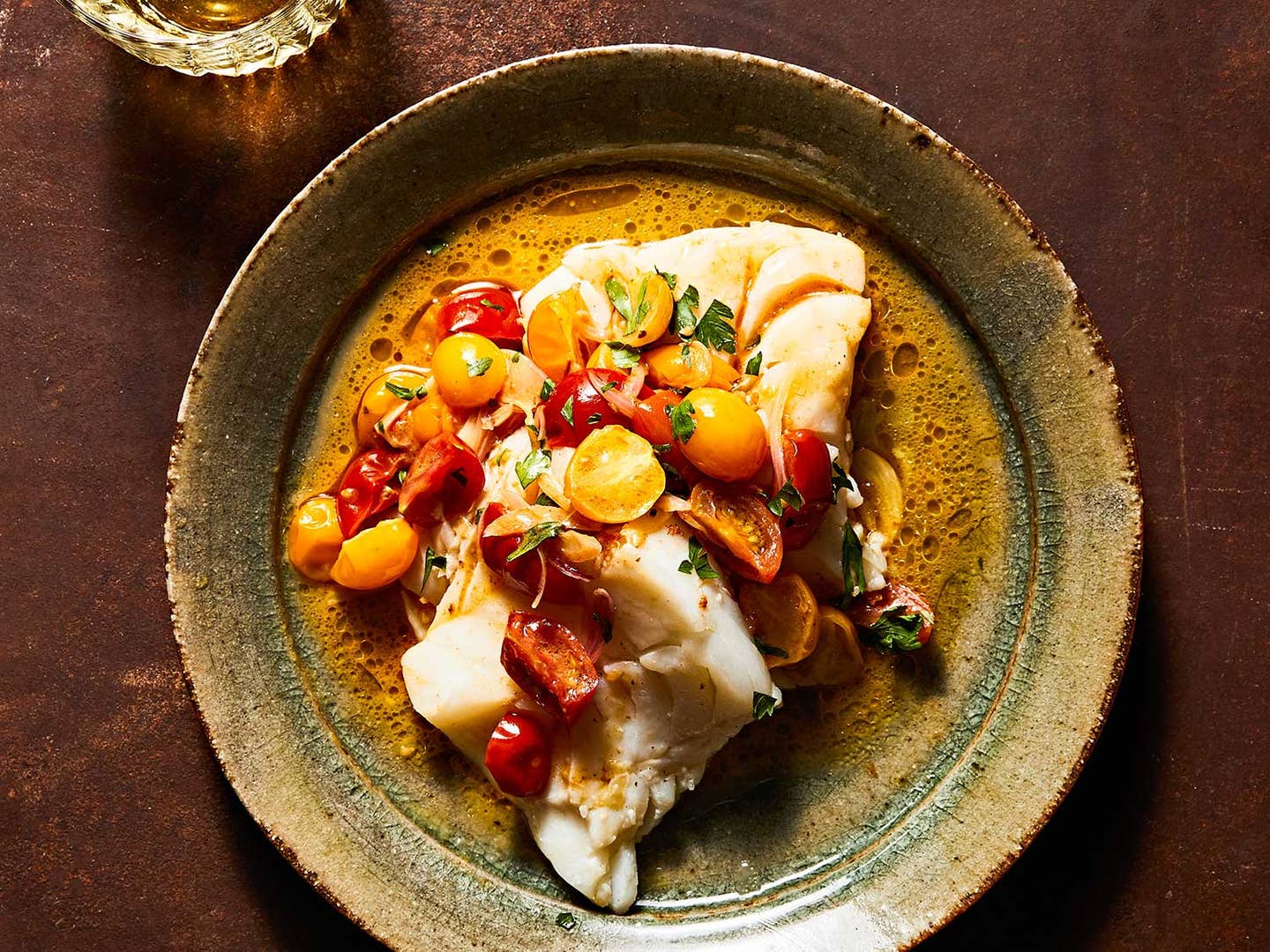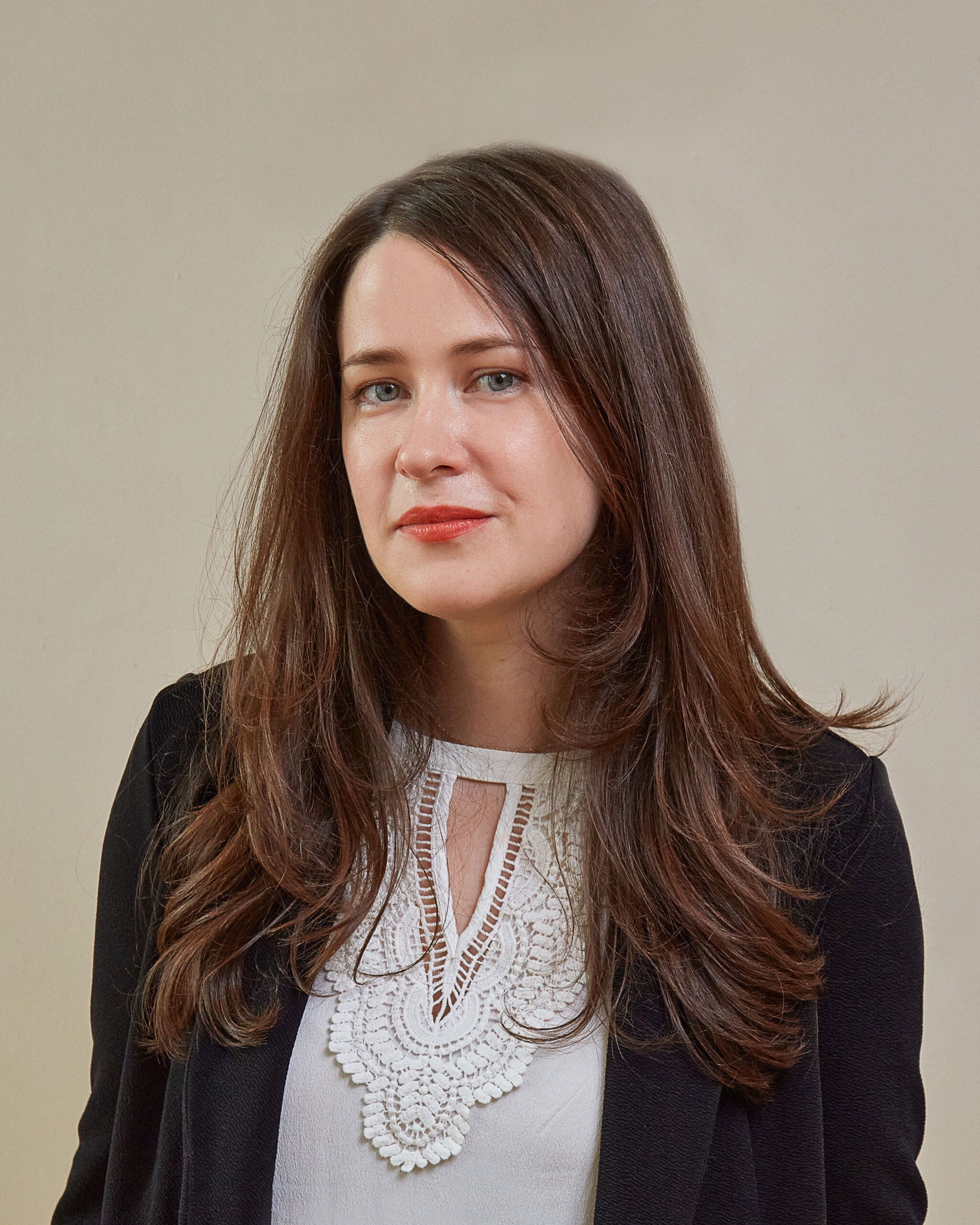 ---
In SAVEUR editorial director Kat Craddock's quick weeknight dish, nutty brown butter is brightened with barely-cooked fresh tomatoes and a splash of dry vermouth, then spooned over pan-seared fish. Use the sweetest cherry and grape tomatoes you can find, or substitute coarsely chopped heirloom tomatoes or even vine-ripe tomatoes. When selecting your cod, ask your fishmonger for the "captain's cut"—a small but well-defined piece that is easy to sear in a hot skillet.
Ingredients
Two 6-oz. skinless cod fillets
Kosher salt and freshly ground black pepper
1 tbsp. extra-virgin olive oil
4 tbsp. (2 oz.) unsalted butter, divided
1 medium shallot, thinly sliced (¼ cup)
1 medium garlic clove, thinly sliced
2 tbsp. dry vermouth
7 oz. mixed cherry and grape tomatoes, halved (1 cup)
2 tsp. coarsely chopped parsley, for serving
Instructions
Step 1
Pat the fillets dry with paper towels, then lightly season all over with salt and pepper; set by the stove. Hold a large, heatproof rimmed plate under hot running water to warm, then pat dry and set by the stove.
Step 2
In a large skillet over medium-high, heat the olive oil with 1 tablespoon of the butter. When the foam begins to subside, add the fillets and cook without moving until the fish is lightly browned and turning white and opaque about ¼ of the way up from the skillet, 1–2 minutes. Using a wide, thin metal spatula, gently flip the fillets, then continue cooking until the other side is lightly browned and turning white and opaque about ¼ of the way up from the skillet, 1–2 minutes more. Carefully transfer to the warm plate, cover tightly with an inverted bowl or aluminum foil, and set aside in a warm place to steam while you make the sauce. (It will continue to cook through as it steams.)
Step 3
Return the skillet to medium-high heat, add the remaining 3 tablespoons butter, and swirl to melt. Cook, using a wooden spoon to scrape the bottom of the skillet frequently, until the foam completely subsides, the milk particles sink to the bottom and turn a deep golden brown, and the butter takes on a toasted fragrance, 2–3 minutes. Add the shallot and cook, stirring and shaking the skillet continuously, until it just begins to soften, about 1 minute. Add the garlic and cook until fragrant, about 30 seconds. Add the tomatoes and cook, stirring gently without crushing them, until they are heated through and beginning to soften and turn jammy, and their juices are slightly thickened, 4–5 minutes. Add the vermouth and continue cooking until the alcohol evaporates, 15–30 seconds more. Remove the pan from the heat.
Step 4
Uncover the fish, and if desired, transfer to a large rimmed platter or a shallow bowl. Pour the sauce over the fish, top with parsley, and serve immediately.