Recipes
Brown Butter Makes Everything Better, Including This Weeknight Fish Dish
A rich yet bright brown-butter tomato sauce transforms pan-seared cod into an unforgettable summer supper
Serves

serves 2

Cook

25 minutes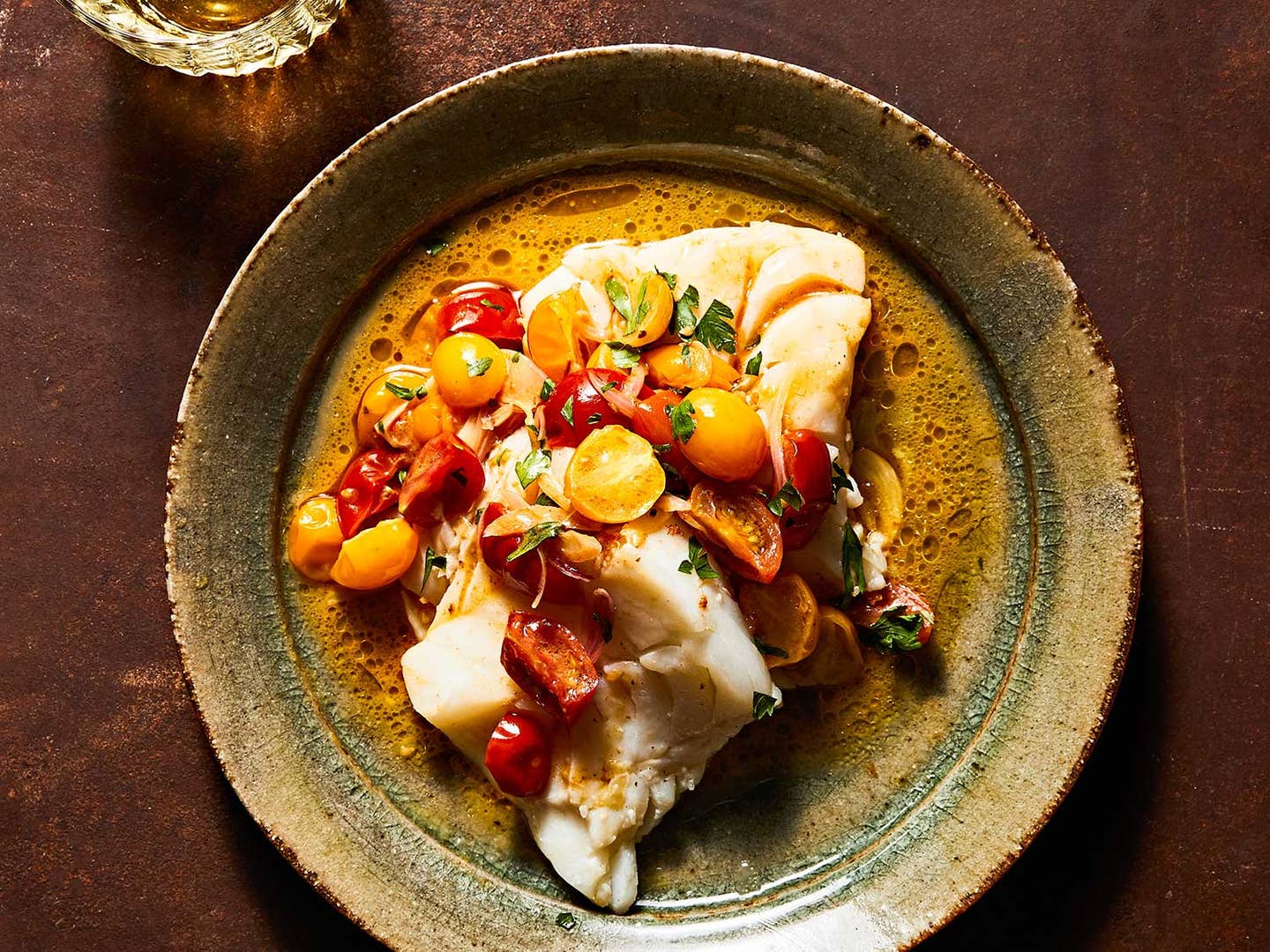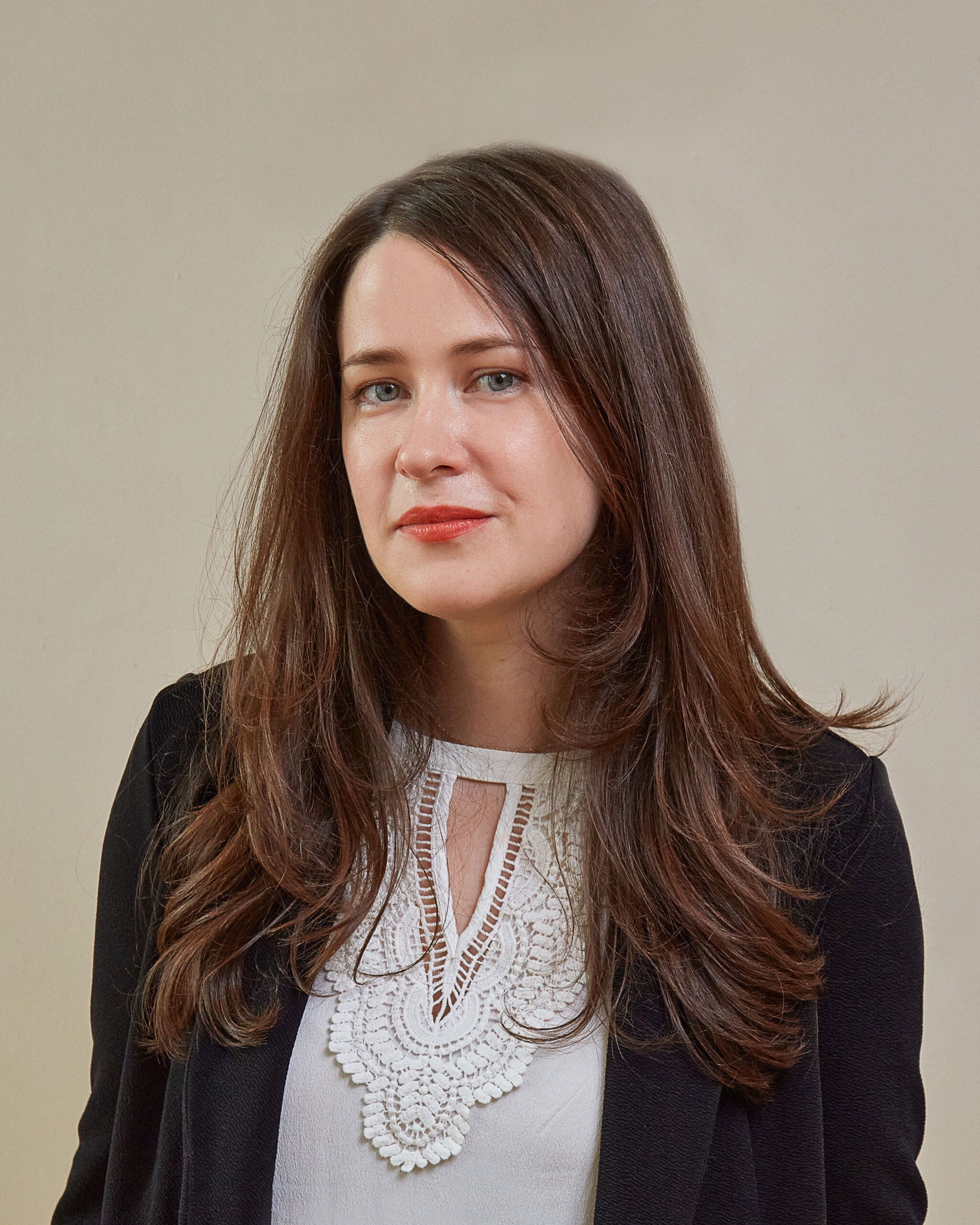 ---
In culinary school, all my teachers told me that I would have to decide: sweet or savory. Regardless of what my classmates and I actually liked to cook or eat, the implication was that our personality traits would dictate where we would end up. Perhaps someone with an impatient disposition and the mouth of a sailor, for instance, would be best suited for working on the line, grilling steaks or smoking ribs. Meanwhile, those of us with a fixation on precision and a flair for the artistic were said to be destined to spend our days sculpting wedding cakes and tempering chocolate in the pastry kitchen.
I was never particularly satisfied with having to choose one over the other, so after a decade of working as a pastry chef and bread baker—and squeezing in whatever savory home cooking I could on the side—I found a way to play both sides, as a recipe tester.
Here at the SAVEUR test kitchen, I relish the opportunity to bring the two approaches together, using pastry techniques in savory applications and vice versa. Fixing a broken ganache by whisking in a drizzle of hot water or milk, just like I learned to do with hollandaise, is always a neat party trick. And while my once-insatiable sweet tooth has dulled after years of cranking out desserts, there are certain ingredients from my pastry days that I love to incorporate into savory dishes. Vanilla adds a sultry sweetness to creamy prawns in coconut milk, while fruity, bitter cacao lends depth and body to Oaxacan mole negro. And brown butter—well, brown butter improves just about everything.
Brown butter has one of the simplest, yet most compelling flavors. It calls for gently cooking high-quality butter until the water evaporates and the milk solids sink to the bottom, yielding a rich, nutty elixir that can be used to infuse any number of dishes. It can be added to sauces or custards, drizzled over fruit before baking, or even chilled back to its solid state and incorporated into cookies or pie crusts.
The French have long used brown butter, or what they call beurre noisette—so named for its hazelnut-like color and aroma (noisette is French for hazelnut)—in savory applications as well. Traditionally served over poultry or fish, the sauce is one of those elegant yet attainable pillars of French cuisine.
I've always been fond of the way that fatty, bittersweet brown butter complements more acidic ingredients like peaches and apples. Since it's peak tomato season at farmers' markets right now, I decided to add a handful of colorful, barely cooked cherry and grape tomatoes to an otherwise classic beurre noisette, then spoon the resulting sauce over flaky pan-seared cod. It makes for the easiest, most impressive one-pan dinner—here's how to get each component just right.
Start with a mild, flaky white fish—we went with Atlantic cod, but halibut, black cod, or even skate wing can also be substituted here. Just be sure to reduce the cooking time accordingly for thinner fillets.
To prevent sticking, use a large, heavy-duty skillet and a mixture of olive oil and butter to sear the cod. I like this textured stainless-steel pan: the light color makes it easy to see when the butter has fully browned, and the textured interior keeps the delicate fillets from adhering and tearing. A good-quality, unscratched nonstick skillet or even a lighter-weight cast-iron one will also get the job done, but be prepared to rely on your nose when toasting butter in a dark-colored pan.
Sear the fillets until the exterior is just set and lightly browned, then transfer them to a warm plate and cover. The residual heat will finish cooking the fish without drying it out or causing it to flake apart. The brown-butter tomato sauce comes together quickly, so place the fillets by the stove to keep them warm and at the ready for finishing the dish.
Since butter is one of the main flavoring agents in this sauce, use it as an opportunity to break out the good stuff. Look for an unsalted European-style cultured butter—I like the ones by Vermont Creamery, D'Isigny, Kerrygold, Échiré, and Plugra.
Once the butter has melted, be sure not to turn away from the stove—much like caramel, butter can go from perfectly browned to burned to the point of no return in a flash. Wait patiently until you see the milk solids sink to the bottom of the skillet and turn pale golden. As the particles brown, use a wooden spoon or spatula to scrape the bottom of the pot, stirring frequently so that they toast evenly.
Once the butter takes on that telltale golden hue, add the shallots. The cool, wet vegetable will drop the temperature of the oil and prevent the solids from browning further. Cook until the shallots just begin to soften and lose their raw flavor without allowing them to color. Add the garlic and cook for a few more seconds, once again just to soften and infuse the butter with their fragrance and flavor.
Cut each of the cherry and grape tomatoes in half, both to make them easier to eat and also to encourage them to release their sweet-tart juices into the sauce. Add them to the hot butter mixture and give the skillet a good shake to combine. Cook, shaking occasionally, until the tomatoes soften and just begin to turn jammy.
A final splash of vermouth brings the juices together and adds another layer of flavor to the sauce. The fortified wine's acidity offsets the richness of the brown butter, and its faintly bitter, botanical notes contrast nicely against the sweet tomatoes. Cook just long enough to boil off the alcohol (use your nose again), then quickly remove from the heat. You don't want to over-reduce and cause your silky, emulsified sauce to separate (although if it does break, don't fret; it will still be delicious).
Once the sauce is finished, spoon it over the fish on a large rimmed platter or a shallow bowl, then add a few parsley leaves for color and freshness. Serve with plenty of crusty bread for sopping up all the juices and a medium-bodied white wine to wash everything down.
Ingredients
Two 6-oz. skinless cod fillets, preferably "captain's cut"
Kosher salt
Freshly ground black pepper
1 Tbsp. extra-virgin olive oil
4 Tbsp. unsalted butter, divided
1 medium shallot, thinly sliced (¼ cup)
1 medium garlic clove, thinly sliced (1 tsp.)
2 Tbsp. dry vermouth
7 oz. mixed cherry and grape tomatoes, halved (1 cup)
2 tsp. coarsely chopped flat-leaf parsley, for serving
Instructions
Step 1
Pat the fillets dry with paper towels, then lightly season all over with salt and pepper; set by the stove. Hold a large, heatproof rimmed plate under hot running water to warm, then pat dry and set by the stove.
Step 2
In a large stainless-steel skillet over medium-high, heat the oil with 1 tablespoon of the butter. When the foam begins to subside, add the fillets and cook without disturbing until the fish is lightly browned and turning white and opaque about ¼ of the way up from the skillet, 1–2 minutes. Using a wide, thin metal spatula, gently flip the fillets, then continue cooking until the other side is lightly browned and turning white and opaque about ¼ of the way up from the skillet, 1–2 minutes more. Carefully transfer to the warm plate, cover tightly with an inverted bowl or aluminum foil, and set aside in a warm place to steam while you make the sauce.
Step 3
Return the skillet to medium-high heat, add the remaining 3 tablespoons butter, and swirl to melt. Cook, using a wooden spoon to scrape the bottom of the pan frequently, until the foam completely subsides, the solid milk particles sink to the bottom and turn a deep golden brown, and the butter takes on a toasted fragrance, 2–3 minutes. Add the shallot and cook, stirring and shaking the pan continuously, until it just begins to soften, about 1 minute. Add the garlic and cook until fragrant, 30 seconds. Add the vermouth and cook until the alcohol evaporates, 15–30 seconds. Add the tomatoes and continue cooking, stirring gently without crushing them, until they are heated through and beginning to soften and turn jammy, and their juices are silky and slightly thickened, 4–5 minutes more; remove from the heat. Uncover the fish (it should now be cooked through), and if desired, transfer to a large rimmed platter or a shallow bowl. Pour the sauce over the fish, top with parsley, and serve immediately.