Recipes
Stir-Fried Chinese Rice Cakes with Pork Belly, Tomatoes, and Spinach (Dajiujia)
Serves

serves 4

Cook

20 minutes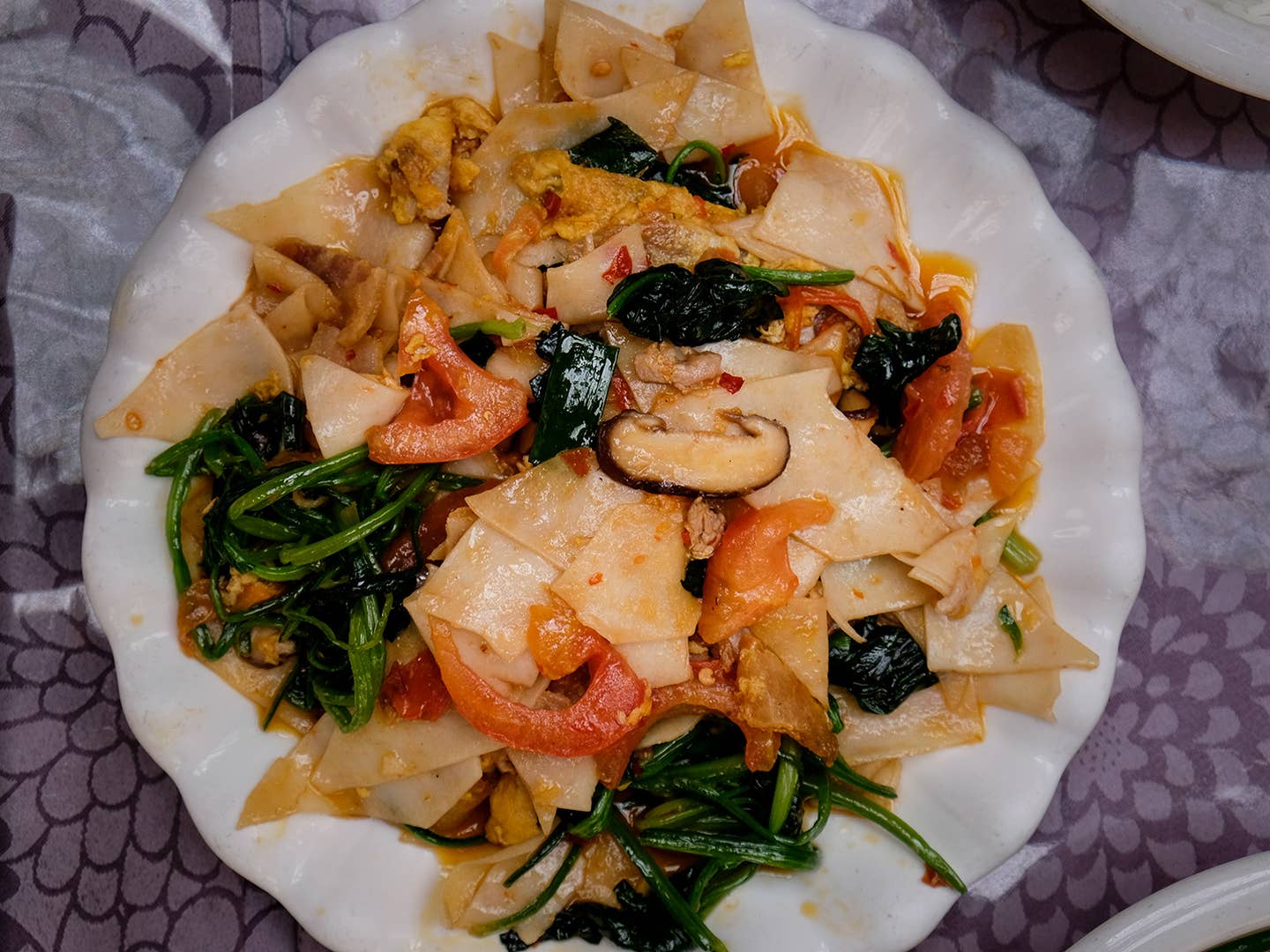 This version of Yunnan's most famous erkuai stir-fry comes from a restaurant called Golden Farm in the city of Tengchong. Other versions of the dish might use pea greens or cabbage in place of the spinach, or garlic chives in place of the scallions. Prepared Korean rice cakes are a close substitute for harder-to-source Yunnan-­style erkuai. While they can be thawed and added to stir-fries right from the bag, the rice cakes' consistency will vary from brand to brand; if very firm and dry, blanch the rice cakes for 20–30 seconds, then place them in ice water until ready to use.
Ingredients
1 large egg
6 oz. skinned pork belly, sliced crosswise 1/8-inch thick, then cut into 1-inch-long pieces (3/4 cup)
3 tbsp. vegetable oil
1⁄3 cup (1 oz.) thinkly sliced cremini mushrooms
3⁄4 lb. Yunnan-style rice cakes (erkuai), cut 1/8-inch thick into triangular slices (2 1/2 cups), or substitute thawed frozen sliced Korean rice cakes (ovalettes)
3 oz. (1 1/2 cups) baby spinach
1 large, firm tomato sliced 1/4-inch thick
5 medium scallions, white and light-green parts only, cut into 1/2-inch pieces (about 1/3 cup)
1 tbsp. Chinese light soy sauce
Kosher salt
Instructions
Step 1
In a medium bowl, beat the egg. Add the pork belly, and toss gently to coat. Set aside.
Step 2
Set a large wok over the highest heat possible; once it's hot, add the oil. When the oil begins to smoke and shimmer, pour in the meat and egg mixture, letting the egg puff up without stirring. Once the egg is mostly set, about 30 seconds, use a wok spatula to flip the mixture. Break up the egg, and separate the meat pieces. Add the mushrooms and cook for 1 minute, pressing them against the sides of the wok to lightly brown them. Add the rice cakes, spinach, and tomato, and stir-fry, flipping and stirring constantly until the spinach is slightly wilted, about 1 minute. Add the scallions, then drizzle in the soy sauce, pouring it around the outer edge of the wok in a circle, stirring constantly to fully incorporate. Continue stir-frying until the rice cakes are tender and the sauce is almost completely evaporated, about 3 minutes.
Step 3
Transfer the mixture to a serving platter or bowl, and serve immediately.