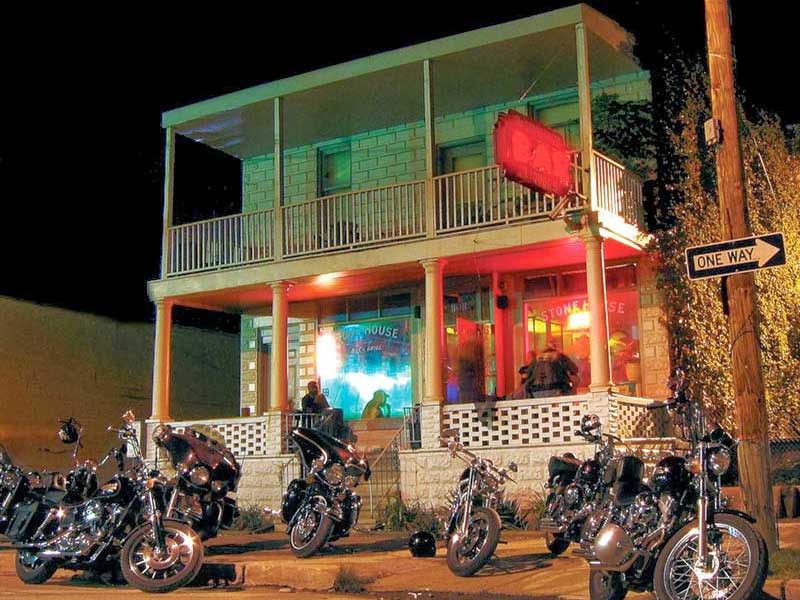 Drinks
The Legend of Detroit's Quintessential Biker Bar
The shiny, chrome allure of the Stonehouse Bar, one of the country's top motorcyclist haunts
I know very little about biker culture, except that it has a style I wish I could more easily embrace: Being leather-clad, having beefy forearms, revving my engine without feeling like a fraud. Motorcycle-life feels both dangerous and liberating, somewhere between kicking down a door a la Walker, Texas Ranger and running away from my problems in fairly badass capacity.
The closest I've ever come to being a motorcycle-enthusiast is when I bought a tangerine-colored moped on a whim last year after a series of fairly heavy disappointing life-blows. It wasn't even a Vespa—it was a knockoff version that could barely hit 40 miles per hour—but in that moment, it felt like a crucial (if slow) move toward autonomy. My family did not approve.
When the moped was stolen five nights later from in front of my house in New Orleans, I was phased, but not surprised. Instead, I took it as a sign and bought a pair of roller skates on Craigslist.
Despite that fact both thieves and family members have conspired against it, my interest in the quasi-Hell's Angels way of life has remained, though now in a form where I fit more naturally: perched at a biker-friendly bar.
Pound-for-pound, one of the best biker bars in the country is Stonehouse Bar in Detroit, where a multifaceted legacy—General store! Brothel! Mob clubhouse!—makes it a perfectly storied haunt.
Founded in the 1860s as a sundries shop, the building's rocky, alabaster-hued exterior lends the bar its name: It is, quite literally, a two-story farmhouse made out of stone. (Depending on the season, it's highly likely a carpeting of vines might be blanketing one side of the house like a leafy fur coat.) Rows of slick chrome choppers stand at attention out front, their owners nursing whiskey under the watchful eye of the bar's resident stuffed buffalo head inside. The space and people feel heavy with stories, and bikers come to gather and swap them from miles around.
"It classifies as an independent biker bar in here, but really it's more than that," says Amanda Lee, a bartender who conducts history tours of the space. "Bikers come and sit at the rail right next to a businessman and listen to a band play blues on the weekend. Different bike clubs usually don't get along, but they do in here."
Most famously, Stonehouse once served as a hideout for the Purple Gang, a band of hardnosed, Prohibition-era bootleggers and hijackers. According to lore, the group got their name because a shopkeeper once said that they were, "rotten and purple, like the color of bad meat." Al Capone relied on them to strong arm all of his boozy, Michigan-based needs.
"We were walking around the upstairs at the bar recently, and we found all these holes in the floor of the place that ran down through to the basement," Lee recalls. "We talked to some folks about it, and figured out it was probably how the Purple Gang dropped money—and other things—they didn't want the cops to find from there to the basement during raids."
In the days since gangsters (and accompanying ladies of the night) have vacated the premises, the bar has become well-known for the kind of welcoming atmosphere that makes newcomers feel like old timers and old timers feel like they might just have been born in the place.
Lee was not immune from the draw. "When I walked in for the bar first time, it just felt like, 'Honey, I'm home.' As I started to work here, I realized it is one big dysfunctional family. It really is a collection of odd souls."
This commitment to the strange and familial extends to the bar's 1990s-throwback website, where animated Clipart of Homer Simpson popping out of a beer mug sits next to an in memoriam dedication. A quirky section entitled "The Stonehouse Dictionary" explains some of the bar's key terms, including the definition of cheedle—the dust left on one's fingers after consuming a bag of Cheetos.
"There's such a legacy. We're good to people here, and people are good to each other. I think that's why we still stand. We have a generous pour. I call the regulars and make sure they get home safe. It's just the kind of place we are."
The bar's dogged rejection of pretense is simply a reflection of a larger, deeply ingrained Detroit attitude. In a city built on motors, muscle, and good music, it's the relationships built over a round (or three) of drinks that matter more than the drinks themselves.
Stonehouse also serves as a hub of neighborhood activity in an area that has seen drastic ebbs and flows since the shuttering of the nearby Michigan State Fair site in 2009.
"We really try to look out for the neighborhood. At Christmas time, we open our doors to hand out toys to kids and eat cupcakes and color pictures with them. On Thanksgiving, we serve a dinner for people who need a place to go. It's a place for people to stop in and ask, 'Hey, can I get a jump for my car?'"
An old biker joke goes that when that when a chopper drips oil, it's not leaking, it's "marking territory." Perhaps the sign of an amazing bar is that various groups—all different, all eccentric—try to mark it as territory for decades, creating sedimentary layers of myth and lore that help a dive like Stonehouse stay rock solid through the ages.