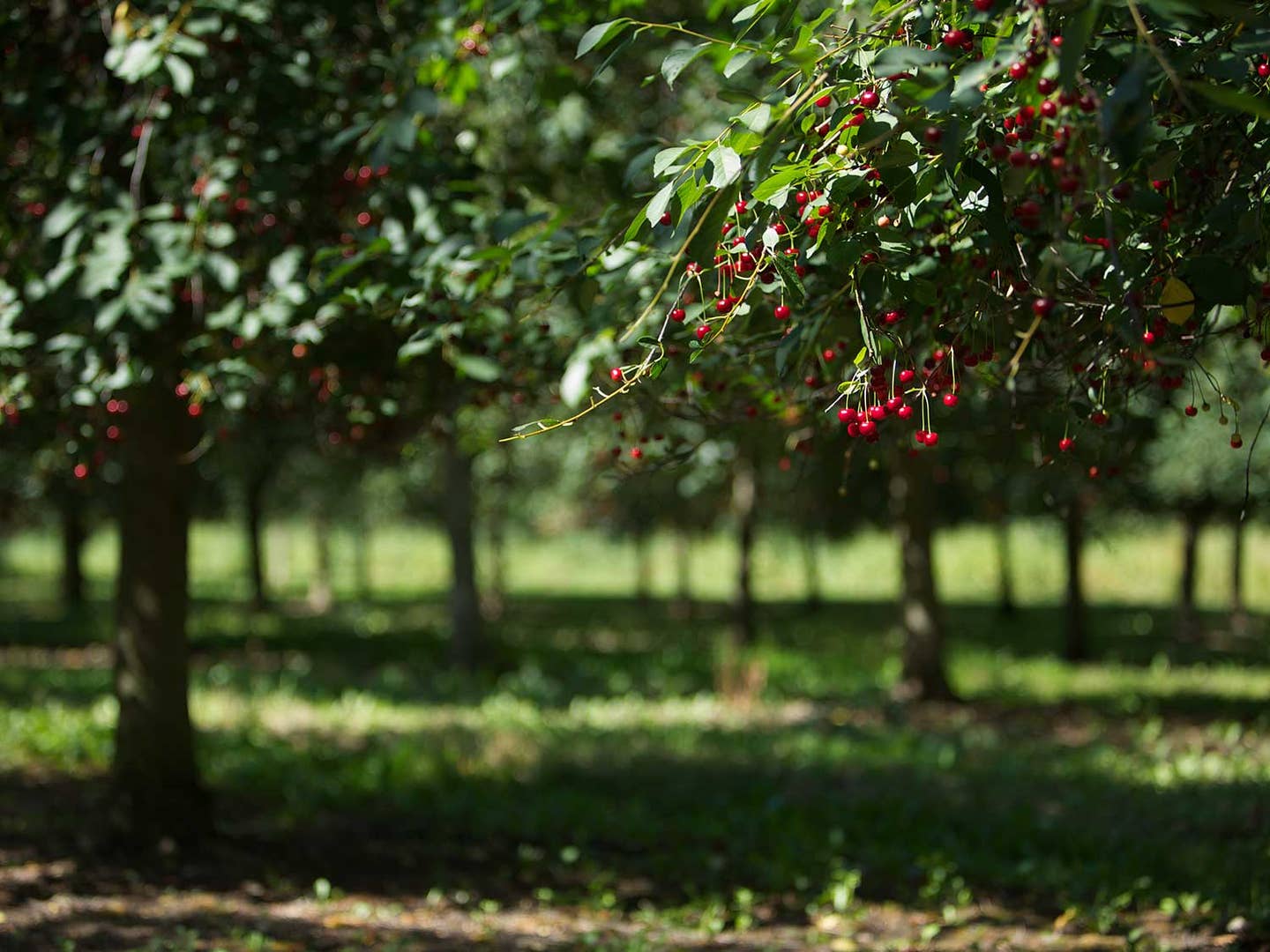 Drinks
Denmark's Best Wine Is Made from… Cherries?
Frederiksdal is putting cherry wine on the map in Copenhagen and beyond
"It sounds like the type of drink that should be consumed at a bachelorette party," laughs Morten Brink Iwersen, co-founder of Frederiksdal. He's referring to cherry wine, or kirsebaervin, a Danish product that has a terrible reputation in its home country—one he has been trying to rectify for the past decade. Iwersen is right: cherry wine does sound like the kind of cheap, sugary drink that's fueled many a bachelorette party. But Denmark actually has a long and interesting history with fruit wines.
Production of these fortified wines began in private households during World War II, when grape wine wasn't available. Using artificial yeast and added spices and enzymes, cherry wine was cheap to make—and easy to drink. Following the war, grape wines gushed back onto the market, and sweet fruit wines slowly trickled out. These days, "the only time Danes really drink cherry wine is at Christmas," says Iwersen, a journalist who found himself in the cherry wine business by accident.
In 2006, Iwersen met his soon-to-be business partner Harald Krabbe, the now-winemaker at Frederiksdal. Krabbe had recently inherited a cherry farm from his father but was unsure what to do with all the cherry trees. "There's no money in cherry farming!" says Iwersen. As a wine lover and amateur winemaker (he had made grape wine in France), Iwersen decided to try his hand at cherry wine. "After I suggested it, I called up my friend who is a chef in Denmark and said: I've just done something really stupid. I promised a farmer I can make cherry wine. Can you help me?" says Iwersen.
Frederiksdal produced its first 200 bottles of wine in 2008 and has since expanded to 40,000 bottles, ranging from sparkling to dessert wine. Unlike other cherry wines, Frederiksdal employs techniques that are more commonly used to make port: sour cherries—a heritage Danish variety known as Stevnsbær—are fermented for three to five days and pressed with natural yeast. Some of their wines are also barrel-aged or aged outdoors in glass carboys.
"Frederiksdal is interesting because they are producing large amounts of cherry wine," says Rasmus Holm, the owner of Holm Cider, a cider bar and shop in Copenhagen. "For this type of wine to really take off, it needs to be more mainstream, and Frederiksdal seems to be going in that direction." While cherry wine might not seem mainstream in comparison to grape wine, as far as fruit wines go, "it's definitely getting bigger," says Jens Skovgaard of Cold Hand Winery, a fruit winery in northern Denmark that makes apple wines and cherry liqueur. "Many people just don't know how to drink it," explains Skovgaard.
Luckily, restaurants are helping get the word out: Frederiksdal's cherry wine has made it onto menus all over Denmark. At the Michelin-starred Marchal in Copenhagen's stately Hotel D'Angleterre, for instance, it's typically paired with desserts starring ingredients like dark chocolate and blackberries. The product has also made its way stateside and can be found at top restaurants in New York City, including Danish chef Claus Meyer's much-lauded Agern.
Ashley Sinon, service manager at Agern, has found that most diners are intrigued by the idea of cherry wine. "The feedback has been that the kirsebaervin is interesting, complex, and tasty. The wine certainly lends itself to our cuisine," says Sinon. "Our Danish guests are always delighted to see an esteemed creation from their home on the menu." Of course, if any Danes are ordering it for nostalgia's sake at Christmastime, they're in for a big surprise: this is not your grandma's cherry wine.