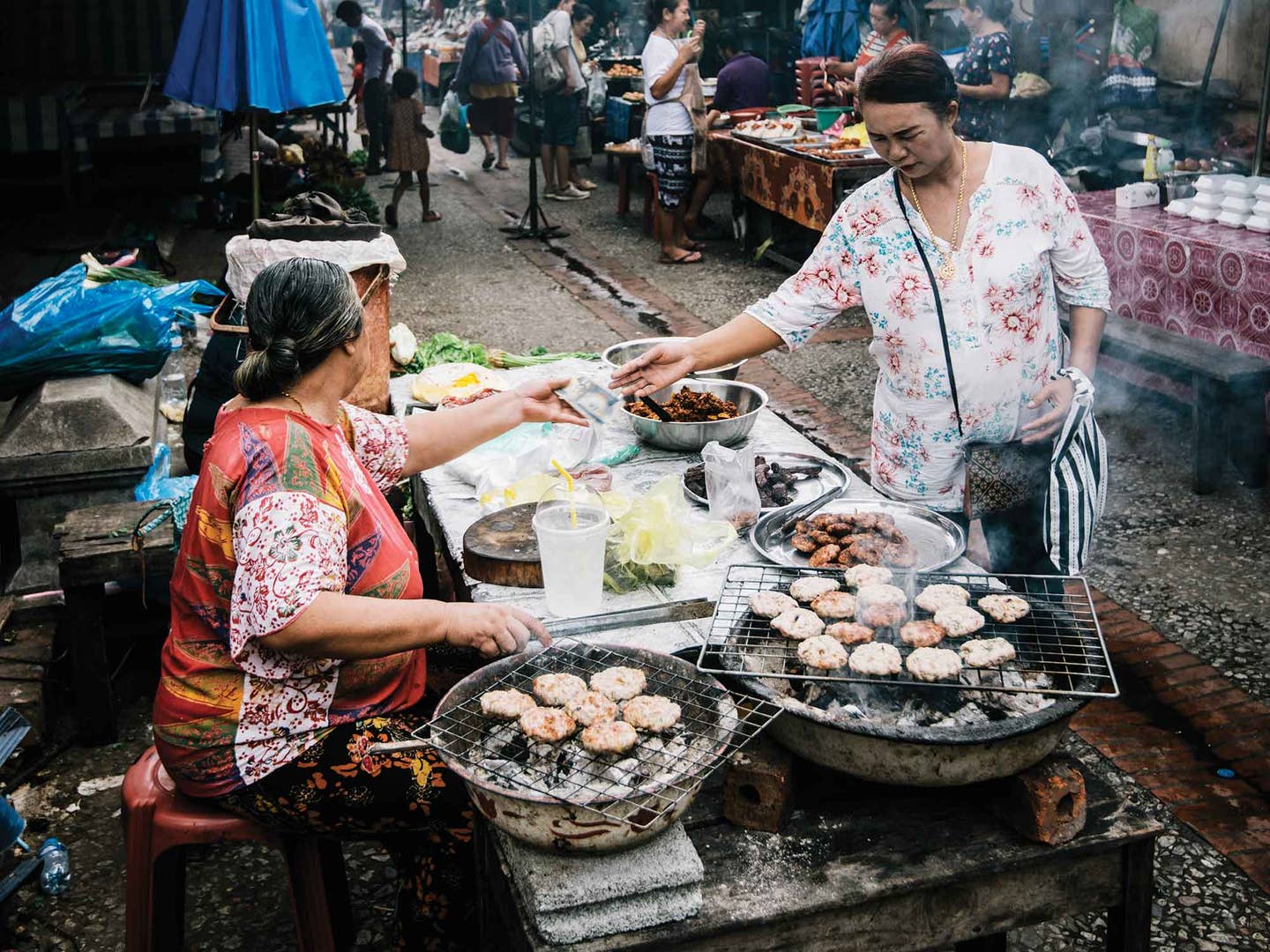 Shopping & Reviews
The 2020 Saveur 100: 31-40
The Trader Joe's bread that keeps us going, the most interesting woman in the restaurant business, the French mustard we covet, and the gadget that makes entertaining easy.
31. Enjoying This Issue? Thank This bread.
My boyfriend's mother got me hooked on ros ($3.99; traderjoes.com for stores). His sister enabled me by showing up two weeks later with four loaves. (Big shout-out to those adorable bad influences, Bunnie and Danielle DiVecchio!) Ever since, I have been balling up chunks of the miraculous manna and shoving them in my mouth. Heck, there might not even be a "Saveur 100" if I hadn't had access to such calorie-forward fuel. Occasionally, I'll take a break from work and use the bread to build a sandwich or make the best French toast of all time. Mostly, though, I take the carbs straight from the bag. So, no matter what happens with the guy, I'm keeping his family—and that sweet, sweet brioche. —Sarah Gray Miller
On return trips from Paris, real estate in my tiny suitcase is precious. The one ­souvenir I always make room for: Amora mustard. The condiment, which costs a single euro at any Monoprix, packs a sinus-­clearing, horseradishy heat—the key to replicating jambon-beurre stateside. Like most things, Amora is available on Amazon, where you'll likely pay 10 times as much. All the better, for so many reasons, to buy it in France. —­Kat Craddock
33. Why Twist Yourself into Knots?
The long wooden pepper mill may be a worthy spectacle in steakhouse dining rooms, but we demand a more intuitive tool at home. Kuhn Rikon's sturdy, stainless ratchet grinder ($50; kuhnrikonshop.com) requires only a quick crank of its handle to process peppercorns, and that's nothing to sneeze at.
34. Sugar-Coating Climate Change
When pastry chef Rose McAdoo headed to Antarctica last year, she used most of her luggage allotment to haul 65 pounds of fondant icing. Perfectly logical, since ­McAdoo's personal side-project while working in the kitchen at the McMurdo Station, located on the Ross Ice Shelf, involved using her craft to interpret the research being done there: science as cake, if you will. In her spare time, the 30-year-old replicated a thermal-­imaging map in sugar paste and food-grade dye, and baked an edible version of Ernest Shackleton's ship, Endurance, keeling over while trapped in pack ice (above). Her confections have featured Weddell seals, nudibranch slugs, and sea spiders. Though the pairing of dessert and environmental protection may seem unlikely, McAdoo knows her culinary medium has a distinct advantage over other three-dimensional art. "Cake is such a safe topic," she says. "Some people don't want to talk about climate change, but they might want a slice, and that's the way to engage on difficult issues." —Shane Mitchell
35. Umamiest Way to Respect One's Elders
"Just like Grandma used to make." Could there be a more disingenuous marketing claim? In the case of this teriyaki-ish sauce, however, Justin Gill follows the recipe of his bachan (Japanese for "granny") to the letter. Judy Yokoyama, 84, insists on high-quality Japanese soy and mirin, plus fresh organic ginger, garlic, and scallions. So, Gill does too. He also eschews preservatives and pasteurization, instead cold-packing the liquid to avoid losing one bit of flavor. Aptly titled Bachan's Japanese Barbecue Sauce ($14 for a 17-ounce bottle; bachans.com), the magical elixir is great for marinating meats and dressing salads. We also—forgive us—use it to season ground beef for tacos.
36. Hot Dogs and S'mores Are Nice, But…
What happens when an acclaimed Manhattan chef ditches the city and discovers the joys of backpacking? If the chef in question is Jennifer Scism—co-founder, with Anita Lo, of New York's late, much-lamented Annisa—the answer involves dehydrated vegetable korma, bibimbap, and pad thai. These and other surprisingly sophisticated dishes comprise the line of shelf-stable camping fare that Scism and her team of cooks prepare from scratch in Kittery, Maine. Each ­single-serving, ­preservative-free Good To-Go pouch (starting at $6.50; goodto-go.com) redefines the phrase "just add water."
37. Your Guides on the Inside
Getting the skinny on where to eat in Paris or Tokyo or Lisbon is easy enough. But what if you're headed to a tiny Thai fishing village on Ko Samui? Or Luang Prabang, on the Mekong River in Laos? Good news for anybody bound for Southeast or East Asia: You've got expat eyes on the ground. Food writer, photographer, and Saveur contributor Austin Bush has been based in Bangkok since 1999. Photographer Christopher Wise—whose lush, lively images have graced the pages of every major travel magazine—moved to the city in 2001. And last year, the two joined forces to launch the Fantastic Food Search. The site's interactive maps deliver the latest on the duo's favorite food stalls, beach shacks, noodle shops, and cafes in Thailand, Malaysia, Laos, and the Chinese city of Macao, along with advice on what to order at each place. You say you don't have immediate plans to visit Phuket? Indulge in a little armchair travel via Bush and Wise's Instagram feed (@fantasticfoodsearch), with photography that looks good enough to eat.
38. The Most Interesting Woman in the Restaurant Business...
Filmmaker John Waters is a regular at Lane ­Harlan's venues. So is former Maryland governor Martin O'Malley. Harlan's mezcaleria, Bar Clavel, and her speakeasy a block down the street, W.C. Harlan (@wcharlan), sit far north of Charm City's fancy Inner Harbor dining scene. Eight years ago, when the now-33-year-old entrepreneur and her musician husband, ­Matthew Pierce, stumbled upon the empty corner building near their ­apartment—and Interstate 83—no one would have guessed that this block might become Baltimore's hottest place to eat and drink.... read more.
39. In the Canary Islands, this is the Secret Sauce.
There are as many mojos as there are Canarian households. Some are green. Some are red. But the base—chile peppers that grow wild throughout this Spanish archipelago—remains the same.
My grandmother, Inés de la Rosa González, who lived her whole life on the northern side of Tenerife, favored the slightly spicy mojo picón, rendered from thin-skinned, bright-red pimiento picón (picón peppers). This sauce, always poured atop papas arrugadas (literally "wrinkled potatoes") or cherne (a chunky white fish similar to cod), sustained her and her husband, their children (including my mum), and any extended family or friends who came to help pick grapes from the property's vineyard at harvest. Everyone ate together picnic-style, the food spread out on a blanket.
I was born in mainland Spain, and only spent summers and holidays in the Canaries with my grandparents, aunts, uncles, and cousins. Today, I live in London, far from family. Whenever I am homesick, it is this sauce, with its rich, piquant aroma and sunny kick of heat, that I crave. —Mónica R. Goya
40. The Ultimate Icebreaker
When I entertain, I entertain hard. Multiple wine tubs. At least two coolers chilling beer. An overflowing ice bucket near the hard liquor and mixers on my sideboard. Translation: I buy ice by the five-pack sleeve, not the individual bag, then stash the haul in a chest freezer. Unfortunately, these investments in future good times have a tendency to congeal into solid blocks before I reap the benefits. Leave it to a childhood friend from my party-hearty hometown of Natchez, Mississippi, to gift me the ideal solution: not just an ice pick, but a vintage spring-loaded ice pick (starting at around $10 on eBay). Thank you, Katy Bailey, for teaching me how to shatter frozen water the easy way. —Sarah Gray Miller