Recipes
Ceviche de Atún con Piña
A mild and savory tuna ceviche from Chef Carlos Raba of Baltimore's Bar Clavel.
Serves

makes Eight Tostadas

Cook

45 minutes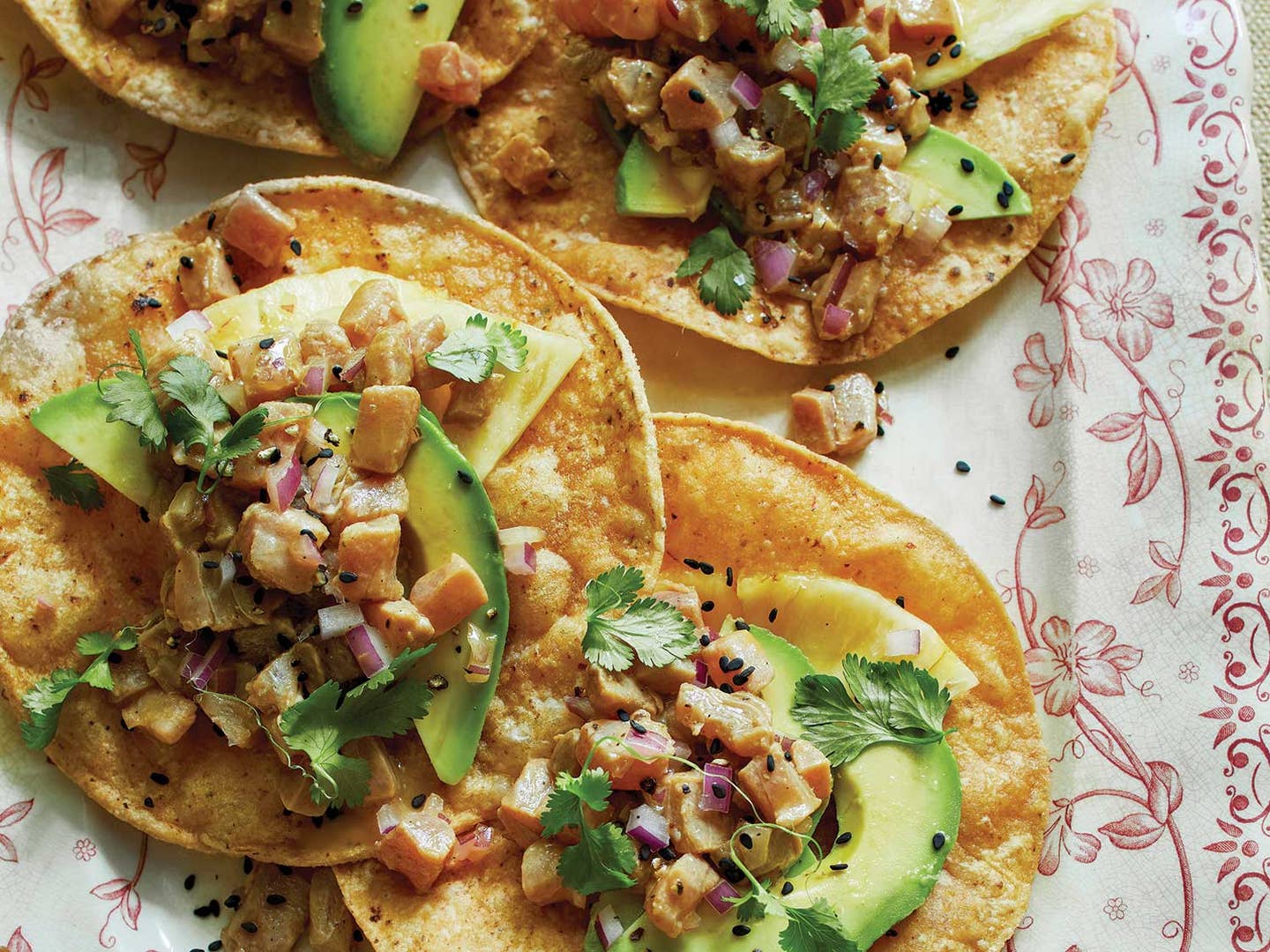 Carlos Raba, the chef at Bar Clavel, still recalls his uncles cooking all weekend on the family compound in Sinaloa, Mexico, where every feast began with a fresh seafood ceviche.
Ingredients
2 medium garlic cloves
1⁄4 medium white onion
2 medium serrano chiles
Juice of 4 medium limes (about 1/2 cup)
Juice of 1 large orange (about 1/2 cup)
1⁄4 cup soy sauce
basil leaves
1 1-in. piece of fresh ginger
3⁄4 lb. sushi-grade tuna loin, fresh or frozen (thawed and well-dried, if frozen), cut into ¼-in. cubes
1⁄2 medium red onion, finely chopped (about ¾ cup)
Kosher salt and freshly ground black pepper
8 6-in. tostadas
8 thin, cored pineapple slices
1 medium avocado, peeled, pitted, and thinly sliced
2 tsp. black sesame seeds
Fresh cilantro sprigs, for garnish
Instructions
Step 1
In a heavy, dry skillet over high heat, cook garlic, white onion, and chiles, ­turning ­occasionally, until charred all over, 8-10 minutes. (The serranos will take the ­longest to char.) Cool slightly, then use the dull side of a knife to scrape the blackened skin away from the chiles and discard. Remove and discard the stems, then cut chiles in half, and remove and discard the seeds.
Step 2
Transfer the vegetables to a blender, add the lime and orange juices, soy sauce, basil, and ginger, and blend until smooth. Strain the liquid through a fine sieve, discarding the solids.
Step 3
In a medium bowl, combine the marinade and tuna, tossing to coat. Refrigerate until the fish is lightly cured, at least 10 and up to 15 minutes.
Step 4
When you're ready to serve the ceviche, retrieve the fish from the fridge and stir in the red onion, then season to taste with salt and black pepper. Place the tostadas on a large platter, and top each with a slice of pineapple, 2-3 slices of avocado, and 3 tablespoons ceviche. Sprinkle with black sesame seeds and garnish with cilantro.­