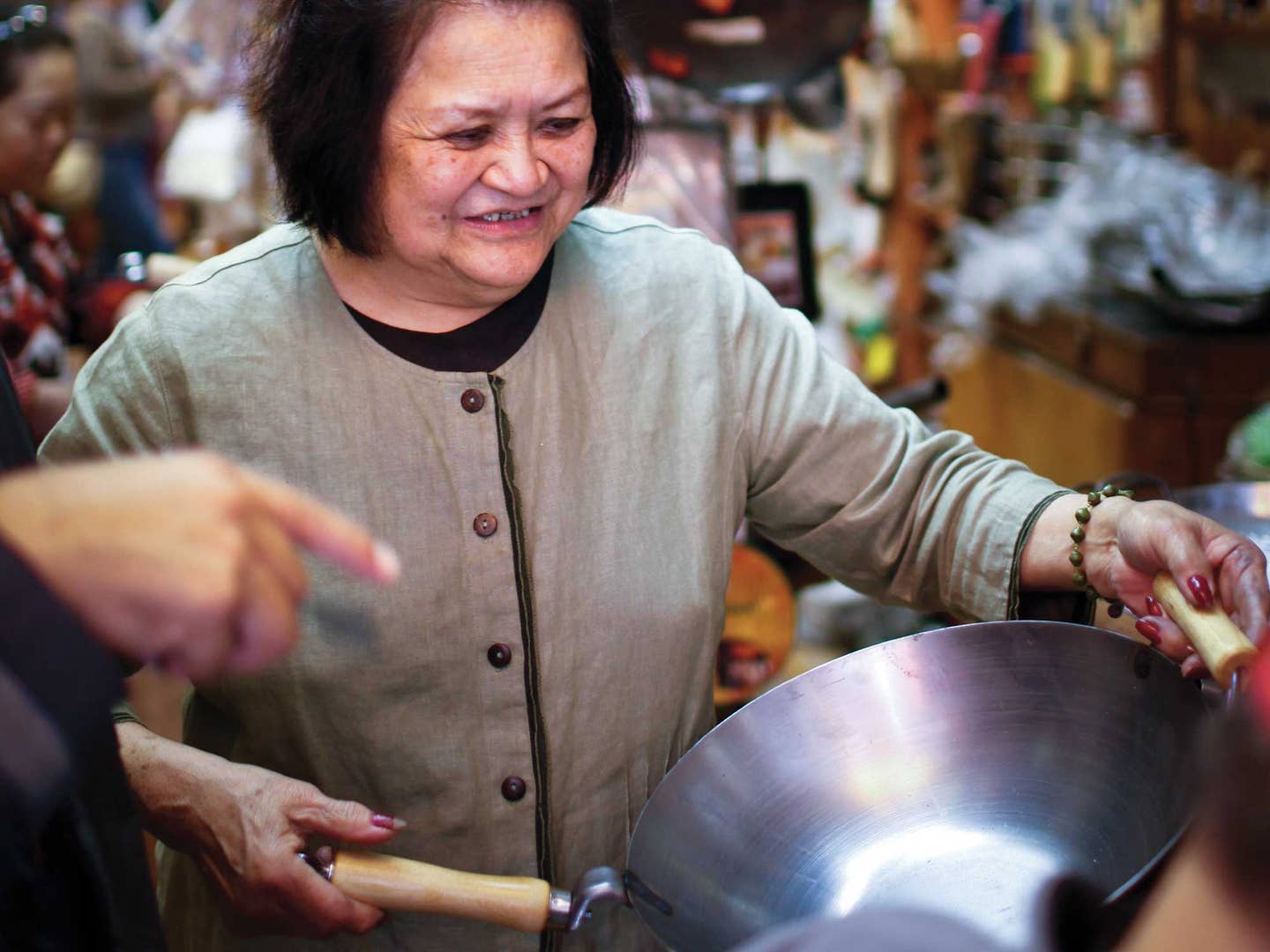 Shopping & Reviews
The 2020 Saveur 100: 41-50
How we make café-quality coffee at home (no fancy equipment required!), a sweet pepper with a sweet story, and forget mesquite wood chips—we're all about the beans.
41. Chinatown Shop That Really Woks
This past February, amid rising COVID-19-related Sinophobia, Nancy Pelosi visited a number of businesses in San Francisco's Chinatown to show her support. At the city's famed Wok Shop, the speaker of the house put her money where her mouth was, leaving the store with a wok, a wok lid, a spatula, and a bamboo steamer.
Open since 1972, this local institution boasts the largest selection of woks in the country, plus a staggering range of other Chinese cooking tools, but the real reason to buy here is owner Tane Chan, now 82. Auntie Tane, as she's known in the neighborhood, won't just sell you a wok, she'll tell you how to rid it of that new metallic tang (cook chives in it) or explain the nuances of cast iron versus carbon steel (cast iron is more porous). Chan runs her enterprise with energy and humor, always eager to promote the wok's incredible versatility. "It's not just for stir-frying," she says, "but also pan-frying, deep-fat-frying, braising, steaming, boiling, poaching, smoking, roasting, and baking. It will be your go-to pan." Consider us sold. —Grace Young
Cookbook author and documentary filmmaker Grace Young is currently compiling a video series, "Coronavirus: Chinatown Stories" chronicling the effects of COVID-19 on Manhattan's Chinatown. The videos will be shown October 15-17 at the Smithsonian for Food History Weekend. Learn more and register here.
The first time I encountered an Aeropress ($29.95; aeropress.com) was when a friend came to visit and brought one with her. What coffee maker justifies luggage space? One that takes up very, very little room and turns out a cafe-quality brew in a minute, maybe two, depending on how strong you take the stuff. You simply place a scoop of ground coffee in the chamber, wait that 60 to 120 seconds, then press the plunger down to deliver a smooth cup of coffee that's better than drip and more drinkable than espresso. Cleanup is easy too. Guess what's earned a permanent spot on my packing list? —Erin Scottberg
43. A Sweet Pepper with an Even Sweeter Backstory
I first came across Jimmy Nardello's Pepper while working at Brookwood Community Farm in Canton, Massachusetts, a couple of years back. The other farmhands and I would make up stories about the variety's namesake while harvesting the bright red peppers. "That Jimmy Nardello's good people. Anything you need, he'll be there for you in a jiff!" Or "Jimmy Nardello just opened up a new Italian spot downtown—you know it's gonna be good!"
In reality, Jimmy was the son of Giuseppe and Angella Nardello, who emigrated to Connecticut from the Basilicata region of Italy in 1887, bringing with them a handful of seeds. Nearly a century later, Jimmy, the fourth of the couple's 11 kids, donated the seeds of his family's favorite sweet frying pepper to the Seed Savers Exchange. Jimmy Nardello's Pepper was inducted to the Slow Food USA's Ark of Taste in 2005 and is now available through SSE, Victory Seeds, and Burpee, among other sources.
The prolific pepper is easy to grow, even in a pot, and the fruits are delicious raw, pickled, fried, or roasted. But my favorite way to enjoy J-Nards (as Brookwood manager Sara Rostampour calls them): blistered over an open flame, then popped into my mouth. —Erin Scottberg
44. Hotel to Book on an Empty Stomach
The most compelling reason to check in to Saigon's historic, state-run Rex Hotel (from $70 per night; rexhotelsaigon.com) is the breakfast buffet included in your stay. I spent Christmas here with my family a few years ago, and the extravagant morning spread made me downright giddy. Miso soup, hot pots, ­congee, stir-fries, dim sum, and noodles galore; platters proffering unlimited dragon fruit and lychee; an exceptional pho station—all available starting at 6 a.m. Post plate-loading, nab a table in the 1927 hotel's rooftop garden, where journalists once ­gathered for the famous "5 o'clock follies" press briefings during the Vietnam War. If you happen to be there on December 25, as I was, peer over the roof garden's ledge to count the Santas speeding by on mopeds. —­Megan Wetherall
45. Mesquite: Good for So Much More Than Grilling
Wood chips? Whatever. Rocky Barnette is picky about ­mesquite beans. He often stands beneath the three trees in his front yard on the outskirts of Marfa, Texas, contemplating the weather until summer rains draw nigh in the Chihuahuan Desert. Only then will Barnette gather the pods that rattle like snakes when dried.
West Texas ranchers consider mesquite (pronounced "mess-KEET," not "muh-SKEET") a thorny nuisance. But long before cattle roamed these plains, Coahuiltecans ate the beans raw. The Pima parched them over hot coals. The Tohono O'odham ground them against bedrock. Prosopis glandulosa and P. velutina—the species commonly called honey and velvet mesquite, itself a word derived from the Nahuatl mizquitl—have survived here for at least 2 million years. Now, that's a tree capable of weathering tough times.
Barnette, chef and co-owner of Marfa's Capri Restaurant, and co-­author of Cooking in Marfa: Welcome, We've Been Expecting You, sun-dries the pods, processes them in a high-powered blender, and uses the resulting powder to season everything from sourdough waffles to ice cream (right).
In a part of rural Texas that lacks major infrastructure, making the most of what you have is an essential act of creativity. While the rest of us can order mesquite powder online ($14.95 for 1 pound; matt-­monarch.com), Barnette still waits all year for the beans to drop next to his house, a hyper-­localized expression of flavor we can't help but admire. —Shane Mitchell
46. Our Kind of Fine Home Cooking
In July 2011, a 20-year-old man crashed his 1996 Cadillac Fleetwood into an unassuming 1950s building before fleeing on foot. The next year, on October 7, a multi-car pileup at the intersection of Homochitto and Martin Luther King Jr. Streets sent a Dodge Durango through the plate-glass front window. The following 12 days were dark ones for the citizens of Natchez, Mississippi—not because anyone was seriously injured, but because few people in this town can go a week without a Malt Shop cheeseburger, corn dog, or catfish platter. How to survive a hangover without this institution's sublime fountain soda, served over chipped ice in an environmentally unfriendly Styrofoam cup? (Make that Coke a Cherry Coke, and you'll find actual fruit at the bottom.)
On a recent trip home, when I stopped by for a butterscotch shake, I ran into a neighbor who used to babysit me, and another neighbor whom I used to babysit. The first bee that ever stung me, stung me here, on the bottom of one bare 3-year-old foot. And I was at the Malt Shop on October 20, 2012, when—despite a storefront boarded up in plywood—the place started taking orders again, and order in Natchez was restored. —Sarah Gray Miller
I'll cop to a significant level of ­dependence on the NYT Cooking app (what's the digital equivalent of speed dial?), but the offshoot that's even more irresistible: those spicy user comments! I'm not alone. There is an entire Instagram account, @­NYTimesCookingComments, devoted to the folks who try out a recipe, then must have their say. The anonymous genius behind this Insta (the person will ­admit only to being Manhattan-based and working in the media biz) posted for the first time in February 2019 and, thank heavens, has kept up a steady rhythm ever since. —Cara Cragan
Below, choice words from Times readers:
"My in-laws loved this! However, my father-in-law wouldn't stop riding me about the lack of grill lines as seen in the photo (Aw Cassie, you can't even get the grill lines right!) and all that. This time around, the problem was solved. Enter one Sharpie marker. Like those lines? Enjoy the steak, Richard."
"Cate suggested using two timers. I like to use four timers: a third one to keep track of the total time elapsed for the first two timers, and then a fourth timer to keep track of the total time it took me to set the first three timers. Oh, and sometimes I set a fifth timer, just to remind me when it's time to take another Xanax."
"Delicious! I made it exactly as written, except I used spaghetti instead of rice, maple syrup instead of condensed milk, turmeric and cumin instead of nutmeg and cinnamon, and goat's milk instead of cow's milk. Also used sacrificial blood instead of cold brew. Also spiked it with the screams of my enemies."
48. No Gimmicks, Just the Good Stuff
Pubs eager to bait Instagrammers with over-the-top garnishes have given the loaded bloody mary a bad name. Done correctly, this hearty ­breakfast cocktail is tastefully topped with a selection of vittles representing at least four of the five food groups—no fried chicken, no sliders, no foolishness. And no place does it better than the Old Fashioned Tavern and Restaurant in Madison, Wisconsin.
Here, the horseradish-forward, house-made base is spiked with locally distilled Yahara Bay Vodka, which introduces a hint of sweetness, ­courtesy of state-grown Honeycrisp apples. It's paired with a skewer holding a pickle spear, a hunk of Wisconsin beef jerky, a spicy pickled egg, Vern's cheese curds, and nothing else—except, of course, a beer chaser.
Whether you're looking for a little hair of the dog or easing into a day of day-drinking, this bloody mary will set you right. Good news for us non-Wisconsinites: The Old Fashioned Tavern ships its house mix, $15 for a half-gallon, and garnishes, $10 for all four, nationwide.
49. Jamaica's Culinary Ambassador
"Are you going to a dance hall in that outfit?" This is how Norma Shirley once greeted a reporter who had the audacity to show up for a cooking lesson at Norma's on the Terrace, Shirley's Kingston restaurant, wearing a flowy silk blouse and high heels.
I get it. I'm the product of proud West Indian women who simply will not tolerate nonsense. I don't consider that bluntness to be rude behavior. It's confidence.
Shirley, who passed away in 2010 at age 72, oversaw a string of popular restaurants on her native island of Jamaica, all named Norma's—whether "on the terrace," where she served a superb crab, shrimp, and conch chowder, or "at the wharfhouse" in Montego Bay, where the poached lobster nuggets in Madras curry were a specialty. Shirley also made numerous television appearances, walking her audience through recipes that highlighted local ingredients such as scotch bonnet peppers, papaya, and callaloo.
A few years before her death, this advocate for island cuisine explained her obsession with Caribbean fare this way: "Our soil is a very rich soil. Our fruits and vegetables have a completely different flavor and taste. And I'm not just biased because I'm from Jamaica." —Korsha Wilson
50. Ingredients For Puerto Rican Cooking in a Post-Goya World
After the glass jar had been emptied of its green olives, pits ­intact, my grandma would save the remaining brine, sneaking a splash into just about every­thing she cooked. An ingredient she typically omitted from our family recipes, it added a layer of nuanced salinity that salt alone could never achieve. But I caught the move. And now a jar of manzanilla olives sits in my refrigerator, and my mom's, often sans ­olives, with only the precious brackish brine those minikin orbs left behind.
A few months ago, that jar might have sported a Goya ­label. Now? Some Puerto Ricans like me and other Latinos have been forced to pivot for non-­pandemic reasons. How do we stock our pantries, sans readily available staples? Especially when Amazon is not an option for our gente without credit cards and checking accounts? (Yes, this exists. Check your privilege.)
The corner bodega serves as one oasis in many ­neighborhoods considered food deserts. Ditto, the relatively new phenomenon of super­mercados. But it can be difficult to find intact manzanilla olives in nonurban areas. Same goes for pre-made sazon spice blends and gandules, or pigeon peas. Sofrito? You're better off making your own version of this cilantro-based paste, no matter where you live. But first, a few products you can feel better about. —Illyanna Maisonet
Badia sazon This family-owned business, founded by Cuban immigrant José Badía in 1967, grants annual scholarships, awarded to students of all backgrounds and ethnicities, in partnership with Miami-Dade College, Florida International University, and historically Black colleges and universities.
Plus, two artisanal, mail-order sazon brands to consider if you can afford them: Puerto Rican chef Eric Rivera makes sazon (below center) and runs a program called "Addo for the People" to feed Seattleites in need, and the Latinx owners of the New York City-based Loisa donate 2 percent of revenue to food-justice causes.
Faraon manzanilla olives Faraon's parent company, Mercado Latino, was established 57 years ago by Cuban immigrant Graciliano Rodriguez, and is now run by his children in Southern California.