Recipes
Mesquite Bean Ice Cream
Chef Rocky Barnett sun-dries his own mesquite pods, then grinds them to a fragrant powder for this silky frozen treat.
Serves

makes About 3 1/2 cups

Cook

4 hours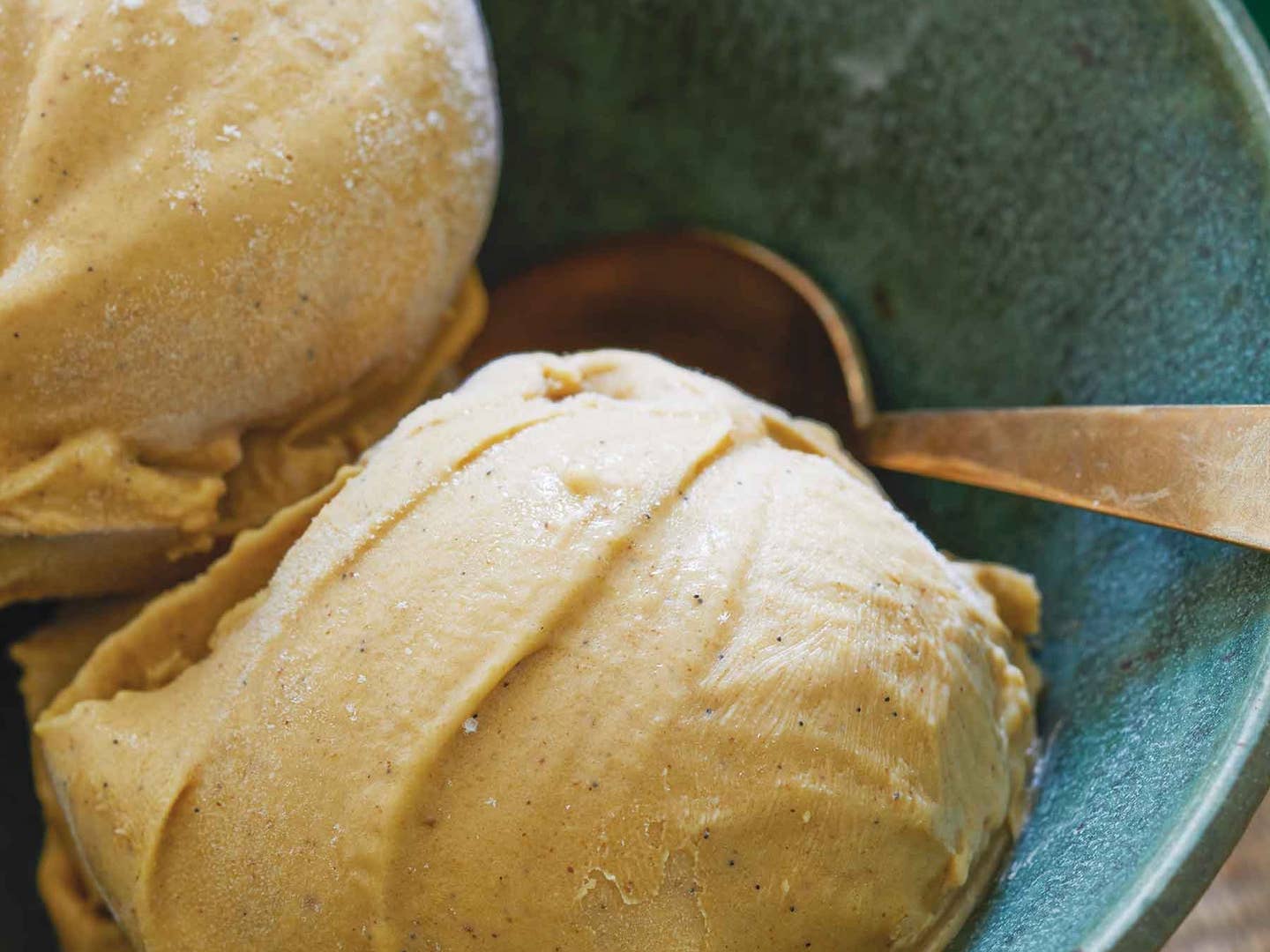 Wood chips? Whatever. Rocky Barnette is picky about ­mesquite beans. He often stands beneath the three trees in his front yard on the outskirts of Marfa, Texas, contemplating the weather until summer rains draw nigh in the Chihuahuan Desert. Only then will Barnette gather the pods that rattle like snakes when dried.
West Texas ranchers consider mesquite (pronounced "mess-KEET," not "muh-SKEET") a thorny nuisance. But long before cattle roamed these plains, Coahuiltecans ate the beans raw. The Pima parched them over hot coals. The Tohono O'odham ground them against bedrock. Prosopis glandulosa and P. velutina—the species commonly called honey and velvet mesquite, itself a word derived from the Nahuatl mizquitl—have survived here for at least 2 million years. Now, that's a tree capable of weathering tough times.
Barnette, chef and co-owner of Marfa's Capri Restaurant, and co-­author of Cooking in Marfa: Welcome, We've Been Expecting You, sun-dries the pods, processes them in a high-powered blender, and uses the resulting powder to season everything from sourdough waffles to ice cream.
His mesquite ice cream tastes like caramel and smoke.
In a part of rural Texas that lacks major infrastructure, making the most of what you have is an essential act of creativity. While the rest of us can order mesquite powder online ($14.95 for 1 pound; matt-­monarch.com), Barnette still waits all year for the beans to drop next to his house, a hyper-­localized expression of flavor we can't help but admire. —Shane Mitchell
Ingredients
12 large egg yolks
2 cups half-and-half
3⁄4 cup sugar
1 1⁄2 tsp. kosher salt
1⁄3 cup plus 1 Tbsp. mesquite powder
2 vanilla beans, split lengthwise and scraped (or substitute 2 tsp. vanilla extract)
Instructions
Step 1
Fill a large bowl one-third of the way full with ice water; nestle a medium metal bowl in the water and set aside.
Step 2
In a blender, combine the egg yolks, half-and-half, sugar, salt, mesquite powder, and the seeds from the vanilla beans (reserving their pods), or the vanilla extract. Blend well, then transfer the liquid and the reserved vanilla pods to a medium pot and set over low heat. Cook, stirring and scraping the bottom and sides of the pot with a silicone spatula continuously until the custard thickens to the consistency of a thin gravy,12-15 minutes. (Do not allow it to boil.) Remove from heat, and strain, through a fine-mesh sieve, into the ice bath, discarding the vanilla pods and any solids. Set aside, stirring ­occasionally, until cooled, 10-15 minutes.
Step 3
Pour the custard into ice-cube trays and freeze until solid, 2-3 hours.
Step 4
Working in batches, transfer the frozen ­cubes to a food processor and process just until smooth. Transfer to a loaf pan or a plastic container; cover and refreeze until firm.