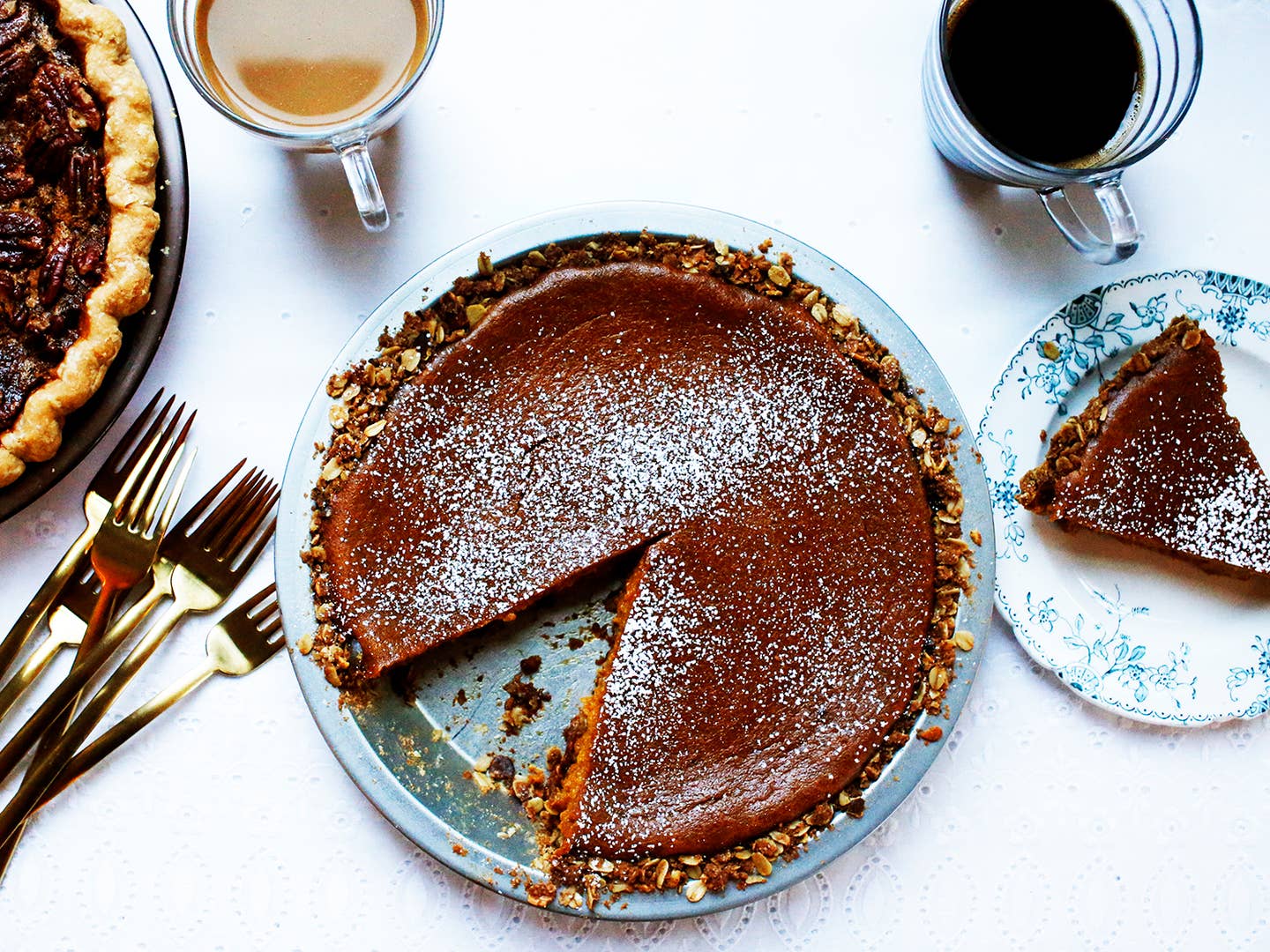 Techniques
This Last-Minute Pumpkin Pie Will Save Your Thanksgiving
Hot tip: start with the easiest crumb crust
As we squeeze ourselves into uncomfortable folding chairs and gather around extended tables, we've got our eyes on the Thanksgiving prize: The Pie.
An empty pie plate is an open invitation to be filled, but for many it is a source of intimidation and frustration. If the thought of baking a single pie gives you pause, imagine what it's like to be responsible for hundreds and hundreds (and hundreds!) of pies. There's a reason we call it Pie-vember. In my workplace, Thanksgiving is the biggest pie day of the year. The orchestration and execution of post-turkey dessert is staggering and exhausting but also rewarding. From the all-butter shells and bushels of apples, to the spiced pumpkin and nutty pecan fillings, pie baking is a labor of love. Classic crust is needy, requiring a number of carefully executed and time-consuming steps. While summer affords us lazy days and long weekends, time is a precious commodity in the thick of the holiday frenzy.
Baking pies from scratch is a commitment that doesn't always coincide with our busy lives, so it helps to have a few time-saving tricks in your apron pocket. Whether you're celebrating Friendsgiving, Thanksgiving, or both, here's how to expedite your dessert production—and temper your holiday baking stress.
For many of us, the most daunting aspect of pie baking is that first step, the crust. The following alternative crusts will allow your rolling pin to snooze in the kitchen cabinet while your fingers do the not-so-heavy lifting.
Crumb crusts were born out of necessity, inspired by what was in the pantry or as an opportunity to repurpose baked goods that were a little past their prime. Before the advent of the food processor, scrappy bakers used rolling pins and nut grinders to pulverize cookies and cakes to crumbs. Today, we can assemble a crumb crust in minutes. Some of the simplest combinations yield the tastiest results. Graham crackers marry well with brown sugar and spices. Saltines, oyster crackers, and wholemeal biscuits lend themselves to sugar and lemon. Simple rolled oats team up with pumpkin seeds or nuts for a not-too-sweet foil to rich, custardy filling. Crushed chocolate wafer cookies, tossed with just enough butter and sugar, create a perfectly agreeable crust that is easy to pat into place with your fingertips. The best part? After a brief stint in the freezer to set, a crumb crust bakes up in less than 15 minutes.
Jumpstart Your Holiday Pie Prep
First, clean out your fridge and freezer, acknowledging your space limitations. Toss those tired lemons and freezer-burned nuts from a year ago, and start afresh.
Create a supply list including tools like parchment paper (for lining baking sheets and assembling ingredients), plastic wrap (for covering pies before refrigeration), and a sturdy bakery box or container for transporting your pie to the festivities.
Check your spices for freshness. If you can't remember the last time you replenished them, do so now. (Consider purchasing whole spices that you can grind yourself in a spice grinder or mortar and pestle; they retain their flavor longer than pre-ground.)
Purchase your ingredients sooner rather than later. As the holidays inch closer, prices climb higher.
Pre-measure your nonperishables (sugar, spices, and thickeners) for the pie(s) you will be baking. Place these ingredients in zip-top freezer bags, then label them with their contents along with any missing ingredients. When it's time to bake your pie, the fiddly measuring is done.
Check your pie-plate inventory in advance and make sure your recipe coincides with your pie plate. (Deep-dish plates require more filling than standard ones.) If you will be traveling with your pie, consider using an aluminum pie plate, which is freezer-to-oven safe and won't be missed if left behind. Better still, purchase a brand new pie plate and gift it to your host, along with the pie.