Shopping & Reviews
Banish Kitchen Clutter with Five Genius Fridge Organizers
With these simple storage solutions, you'll swear there are more cubic feet in there!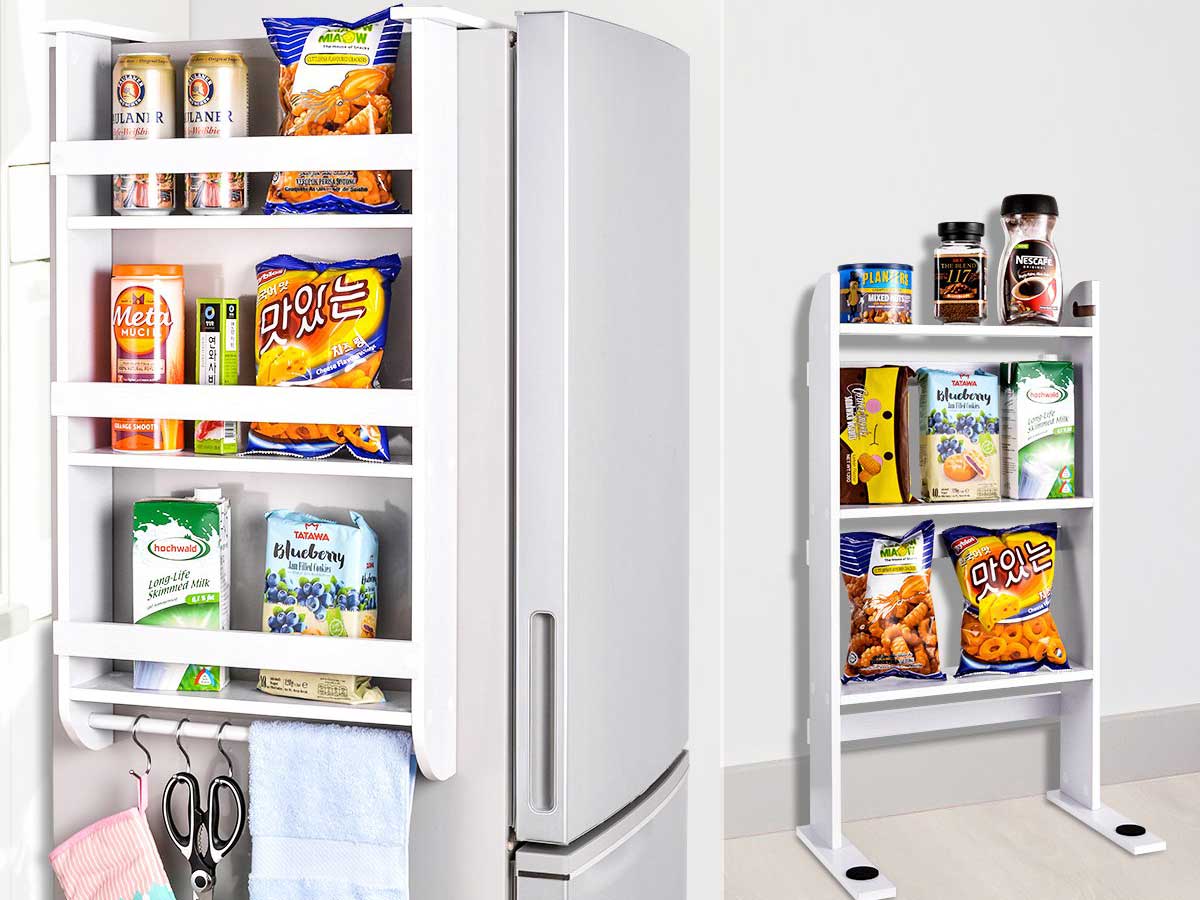 Some say you can tell a lot about a person by peeking in his or her refrigerator. And while you might fancy yourself the type who keeps interesting international condiments arranged by region, the reality probably tends more toward past-its-prime sour cream, wilted herbs, and last week's takeout. We get it. Without the right set-up, clutter quickly spirals out of control, causing spoilage and waste. Because, hey, if you can't find it, you don't eat it. The good news: A fix needn't cost a fortune. The following storage solutions, priced between $10 and $40 a pop, will put your food at your fingertips, while miraculously allowing more of it to fit in the fridge.
Smart Design Refrigerator Pull-Out Bin
The secret to maximizing any small space is typically to work with vertical real estate, and a fridge is no exception. This hanging pull-out bin has rails that expand to fit your existing shelving, adding an add an extra drawer wherever you need it—especially useful in freezers, often devoid of drawers. Plus, the detachable basket holds up to 20 pounds, i.e., heavy frozen meat.
Sorbus Fridge and Freezer Bins
If you're in need of a total fridge overhaul, this set's for you. Less than $40 buys six separate pieces, including an egg holder and a can organizer. The clear bins make everything easy to see, so you won't forget about that fresh produce you should really eat in the next 24 hours.
ElevenII Side Storage Rack
A lifesaver for small spaces, this shelving unit hangs outside the fridge, providing extra pantry space (for, say, some hard-to-find international spices that deserve to be on display). You can also add hooks to the bottom rail to hold oven mitts, tea towels, and small kitchen tools. And should your next kitchen provide a plethora of storage space? The flexible workhorse will flip over and stand on legs to fit in tight quarters elsewhere, like a bathroom or laundry room.
SILIVO Food-Storage Containers
Perfect for stashing freshly-washed produce or drippy meats, these lidded containers come with removable drain plates that keep food out of moisture's way, thereby slowing spoilage. Sold in a set of three, the bins stack atop each other for compact storage. And since these babies are also dishwasher-safe, they're already leagues above your crisper drawer.
InterDesign Soda-Can Organizer
Keep your sparkling water (or Pabst Blue Ribbon) habit nice and tidy with this bin, which helpfully deposits one can at a time. We love that this one has a lid, so you can stash stuff on top of it, too.