Shopping & Reviews
Why You Need a Cocktail Strainer
The professional guide: all of your cocktail straining questions answered.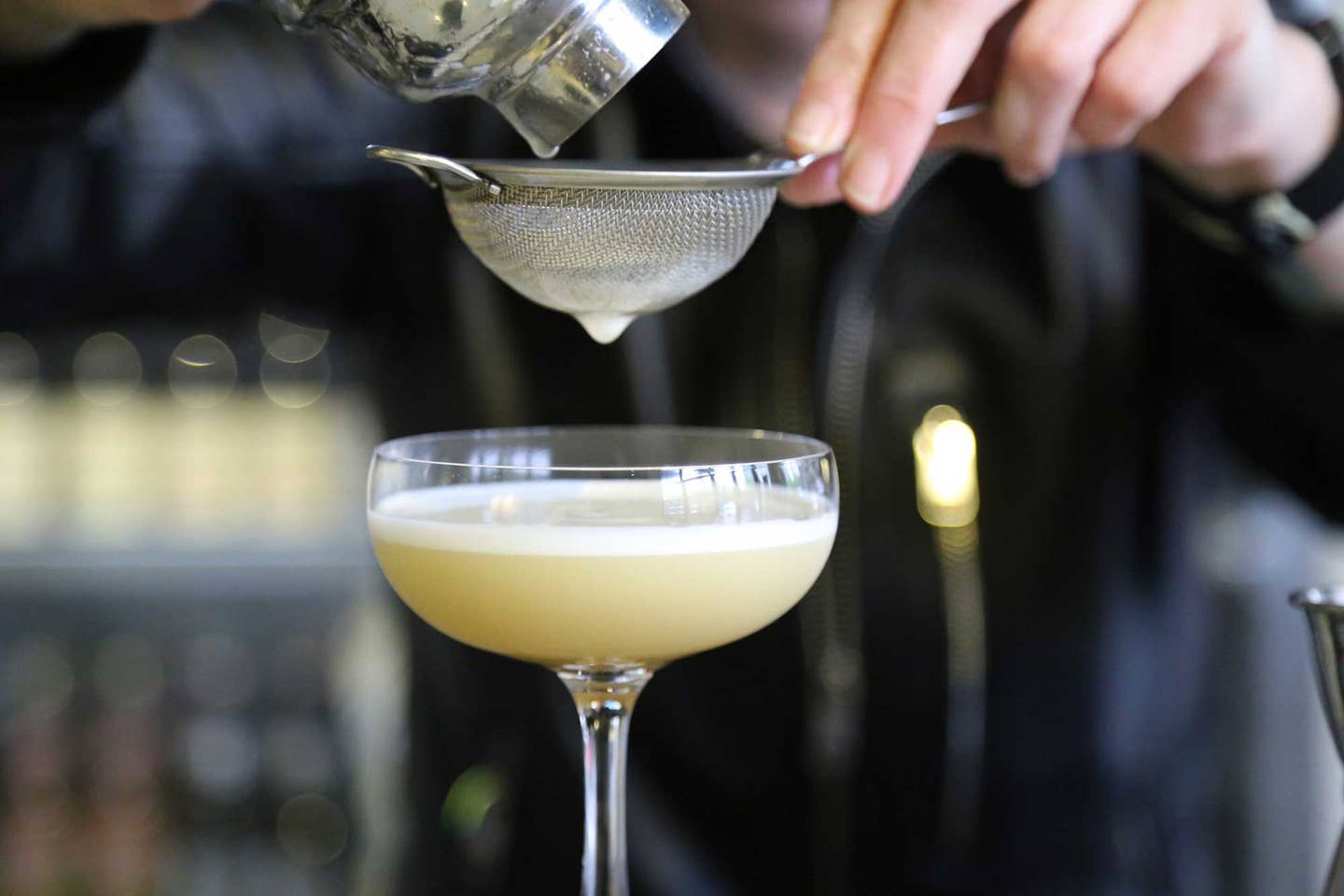 On most nights, Thomas Spaeth can be found under the soft glow of The Raines Law Room, a beloved New York City bar nestled discreetly on 17th Street. Thousands of drinks have been shaken and stirred by Spaeth and his team, though one key element a drink's composition and delivery often goes unacknowledged––it's time we break down the science of straining, bringing it to your home bar under the guiding hands of the pros.
As functional as it is theatrical, straining is an essential step in serving up a great drink, separating the finished product from its unwanted elements of preparation, according to Spaeth. "Almost all drinks require ice in their preparation, yet few of them call for that same ice in the finished drink," he says. This step not only keeps unwanted ice from landing in a guest's glass, but also allows other particulate matter to be separated out (such as muddled berries, mint, or cucumber).
So what are the main types of strainers that pro bartenders like Spaeth keep in their rotation? "Generally speaking, there are two types of strainers: julep strainers, which look like large, perforated spoons—these are the oldest type of strainer still used. Hawthorne strainers were invented later. They vary in appearance but consist of some kind of perforated plate with long metal coil or spring attached in a semi-circle to the edge of the plate, meant to fit inside the rim of the mixing vessel as the strainer is placed over the mouth." Julep strainers are typically used for stirred drinks, while Hawthornes are ideal for shaken drinks. "We use Hawthornes when we shake drinks to properly emulsify the clear ingredients (alcohol or syrup) with the opaque ones (juice, cream, egg white) and occasional solid ones (like mint or strawberries). We shake not only to get a homogenous mix of dissimilar ingredients, but also to achieve a frothy, lively texture," he notes.
Ask any bartender and they'll tell you that texture can be just as important as flavor––all the more reason to be straining your drinks at home. Here are our top cocktail strainer picks inspired by Spaeth's wisdom.
Classic Pick
For stirred drinks, this classic julep strainer by barware great Cocktail Kingdom is your best bet. Spaeth offers a few tips for first-time strainers: "Try a Martini or Manhattan––pick your favorite gin or whisky, a quality vermouth (that you will then refrigerate when finished), mix them in 2:1 or 3:1 proportions, and have fun!"
Secure Fit
This high-quality Hawthorne strainer is a solid choice, thanks to its nice weight and tight coil. "Few drinks are as appealing as a properly shaken daiquiri with that small layer of bubbles on top, or a Pisco sour with its Guiness-like head of egg white foam. To achieve this texture, we shake the drink with ice and shake it hard, which causes the ice to break inside the mixing vessel––the combined perforated plate and coil of the Hawthorne strainer is meant to catch most (if not all) of those tiny ice chips (or pieces of mint, as in the case of a mojito)." This is an essential tool for serving shaken drinks at home, and should be used in tandem with an additional tea strainer, which we'll get to next.
Versatile Use
According to Spaeth, fine strainers are typically used in conjunction with Hawthornes "to prevent any remaining debris or ice chips from making their way into the final drink." This option is a reliable one, made from stainless steel, and is dishwasher safe.