Recipes
Bokit
Guadeloupe's beloved street food starts with this simple fried bread.
Serves

makes five 6-inch rolls

Cook

3 hours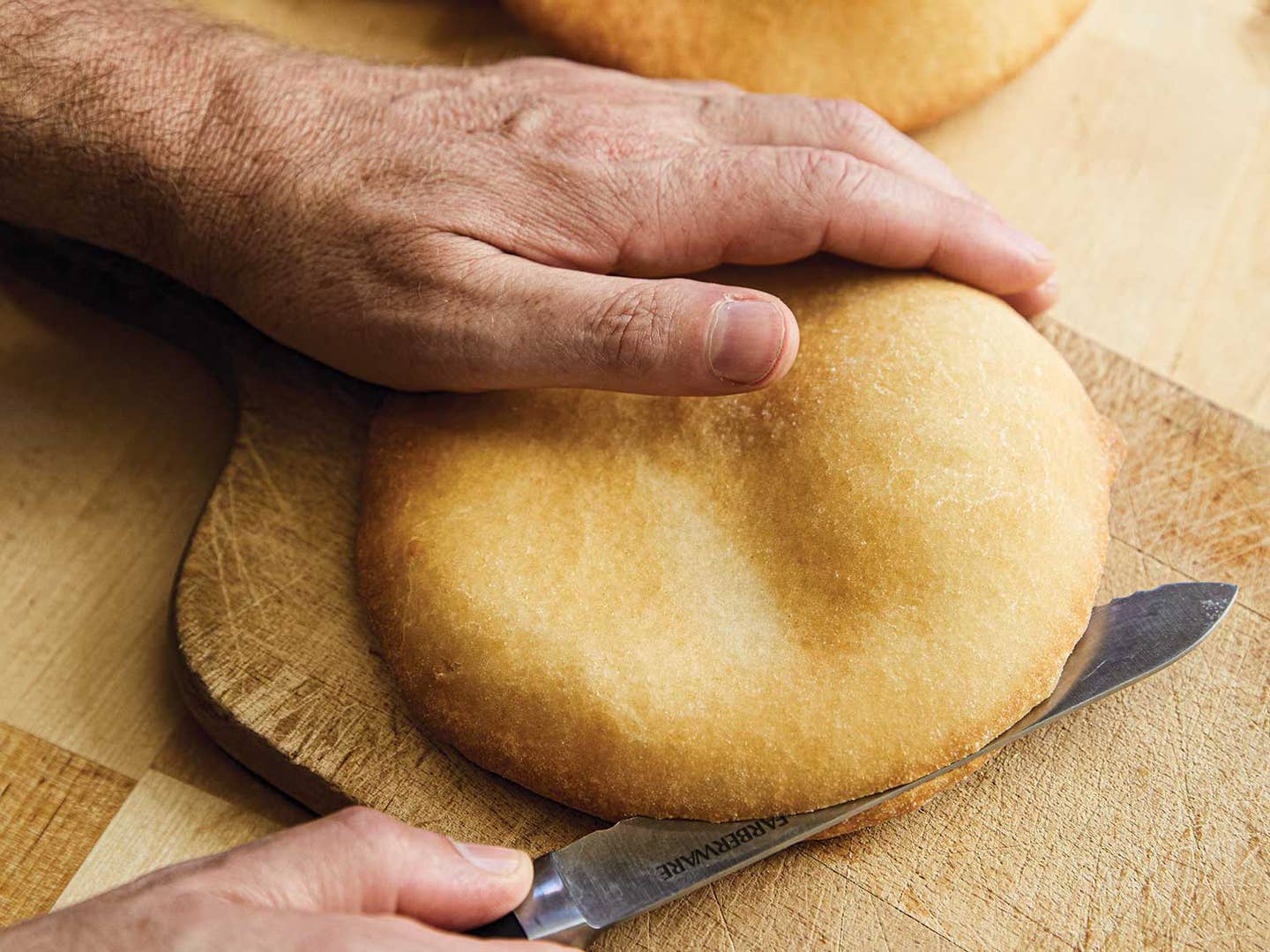 The pillowy, deep-fried bread that is the base for Guadeloupe's bokit puffs up as it fries, creating a hollow pocket. Be careful not the squeeze the steam out as you remove the bread from the hot oil.
Ingredients
1¼ tsp. sugar
1⁄4 tsp. dry instant yeast
3¾ cups plus 2 Tbsp. all-purpose flour, plus more for dusting
2½ tsp. baking powder
1½ tsp. kosher salt
1½ tsp. softened, unsalted butter
Corn or canola oil, for frying
Instructions
Step 1
In the bowl of a stand mixer fitted with a dough hook, mix together 1 cup plus 2 tablespoons of tepid water, sugar, and yeast, stirring until sugar and yeast are dissolved. Add the flour, baking powder, and salt, then mix on low speed until a cohesive (but still shaggy) dough forms, 3-4 minutes. Add the butter and continue mixing on low speed until the dough is very smooth and elastic, 8-10 minutes more. Remove the hook, cover the bowl tightly with plastic wrap, and set aside to rest at room temperature until dough is relaxed and slightly puffed, about 1 hour.
Step 2
Lightly flour a clean work surface and turn the dough out onto it. Divide the dough into five pieces (about 1¼ ounces each) and roll into balls. Cover with plastic wrap and set aside to rest for 1 hour more.
Step 3
About fifteen minutes before you're ready to fry the dough, fit a deep-fry thermometer on a heavy-bottomed pot and add oil to a depth of 2 inches. Preheat over medium-high heat until the oil reaches 355°F. Line a large baking sheet with paper towels and set aside.
Step 4
Return to the dough and use a rolling pin to flatten each ball into a 6-inch disk. Working one at a time, fry the disks, turning once as they cook, until evenly golden, 3-3½ minutes. With a pair of tongs, carefully transfer the bokit to the lined baking sheet to drain while you continue frying the remaining dough. With a serrated knife, split the bokit on one side to make a pita-like pocket. Fill with toppings while still the bread is still warm, then serve.
A Step-by-Step Guide to Making Bokit