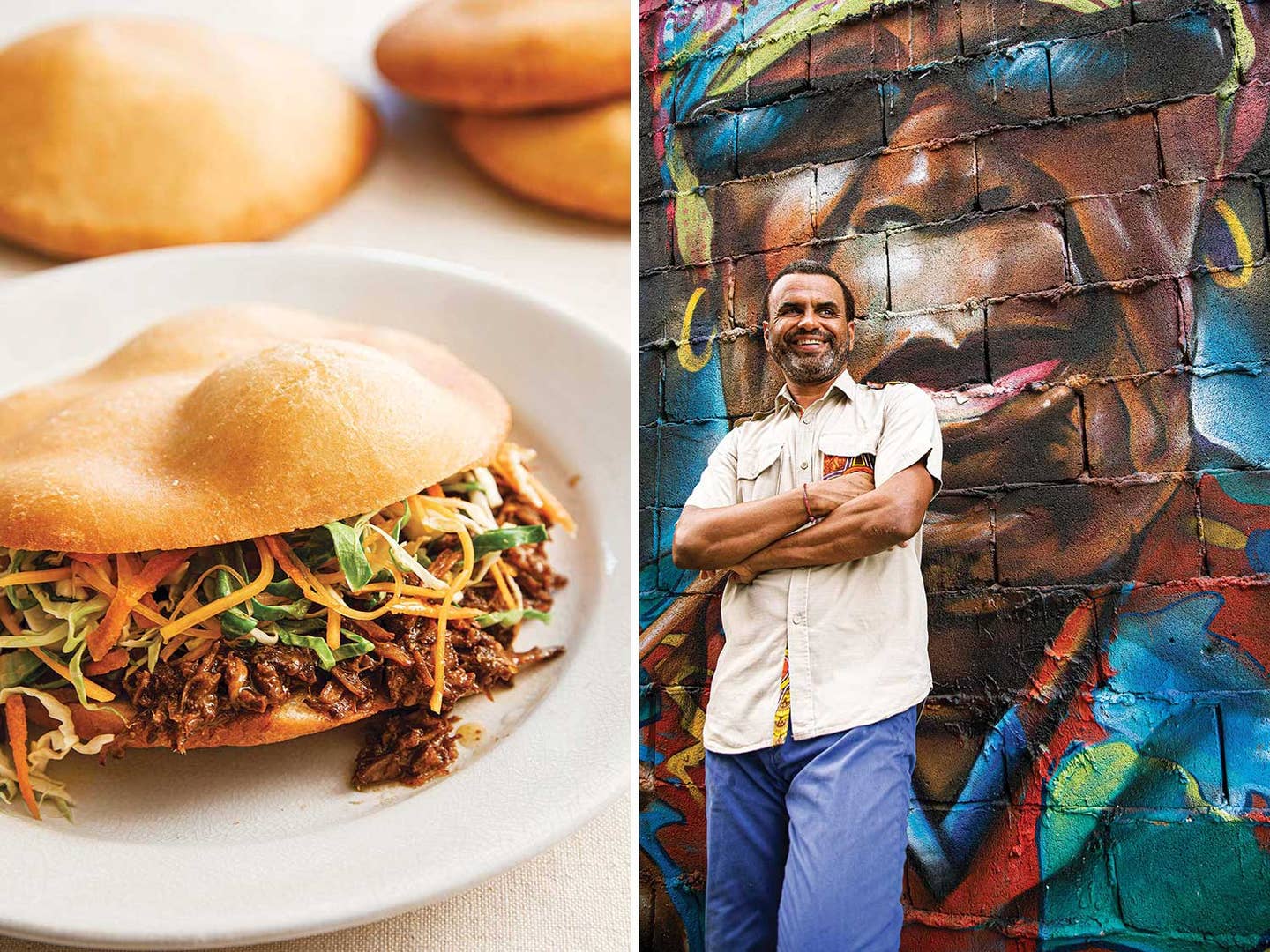 Recipes
Bokit: The Soul of Guadeloupe in a Sandwich
Pointe-à-Pitre chef David Drumeaux shares how he prepares the archipelago's signature street food, from bread to fillings to relish.
Virtually every place has an iconic street food—that inexpensive, highly ­portable bite capable of telegraphing its geographical culinary identity to the rest of the world. The United States is known for hot dogs; Vietnam, banh mi. In Guadeloupe, the bokit (pronounced "BO-keet," not "bo-KIT") sandwich speaks volumes about the French-Caribbean ­archipelago's complicated history with slavery and colonialism.
To call this wonder a sandwich would be to seriously undersell its bread. Yes, there are fillings: typically cod and conch, but also chicken and pork. Toppings too, including lettuce, tomato, and hot-­pepper sauce. The main attraction, however, remains that perfectly crisp, pillowy envelope, reminiscent of the American South's yeast roll, had said roll's dough been deep‑fried instead of baked.
A Step-By-Step Guide to Making Bokit
Versions of this bread—some yeasted, some incorporating cornmeal—are prevalent throughout the Caribbean, called djoncakes in Dominica, yaniqueques in the Dominican Republic, and dumplings in Jamaica. Their predecessor, the danquite, was a simple mix of flour and water fried in fat. Scholars believe it arrived on the islands of Guadeloupe by way of the Caribbean's English-speaking colonies as early as the 17th century—right around the time the French enslaved West Africans and brought them to the West Indies to work sugar and coffee plantations.
Slavery was abolished in Guadeloupe for good in 1848, and the danquite, made from few ingredients and easy to prepare, became the sustenance of the recently emancipated. Eventually stuffed with salt cod and later filled like a sandwich, this fried dough evolved into today's bokit.
"Bokit was poor folks' food, made from cheap ingredients," says David Drumeaux, the charismatic chef-owner of Bokit Delux. The casual spot, established in 2018, sits near the old section of Pointe-à-Pitre, across the street from Drumeaux's music club, 1973 Food & Sound. The two ­restaurants—and their shared outdoor pavilion, sandwiched between building exteriors painted with giant murals of Guadeloupean men and women—have turned the block into a vibrant pocket amid an often-dusty historical city.
Why open a second restaurant while still plenty busy with the first? Drumeaux, who studied at Alain Ducasse's École Ducasse in France, puts it thusly: "Our McDonald's started selling a version of the traditional Guadeloupean burger, the agoulou. They called it the McGoulou. I did not want to see that happen to bokit."
Drumeaux fills his version the ­traditional way, with salt cod, though his salt cod is more like a bright fish salad with fresh herbs, crunchy sweet ­peppers, onion, and a squeeze of lime juice. The most popular option on the menu, however, is pork that's been stewed in a mixture of soy sauce, mustard, and lime juice for several hours before meeting up with a slaw of julienned cabbage, carrots, and winter squash, slices of zucchini, and a drizzle of the local cane syrup, sirop de batterie. When paired with that bread, the rich, shredded meat and toppings are nothing short of transcendent.
Once a month, area chefs are invited to craft their own take on the sandwich at Bokit Delux. Chef Arthur Karioua of Pointe-à-Pitre's La Porte des Indes, or the Indian Door, recently contributed a bokit stuffed with potatoes, peas, beans, and cabbage, flavored with garam masala and turmeric, and topped with a mint sauce.
"Bokit is the Proustian madeleine of Guadeloupe," Drumeaux reflects. "It is the food of grandmothers and aunties, and everyone here has a memory of it. This staple of our culture deserves to be celebrated."