Recipes
Cacao Nib Brownies
Serves

makes one 9-by-13-inch pan

Cook

1 hour 10 minutes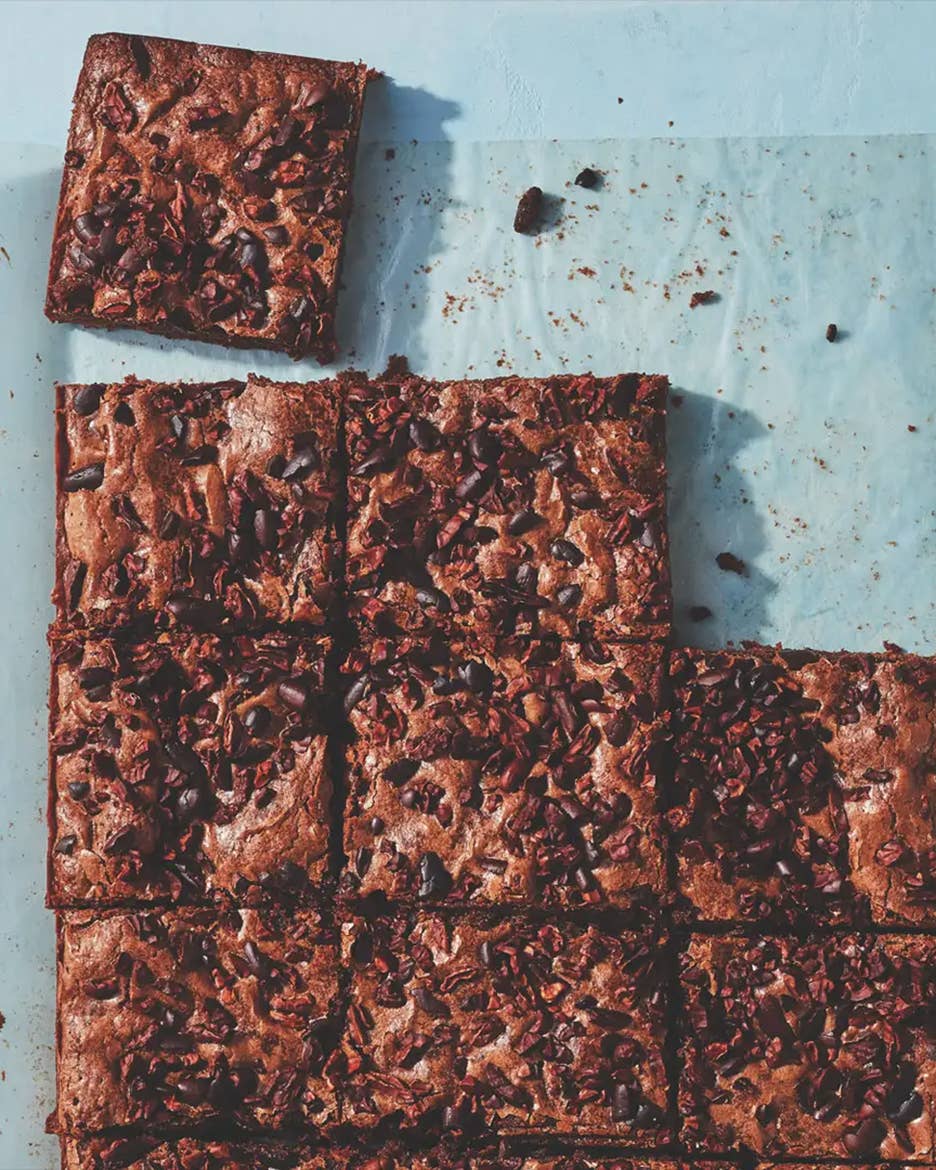 This dense and fudgy brownie, adapted from Dandelion Chocolate cookbook Making Chocolate, contains coarsely chopped chocolate chunks, which melt on the inside, and crispy cocoa nibs on top.
Ingredients
1 cup (8 oz.) unsalted butter, plus more for greasing
10 oz. bittersweet (60–70 percent) chocolate, coarsely chopped (2 cups), divided
1¾ cups (14 oz.) sugar
4 large eggs
1½ tsp. tsp. pure vanilla extract
1¼ cups (6½ oz.) all-purpose flour
¼ tsp. kosher salt
½ cup plus 1 Tbsp. (2½ oz.) cocoa nibs
Instructions
Step 1
Position a rack in the center of the oven, and preheat to 350°F. Butter a 9-by-13-inch baking pan, and line the bottom and two long sides with parchment paper.
Step 2
In a medium pot, add enough water to reach an inch or two up the sides. Set a medium bowl on top, taking care that the bottom of the bowl does not touch the water. Bring the water to a boil. Add the butter and 1¼ cups (6 ounces) of the chocolate to the pot, and let cook, stirring and scraping down the sides frequently, until completely melted. Remove the bowl, and set aside to cool slightly, about 10 minutes.
Step 3
Vigorously whisk the sugar into the chocolate mixture. (The mixture may look grainy and separate. That's okay.) Add the eggs and vanilla, and whisk until the batter starts to pull away from the sides of the bowl. Using a spatula, fold the flour and salt into the mixture just until no streaks of flour remain. Stir in the remaining ¾ cup chocolate.
Step 4
Pour the batter into the prepared baking pan, using a spatula to evenly distribute the batter and smooth the surface. Sprinkle the nibs evenly over the top, then bake until a toothpick inserted into the center comes out clean, 25–30 minutes. Remove and let cool almost completely in the pan before using the parchment paper to lift and transfer the brownies to a cutting board. Cut into squares and serve warm or at room temperature. Store for up to 3 days in an airtight container.