Recipes
Ganjang Gejang (Soy Sauce-Marinated Crabs)
Salty and nectarean, these Korean marinated crabs will make you kill a bowl of rice in one sitting.
Serves

serves 4-6

Cook

1 day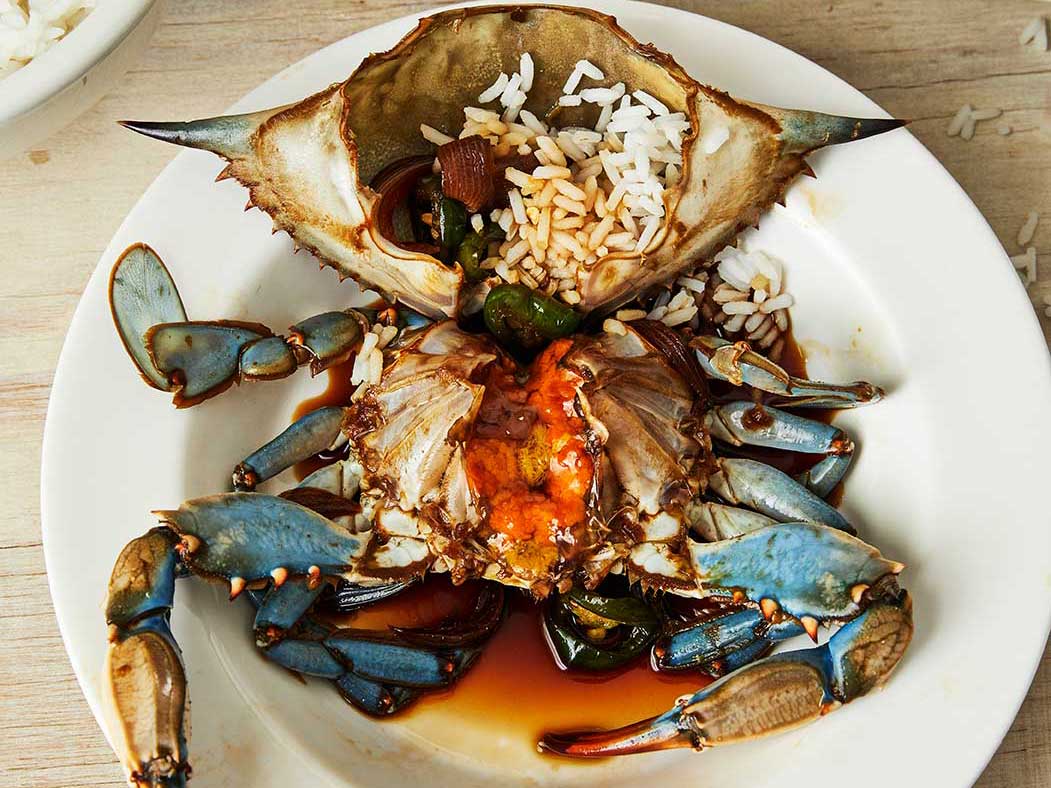 These soy-marinated crabs can set you back $60, per crab, at Seoul's finer ­restaurants, but they're relatively easy to make at home. What you don't pay in money or labor, however, you will pay for in time. Then there's the matter of killing the sea critters. Drowning them in tap water works, as does freezing them, but neither method is as humane as simply flipping over each crab and slicing through its heart. Too squeamish? Ask your fishmonger to do the deed for you. Some Korean grocery stores, such as H Mart, sell fresh blue crabs, already killed and cleaned specifically for this dish.
Ingredients
2 cups low-sodium soy sauce
1 sweet red apple (such as Gala), cut into eighths
4 large garlic cloves, smashed
2 Tbsp. dark brown sugar
1 5-in. square of dried kelp
1 2-in. piece of ginger, thinly sliced
2 medium red onions, thickly sliced, divided
2 large jalapeños, thickly sliced, divided
2 lb. live blue crabs (10-12 medium crabs)
6 cups steamed short- or medium-grain white rice, for serving
Instructions
Step 1
In a large pot, combine the soy sauce, apple, garlic, brown sugar, kelp, and ginger, plus half the onions and jalapeños. Add 3 cups cold water, and bring to a boil over high heat, then lower heat and simmer for 15 minutes. Allow the mixture to cool to room temperature.
Step 2
Meanwhile, clean the crabs: Turn each crab over on its back and, with a sharp chef's knife, pierce the center of the abdomen, slicing downward without cutting through to the top shell. Gently pull the top shell off and set it aside. Using kitchen shears, remove the eyes, antennae, and gills (the long, spongy organs) from the bottom section. Rinse both sections in a large bowl of cold water, taking care to leave the roe intact. Repeat until all crabs have been cleaned.
Step 3
Place all the cleaned crab pieces in a gallon-size jar or plastic tub (with a lid), and add the remaining onions and jalapeños. Strain the reserved soy brine into the jar or tub. Cover tightly and refrigerate, allowing the crabs to marinate for at least 24 hours and up to 2 days.
Step 4
Remove the crab pieces from the marinade and, if desired, use kitchen shears to cut the ­bottom ­sections in half for easier eating. Arrange the pieces on a platter, spoon 1-2 ­tablespoons of the marinade over each, then top with a few of the marinated onions and jalapeños. Serve with warm white rice, which can be rubbed into the shells to get at all of the roe and flesh.
Note: Extra marinade may be strained, boiled, and chilled for use in another batch of crabs.