Recipes
Ham-and-Jam Hand Pies
Sweet fig jam, creamy brie, and salty ham make up the filling for these flakey pastries.
Serves

makes 4 Large Pies

Cook

3 hours 30 minutes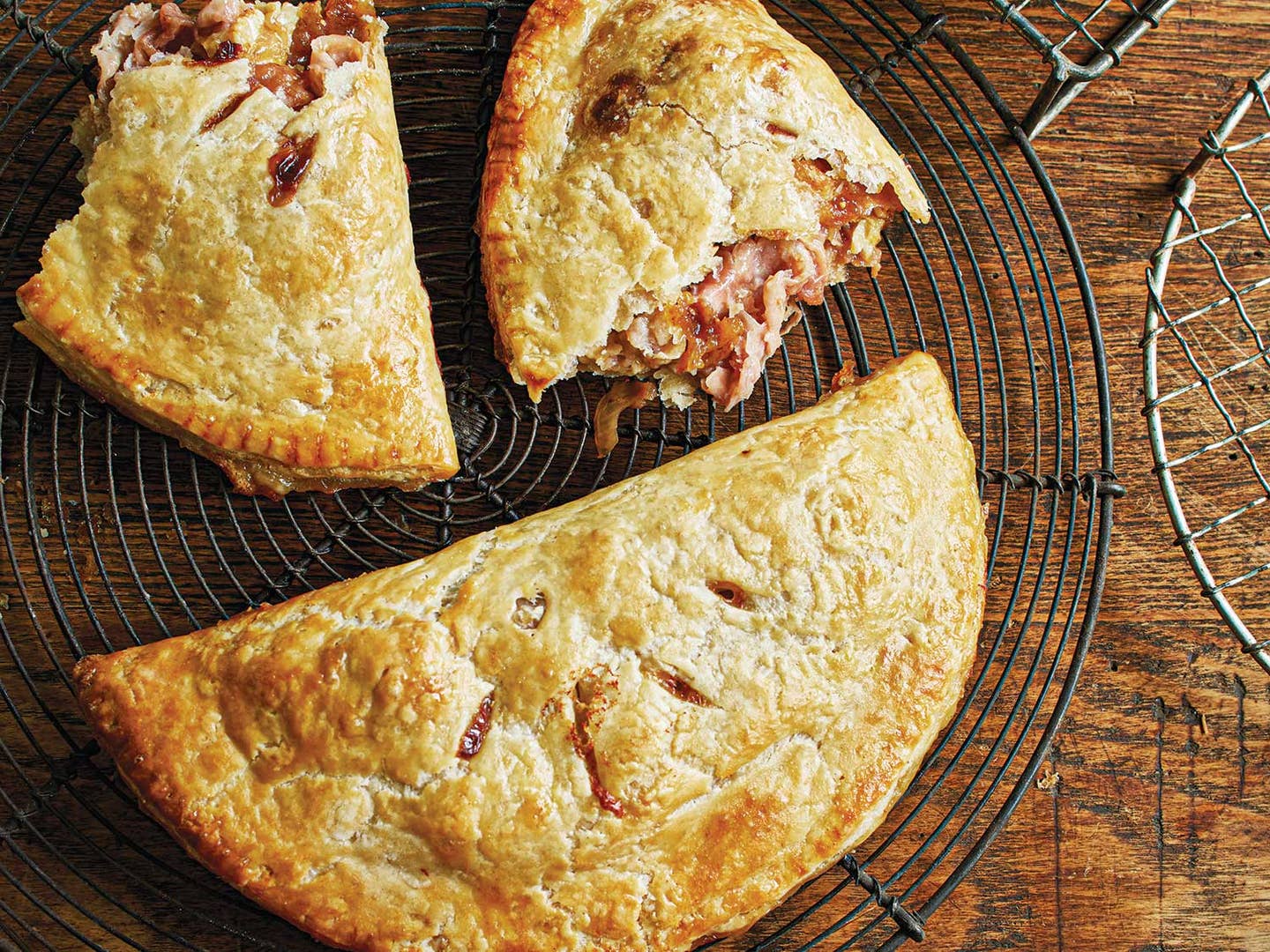 Erin Ambuster and Casey Dominguez, owners of The Salty Owl café, serve these hand pies to travelers and locals alike in the Knox County Regional Airport in Owl's Head, Maine.
Ingredients
For the dough
2½ cups all-purpose flour, plus more for dusting
1 Tbsp. sugar
1 tsp. kosher salt
2 sticks unsalted butter, cubed into pea-size pieces and frozen
1 Tbsp. apple-cider vinegar
For the hand pies
1 large egg, beaten
1⁄4 cup store-bought fig jam
1 lb. applewood smoked ham, thinly shaved
6 oz. brie or Camembert cheese, cut into 4 equal slices
Dijon or honey mustard, for serving
Instructions
Step 1
In a large bowl, stir together the flour, sugar, and salt. Add the butter and, using a pastry cutter, work the butter into the flour mixture until it's mostly incorporated. In a measuring cup, add the vinegar to ½ cup cold water. Drizzle into the flour mixture while continuing to blend with the cutter, until a dough begins to form. Turn the dough out onto a lightly floured ­surface and, working quickly, bring the dough together into a ball, then shape into a rough rectangle. Cut into 2 equal pieces, then wrap in plastic and freeze for 2 hours, or refrigerate overnight.
Step 2
Remove the dough from the freezer or fridge and allow it to soften slightly, 1-2 ­minutes. On a floured surface, roll each piece out to a 9-by-17-inch rectangle about ⅛-inch thick. With an 8-inch cookie cutter or bowl, cut 2 large circles out of each rectangle. Layer the 4 rounds with parchment paper, and freeze until ready to use. (Wrap tightly in plastic wrap if ­freezing for longer than 2 hours.)
Step 3
Preheat the oven to 400°F. Remove the dough from the freezer about 5 minutes before filling the pies. Brush the edges of each circle lightly with the beaten egg. Spread 1 tablespoon of jam in the center of each, then top with 1⁄4 of the shaved ham and a slice of cheese. Fold the dough over to create a half-moon shape, press the edges to seal, then crimp with a fork, if desired. Transfer the pies to a baking sheet lined with parchment paper, leaving 2 inches between each, and freeze until the dough is firm, about 10 minutes.
Step 4
Cut a few vent holes in the top of each pie, brush with the remaining egg wash, then bake until golden brown, 22-25 minutes. Serve warm, with ­mustard on the side for dipping.