Recipes
Mallorcas
A Puerto Rican specialty, these sweet breakfast buns are guaranteed to get you out of bed in the morning.
Serves

6

Cook

3 hours 20 minutes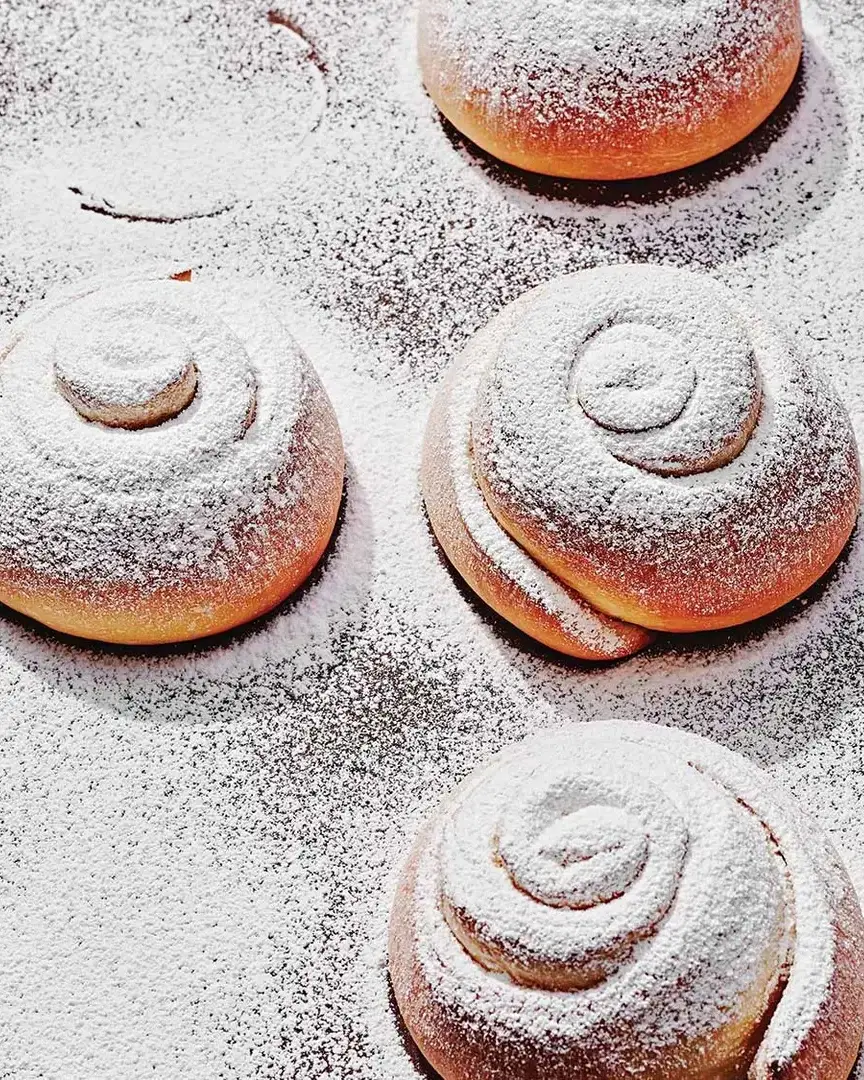 Fluffy, eggy, buttery, coiled like a snail's shell, and generously dusted with powdered sugar, pan de Mallorca is named for its land of origin, in Spain, where the breads were known as ensaïmadas. They made their way to Puerto Rico in the early 1900s and took on a life—and name—of their own. Today, the sweet rolls can be found sandwiched with ham and cheese at cafes across San Juan.
Ingredients
1 (¼-oz.) package active dry yeast
½ cup whole milk
6 Tbsp. unsalted butter, melted and divided, plus more for greasing
3 large egg yolks, lightly beaten
2½ cups all-purpose flour, plus more for dusting
¼ cup granulated sugar
1 tsp. kosher salt
Confectioners' sugar, for dusting
Instructions
Step 1
In a large bowl, add the yeast and ¼ cup warm water (115°F). Set aside until foamy, about 10 minutes, then using a fork or wooden spoon, stir in the milk, 4 tablespoons melted butter, and the egg yolks until smooth. Turn the dough out onto a lightly floured work surface and knead until the dough is smooth and elastic, about 8 minutes. Grease a separate large bowl with melted butter and transfer the dough into it. Cover loosely with plastic wrap and set aside in a warm place until just about doubled in size, 50–60 minutes.
Step 2
Butter a large baking sheet and set aside. Turn the dough out onto a lightly floured work surface, and using a lightly floured rolling pin, roll the dough out to an 18-by-8-inch rectangle. Brush the surface of the dough evenly with the remaining 2 tablespoons melted butter, then starting at one of the short ends, roll the rectangle up into a tight cylinder. Slice the cylinder crosswise into 6 equal pieces, then transfer to the prepared baking sheet, spacing at least 3 inches apart. Cover loosely with plastic wrap, then set aside until puffed and nearly doubled in size, 1½–2 hours.
Step 3
Preheat the oven to 375°F, with a rack in the center. Uncover the rolls and bake until lightly browned and cooked through, 15–18 minutes. Let cool slightly, then dust generously with confectioners' sugar. Serve warm or at room temperature.