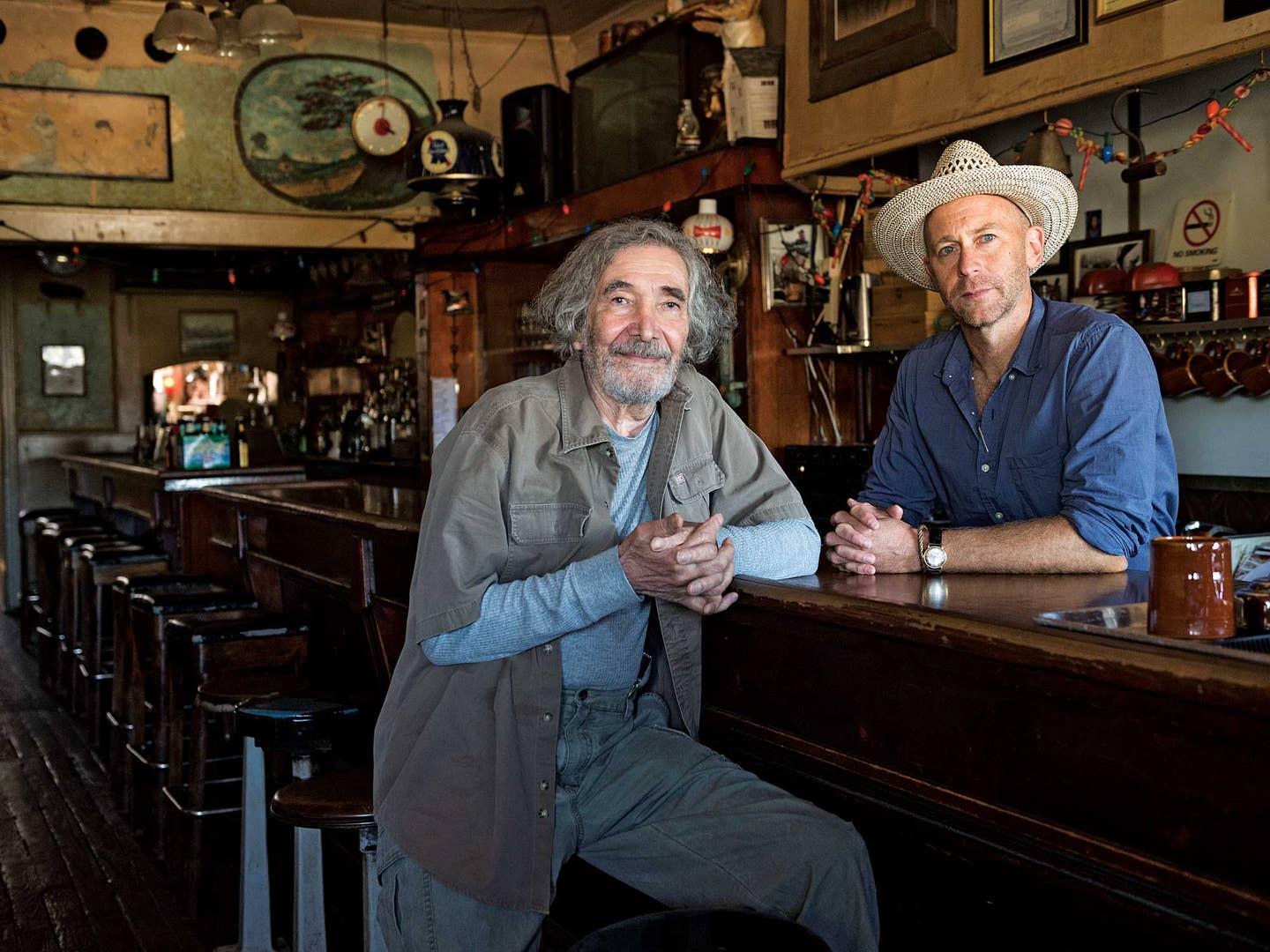 Drinks
Behind the Sunny's Connection
Mark Adams interviews Sunny's Nights author Tim Sultan on the magnetic pull of a Brooklyn bar institution
When did you start to think that Sunny and Sunny's might be a good subject for a book, and why? What was the process from idea to execution like?
I think any writer—any artist for that matter—has the same impulse within several minutes of meeting Sunny and quite a few have tried to portray him. I say "tried" because in all instances, whether it be news or magazine stories, photographs or documentaries (Anthony Bourdain even showed up for a very entertaining two-minute clip), I consider all these sketches. Not only does Sunny have a terribly charismatic personality to go with a striking face—my editor calls his features "monolithic"—but he has led a correspondingly varied life. He is not a lettered man and so one has to rely on his slow imparting of his own history. It really took me 20 years of keeping his company, sharing adventures, misadventures and many meals, all the while collecting his stories, his memories, my impressions to turn out this portrait. To figure out what to retain and what to chisel away. It's a very subjective portrait but I hope it's one with true depth.
At one point in the book, after Sunny has given a long account of a childhood experience, he says, "You need the time between the experience and the time of remembrance. It's like wine that needs to ferment. Wine has to have the time in order to give birth to something really beautiful. And experience is the same way. It takes a lot of time to go from life to art but if you wait long enough, it'll give birth to poetry. I wouldn't want to remember what I did yesterday because it hasn't fermented properly. It'd be cheap wine!" Always more eloquent than myself, Sunny gives probably the best explanation as to why this book was eight years overdue when it arrived on my editor's desk. I have a very patient publisher...
There are three main characters in the book: Sunny, yourself, and Brooklyn—Red Hook in particular. If you were sitting down for a drink with someone 20 years younger, how would you explain Brooklyn then versus now?
A weighty question about a storied place. Brooklyn in 1995 was 19th century. Enclaves within enclaves, some so distinct that crossing the borough was something like crossing a continent in miniature. It was low buildings, big sky. It was stately, tribal, vast, in pockets pastoral, in swaths unkempt and disregarded. In the evening, a green, cool refuge from the city. And as a somewhat recent arrival to the city, I was green as well. Brooklyn was unexplored territory, overlooked and unlit. It is, of course, all these things still, though considerably less so. Just as the world has, Brooklyn has contracted as well. The arrival of the internet has made it very hard to have secluded getaways and, most notably, to discover places for oneself.
To this day, I prefer traveling to other neighborhoods in the evening, socializing with other cultures. It may sound precious but there is a certain pleasure to venture elsewhere. And so, apart from a local Japanese restaurant where few are more regular than I am, my preferred dinner destination lately is a Turkish fish restaurant waterside in Sheepshead Bay, on the furthest other side of the borough. And my preferred bar is a Russian spot, sublimely frozen in time, where many of the men and some of the women bear no small resemblance to Brezhnev—and probably hold his views, as well. Jungle paths—off-the-beaten-track routes, that is—still exist in Brooklyn. I count myself lucky to have a private swimming spot where I go many late afternoons till early November to swim. No people in sight—and no clothes, naturally. And no, I'm not telling you where that is.
I think it's fair to say you're both familiar with bars and something of a New York nostalgist. What are the elements that make a great bar? What do you think Sunny's (the bar's) place is in the pantheon of NYC watering holes?
There used to be a customer named Harvey. He was a real gentleman. Always impeccably dressed as if he had stepped out of a magnificent clothing store window. A flower in his lapel, never slouched, never crossed his legs, never creased his pants. His wife would wear beautiful hats as if she was going to the Easter Parade. Harvey drank scotch and water but he'd walk out like he'd never had one. He had been deputy fire commissioner under William O'Dwyer and later had run a supper club. Anyway, Harvey loved Sunny's. He would say, "This reminds me of the bars I used to hang out in when I was a kid. This reminds me of the bars I used to hang out in during the Second World War. This reminds me of all the things I loved in life." Sunny's had that quality of reminding people of the past, some of whom hadn't even experienced the past. In that view, I would say that a great bar transports. (And drinking doesn't have to play a role in this.)  A great bar has a culture distinctive to that bar alone, which is dependent on regulars. I am certainly that—"a regular."
Everything else—the décor, the cocktails, the lighting, the atmosphere is very much incidental. The only exception is music. The music one hears in a great bar isn't music one hears frequently in daily life. The music is in accord with the time of night, with the mood of the room, with the size of the crowd. Sometimes that means no music. Few bars understand this.
Sunny's was at the summit of that pantheon. I say this without reservation, so often did I hear it. I know of two nuns and at least one member of the Five Families who would corroborate this and one wouldn't want to debate the matter with any of them. Sunny's renown came about through no effort on Sunny's part. He had a real hostility towards any sort of self-promotion. Now that he has withdrawn from the actual operations, the years catching up to him—well, I will only say that his absence now is as powerful as his presence once was.
In the book you mention attending the long-ago funeral of Joseph Mitchell, the great New Yorker writer who, like yourself, had a fondness for the characters of New York's waterfront. How did his work influence your own writing and this book in particular?
Bringing up the name Joe Mitchell in one's book is a perilous thing to do. I make no comparison—I don't have his ear, his patience, his art—other than this: He was the chronicler of the anonymous. The unsung. And I, too, have always made it a habit to get to know the overlooked. On the outskirts of the cafeteria, of town, or occasionally, of polite society. Some became writing subjects, some became friends, some are in this book.
One could read his portrait of a bar's decline, Obituary of a Gin Mill, after the owner decides to spruce up the place as a companion piece to Sunny's Nights. The parallels are somewhat uncanny, if coincidental.
Are there still places in the city—neighborhoods, blocks—where one can still capture that feeling of "anything could happen here tonight" even in the age of Yelp and TripAdvisor?
As long as there exists a variety of ethnicities and classes (and I don't just mean the criminal class), there will always be a parallel city. Several parallel cities. With unmapped, unsurveyed, unrevealed places. I may sound like an ideologue, but I very rarely look at Yelp, TripAdvisor, and the like. They have their place but in some ways, they are the dark side of the internet. You know the Louis Armstrong expression, "If you have to ask what jazz is, you'll never know?" One might say that if you have to consult Yelp or TripAdvisor, you'll never find the places you're really searching for.
I don't have any special entry to hidden New York. But I would fairly say that I have made it a lifelong habit to put myself out there to have certain experiences. It's true that much takes place at night and I have had plenty of 'while-the-city-sleeps' moments. For instance, if I didn't make it a point to occasionally stop for an ocean swim on my way home, I wouldn't know that full-immersion baptisms take place in the middle of the night in the Coney Island surf when no one is about.
I had an experience not too long ago. I drove to East New York—the easternmost neighborhood of Brooklyn. An unknown part of town for me. A friend, known in a certain circle as the James Brown of New York, was doing musical battle with someone billed as the 'James Brown of the Caribbean.' This skirmish took place in an enormous, rudimentary music hall. Hundreds could fit. Naively, I'd arrived early—before midnight—only to learn that the show wasn't likely to begin till 2 a.m. So I took a drive in my Ford Fairlane to pass the time, taking random turns in an unfamiliar neighborhood as I once had in Red Hook when I first came upon Sunny's. Suddenly, I passed a street sign for "Bradford Street." I stopped, backed up. I had never been here before but it jogged a memory. My father was born and raised on Bradford. 245 Bradford. I turned the car around and I found the building and I got out and took a long look, trying to imagine what it had been like back then. In 1918. In the 1920's. For me, the experience of anything could happen, did happen that night.
You identify your current vocation as "urban gardener." This isn't a common day job for writers. What do you do and how does that work inform your writing?
I don't think there is such a thing as a common day job for writers. For me, gardening is an antidote to a former life of mine. For a while, I worked in a magazine office in Manhattan and I confess, I spent considerable time looking at the street below and daydreaming of working out of doors. An ordinary dream. Now that I'm living it, I dream of…well, never mind that.
A friend of mine is the real gardener. I'm labor. I agitate quite a bit. Gardening is not my life's calling—no more than working in a bar once a week was—but it has its rewards. The work has a certain variety and as our clients are cut from various sections of New York's tapestry, one sees the city from many perspectives—geographically (the humble brownstone backyard to the penthouse with Central Park views) and socially. In some ways, one feels more connected to city life, more attuned to its currents. Simply said, it's stimulating to a writer.
I take it Sunny's is no longer a part of your life. Is Sunny himself?
No, truthfully I don't go to Sunny's much. And only on rare occasion does Sunny, himself, though he lives upstairs. I've been back perhaps a dozen times in the past four years but I've never felt quite at ease again. Though all the physical elements are nearly unchanged, it's a very different place or I'm a very different person. Perhaps it's the classic idea of infatuation, maturation, and eventual departure. Sunny's is an institution, a truly splendid bar, and it has a whole new generation of devotees but it is run like a conventional business nowadays. A law-abiding sort-of-place, frankly, which really means Sunny's influence has faded. He never had much use for codes or regulations, however little he was aware of them. Without trying, Sunny was an astute businessman in that he realized the less available something is, the more valuable it becomes. He opened his bar one night a week. Going to Sunny's was an experience. Today, Sunny's is open for business nearly every day and therefore, has a somewhat passing-through patronage. Younger faces, too. Many of these changes can't be helped. The neighborhood, as I once knew it, has largely disappeared and the bar has adjusted. I had my time there and the Sunny's that I depict is the Sunny's of that period, not the Sunny's of today. Someone else will chronicle that and I really believe that will be a beautiful story in its own right.
Sunny, the man, is very much part of my life. Weeks may pass without a phone call but never more than a few days without a thought, I am sure. His domain has gotten smaller since he's largely withdrawn from the day-to-day of his bar. He lives in an apartment above where he spends the better part of his days painting, drawing, pasting. Making friendship with art, as he would say. He receives few visitors, but he's happy in his realm and his skin.