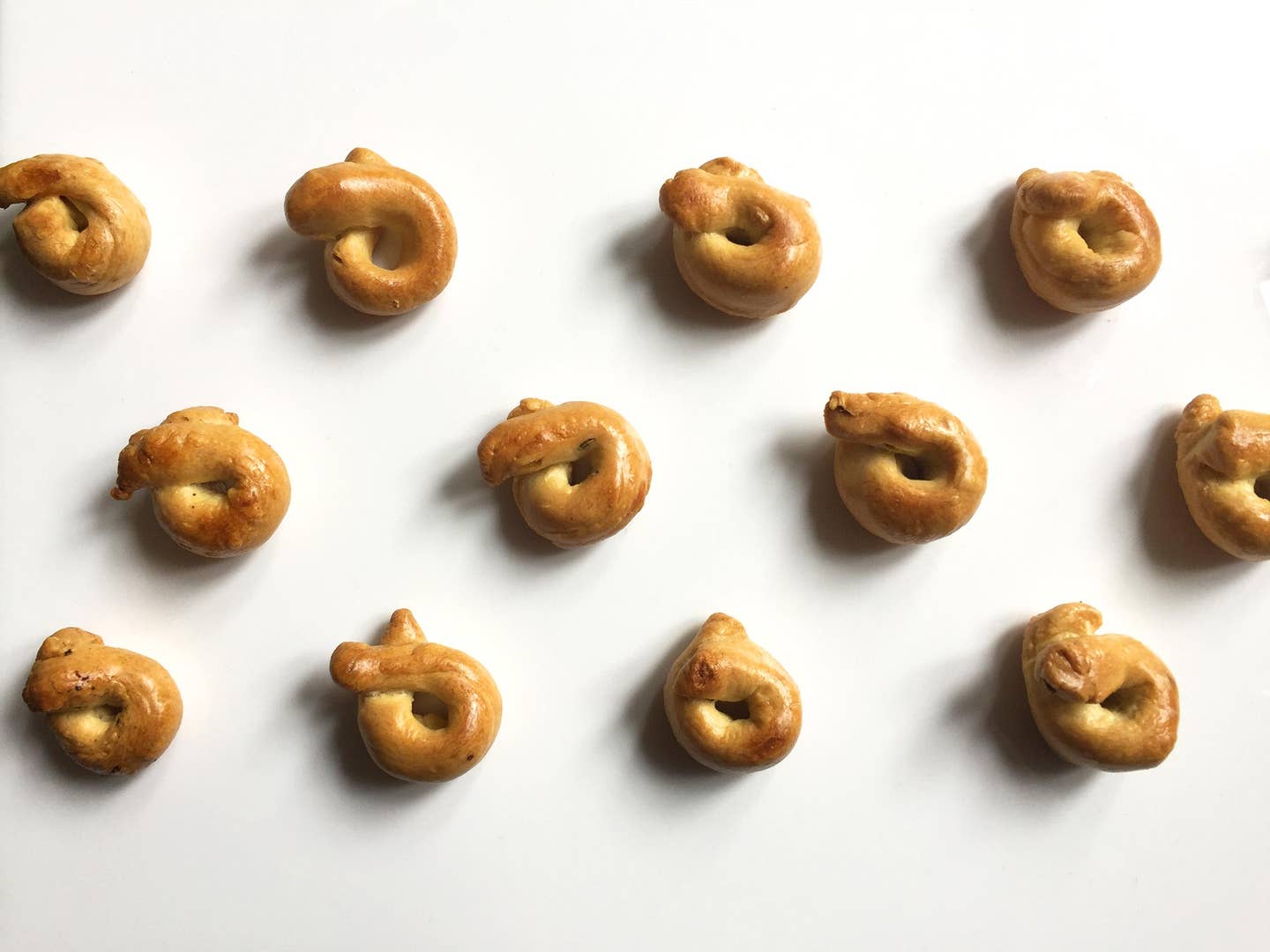 Techniques
How to Make Taralli, the Best Cracker You'll Ever Eat
We can't stop snacking on these crunchy, olive-oily biscuits from southern Italy
If you've ever spent minutes licking the last grams of sweet cream from a cannoli shell in Sicily, or picked up your bowl to lap up the final streak of ragu from a bowl in Bologna, you know Italy is a breeding ground for food fetishes. But one of my deepest Italian cravings is for something far less iconic: the biscuity, southern Italian crackers named taralli Pugliese that have seared a little ring-shaped imprint onto my heart.
Taralli are no mere crackers. Unlike the plebeian saltine or oyster, a tarallo is not a flavorless wafer, a flimsy garnish, or simply a subordinate vehicle for more delicious things. It's a hearty, olive-oil-soaked, wreath-shaped treat that, to me, is meant to be eaten in delirious succession alone—like well-dressed popcorn or really good potato chips—or at the very most alongside a salty cured meat or with a glass of red. Almost as essential to my Italian travels as the one-Euro espresso, these portable, ubiquitous snacks can be found at Italian bakeries, markets, and even airport kiosks and have fueled my way across Italy.
The Standout Snack of Puglia
Having originated in Puglia—the "heel" of Italy, home to over 60 million olive trees, some thousands of years old—the very best savory taralli taste of little more than good olive oil, lots of salt, and often either fragrant fennel seed or coarsely ground black pepper, the two most classic flavors.
You'll find sweet versions (taralli dolci) in other parts of southern Italy, such as Sicily; they're sometimes glazed, often more tender and cookie-like, and, taste, well, fine. But I prefer the brittle, glossy, and golden-brown savory versions that weep fruity olive oil and sting with a saltiness that keeps you coming back for more.
I love a packaged tarallo. Like most crackers, they keep forever and weigh nothing in your purse or carryon. (Unless you buy them by the kilo, like I did on a recent solo trip to Puglia from an all-taralli bakery called Il Tarallo Giusto.) But baking them at home is a way to guarantee there are always a few dozen on hand.
There are few tricks to baking great taralli, but they're critical to keep in mind.
Use your best olive oil. The top-quality extra-virgin stuff for the boldest flavor.
Keep your sizes consistent. This is important to make sure the crackers bake evenly. To get a feel for it, measure your dough portions by weight before rolling.
Boil, then bake. Like pretzels and bagels, taralli are boiled first before getting baked, which produces a sheen on the outside while keeping the interiors dense and deafeningly crunchy. Many recipes adapted by Americans feature yeast for leavening, but this defeats the point: The desired result is more akin to a biscotti than a bread, and fluffiness is the enemy to that concentrated crunch.
Start simple, then customize. The classic taralli seasonings—fennel seed or black pepper—are still the best, and you don't want to go crazy with anything that'd overpower the flavor of the olive oil. But there are other regional variations worth exploring, like one from Campania that features braided dough, a larger circumference, and some rendered lard in the place of the olive oil. And inventive flavors are more and more prevalent, often incorporating Italian ingredients like basil, tomato, rosemary, spicy pepperoncini, black olives, red wine, or cured pork.