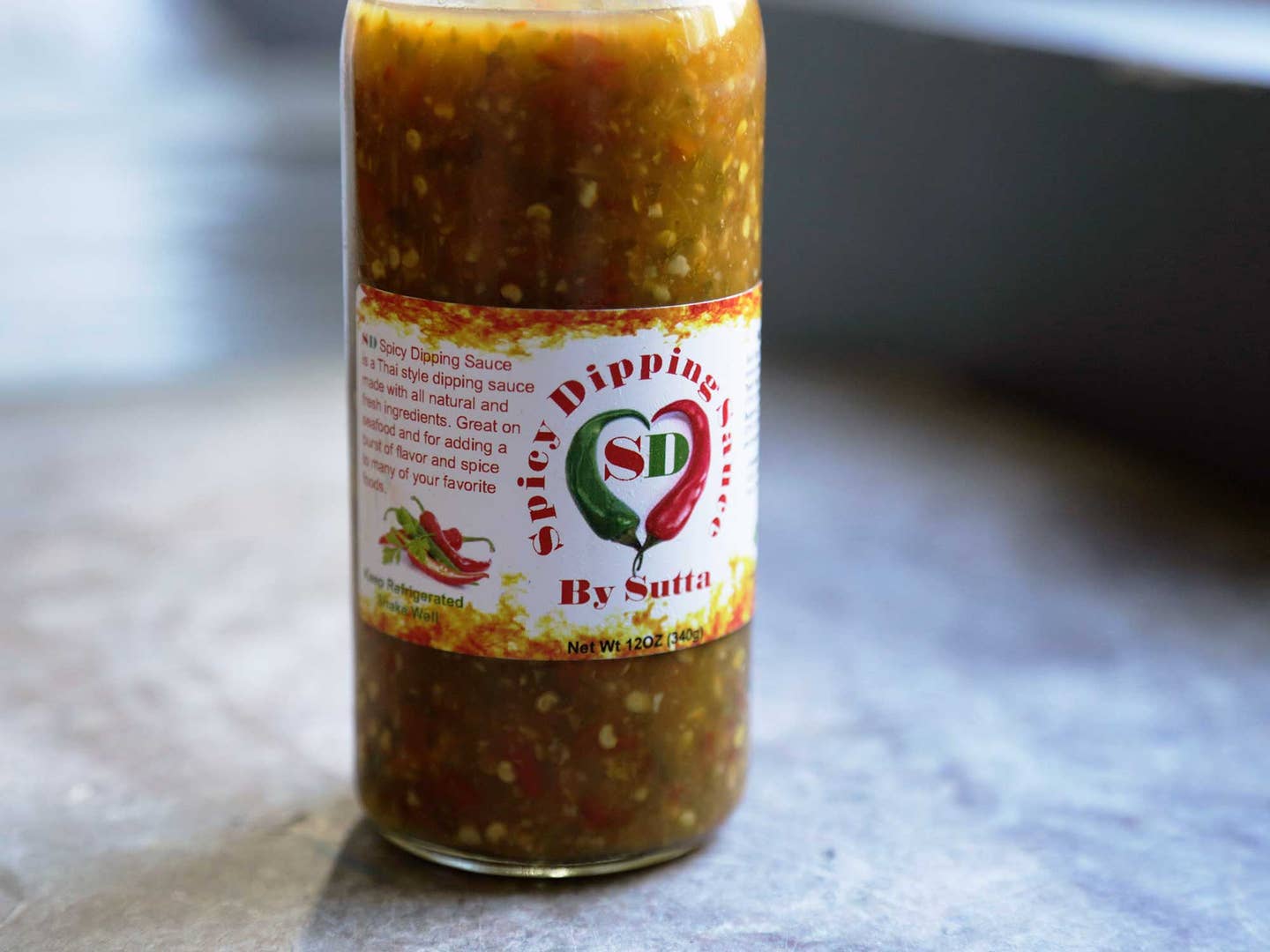 Shopping & Reviews
This Incredible Hot Sauce is a Taste of Thailand in a Bottle
Sutta's SD Spicy Sauce is your instant cure for every order of bland pad Thai
If there's one thing wrong with most American treatments of Thai food, it's how its famously hot, salty, sour, and bitter flavors all get toned down in favor of sweet. Pad Thai should not taste like it was made with ketchup, and a proper som tum should be more about lime juice and chile than sugar.
Consider this hot sauce a remedy.
The understated label calls it Sutta's SD Spicy Sauce, a demure concoction of lime juice, Thai bird chiles, garlic, herbs, and sugar. But from the moment you open the bottle, you know you're in for something serious. This hot sauce doesn't need to boast about its potency—its spice is direct and deep, and it's brilliantly rounded out by garlic, fish sauce, and a fresher flavor than you'd think possible for bottled cilantro and lime. Once the burn subsides—oh, about ten minutes later—it's hard not to exclaim with triumph, This is what Thai food should taste like.
That was the goal for Sutta Saraphum, who moved to the U.S. from Thailand in 2011 and found, to her disappointment, little in the way of the flavors she missed from home. "When I first arrived to New York," she says, "I went to the Thai restaurants that my friends recommended as real authentic Thai, but I couldn't find that real taste like back home in Thailand. Also, the nam jim sold in the supermarkets were full of preservatives, and had a vinegar base which gave a terrible taste." So in 2014, she decided to make her own.
Nam jim is Thai for "dipping sauce," and it refers to a dozen or so variations on the hot-salty-sour-sweet dynamic, all condiments to serve with vegetables, grilled chicken, steamed fish, and then some. Saraphum's SD Spicy Sauce is what she refers to as nam jim seafood, so named because, guess what, it makes everything from grilled branzino to raw shrimp salad taste pretty outstanding. Saraphum and her husband use it as a mignonette on oysters, but her customers tell her how much they love it on eggs, tacos, even pizza. I consider it a one-ingredient salad dressing. "And I always carry a small bottle in my purse whenever we go out to eat," Saraphum mentions.
In a painfully oversaturated small-batch sauce market, Saraphum's product stands out for its remarkable simplicity. There's nothing in the ingredient list you wouldn't find in a homemade recipe, and the freshness comes through loud and clear. Paradoxically, that very freshness also keeps—lime juice and sugar are natural preservatives, and in independent lab tests, SD Sauce holds up for months in the fridge.
Though Saraphum makes SD Sauce in New York and sells it mostly to Thai markets in New York and New Jersey, she ships nationwide, which makes it a nifty gift for the heat lovers and Thai food obsessives everywhere. I asked her if, after nearly two years on the market, she was looking to expand her product line. "I have some ideas on making other sauces, but right now it's only in my mind. Maybe soon I will start that."
Please, Sutta. Please do.