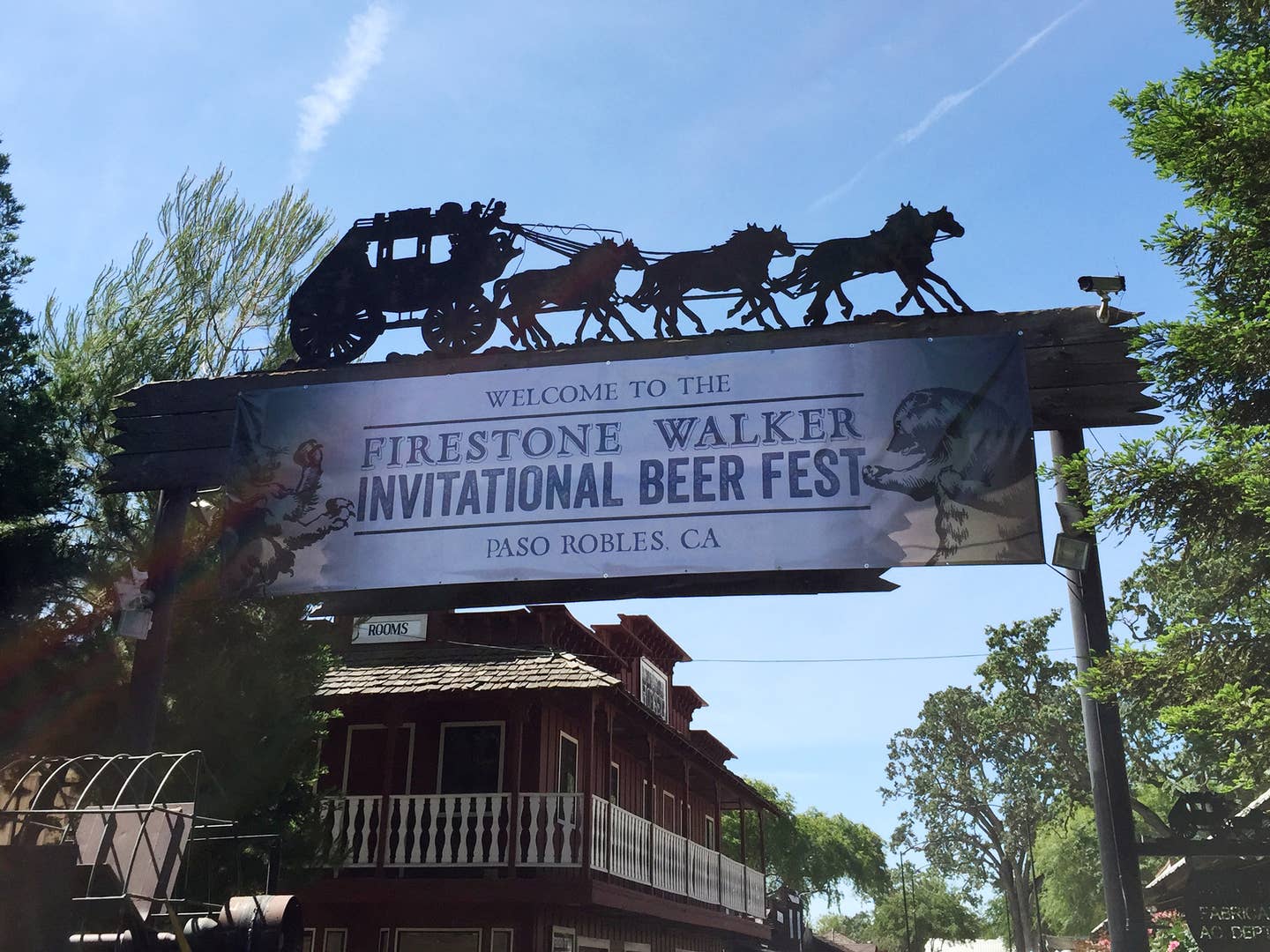 Drinks
Ticking Beer at the Firestone Walker Invitational
For those who have ever wondered what the most intense of beerfests really look like
Dehydrated. Sunburned. Wasted.
As long as I finished the day only two of these three ways I'd be fine for Sunday morning. All three and there'd be no way I'd manage a 6 A.M. flight back to New York. I was in Paso Robles—pronounced "Ro-bulls" by locals—for the Firestone Walker Invitational Beer Fest, essentially an outdoor ComicCon for us beer geeks.
Firestone Walker Brewing is an integral part of this small community nestled in the coastal mountains of central California. My Uber driver ("I'm one of eight in town!") told me on our way to the event told me that the area has as many wineries as Napa Valley, and since Roger seemed trustworthy (4.8 stars), I didn't fact check him.
Still, the closest major airports—SJC and LAX—are 2.5 and 3.5 hours away. Why (and how?!) had people come to this sleepy town on Memorial Day weekend? The answer: For one of the country's best beerfests. In February, three thousand online tickets sold out in minutes. By event time, they were scalping on Stubhub for upwards of $300.
Like any geek gathering, the festival had a slick app, created by Propaganda3, a Kansas City tech outfit. This enabled you to see all 200-plus beers to be served at the fest and, in the weeks leading up, spend your time adding beers to your "Want to Sample" list as opposed to, say, talking to your family. This was an arduous task; every brewery had brought their most coveted offerings, and no one would dare bring "shelf turds."
SHELF TURD, (n). wide-release beer that actually makes it to store shelves, eventually gathering dust since no respectable beer geek wants something so commonplace.
Thanks to a media pass I was allowed to enter the Paso Robles Fairgrounds an hour before the bearded masses decked in arcane brewery t-shirts. This would be a most crucial sixty minutes. In that time I could stalk the grounds—set up to inexplicably resemble a Wild West town—and tick off the absolute rarest beers.
TICK (v). to quickly drink small pours of beers in rote fashion, mainly to be able to say you drank them.
As a "ticker" myself, I had a good dozen hot commodities I game-planned to slug before everyone else was allowed inside. My first stop was Rare Barrel, an all-sour beermaker out of Berkeley. At their booth I chatted with the amicable co-founder Alex Wallash while polishing off two-ounce pours of his exotic offerings. Like Home, Sour Home, a wild ale brewed with peaches, cinnamon, and vanilla beans and meant to resemble liquid cobbler. I'd tasted nothing like it before.
The brewery expected to have the longest line was Indiana's Three Floyds, who had brought several of their Dark Lord variants—massive "whales" on the scene.
WHALES (n). highly-coveted, limited-release beers, also known as "white whales" or "whalez," to evoke Ahab and his maniacal pursuit of Moby Dick.
I was especially excited to get unencumbered access to a small brewery out of St. Louis called Side Project. They had brought their chardonnay-barreled Saison du Fermier and Thicket, a blackberry wild ale—both fantastic. By 12:01 there would be a line of hundreds waiting at their booth just to try these two little sips.
Such is the thirst to tick highly-acclaimed Side Project beers nowadays, that a few weeks previous, brewmaster Cory King had exploded online upon learning a mule was selling his beer on the black market for a hefty profit.
MULE (n) a person who attends rare bottle release events purely to immediately sell the beers for a hefty profit (like a drug mule).
The problem is, everyone wants to try King's beer and there's just not enough currently made. Luckily, I got to try everything I wanted, monitoring my desires on the event app, while checking in my beers on Untappd, another app used to rate and brag about beer conquests.
Still, you might be surprised to know that, to certain uber-geeks, even this incredible event wasn't providing enough ammo for their liking. Some folks were more excited about bottle shares scheduled for the evening at nearby hotels like Adelaide Inn.
BOTTLE SHARE (n) when beer geeks, sometimes only knowing each other online, gather in person to share whales. Sometimes these can be impromptu; often they are highly-organized.
Ultimately, you might ask yourself: What's the point? Why does a person need to run around a hot field—it was 91 degrees out—for five straight hours, trying to drink fifty or more tiny samples of beer? Wouldn't it be more fun to plop on an air-conditioned bar stool and get those 100 ounces into your system via five or six pints?
When it was all said and done, I'd tried The Bruery's Black Tuesday "Island Style" and Kern River's Hop Nookie and even Firestone Walker's own Parabajava. I'd checked in nearly 40 different beers on Untappd. And I was asleep back at the Courtyard by Marriott before 8 PM.
I woke up the next morning fairly hydrated, nary a hangover, and my skin with not even a kiss of a tan.
As my flight took off for JFK, to a certain extent, I felt like I'd failed.