Time to Update Your Pie Baking Tool Kit
A comprehensive guide to the best kitchen tools for bakers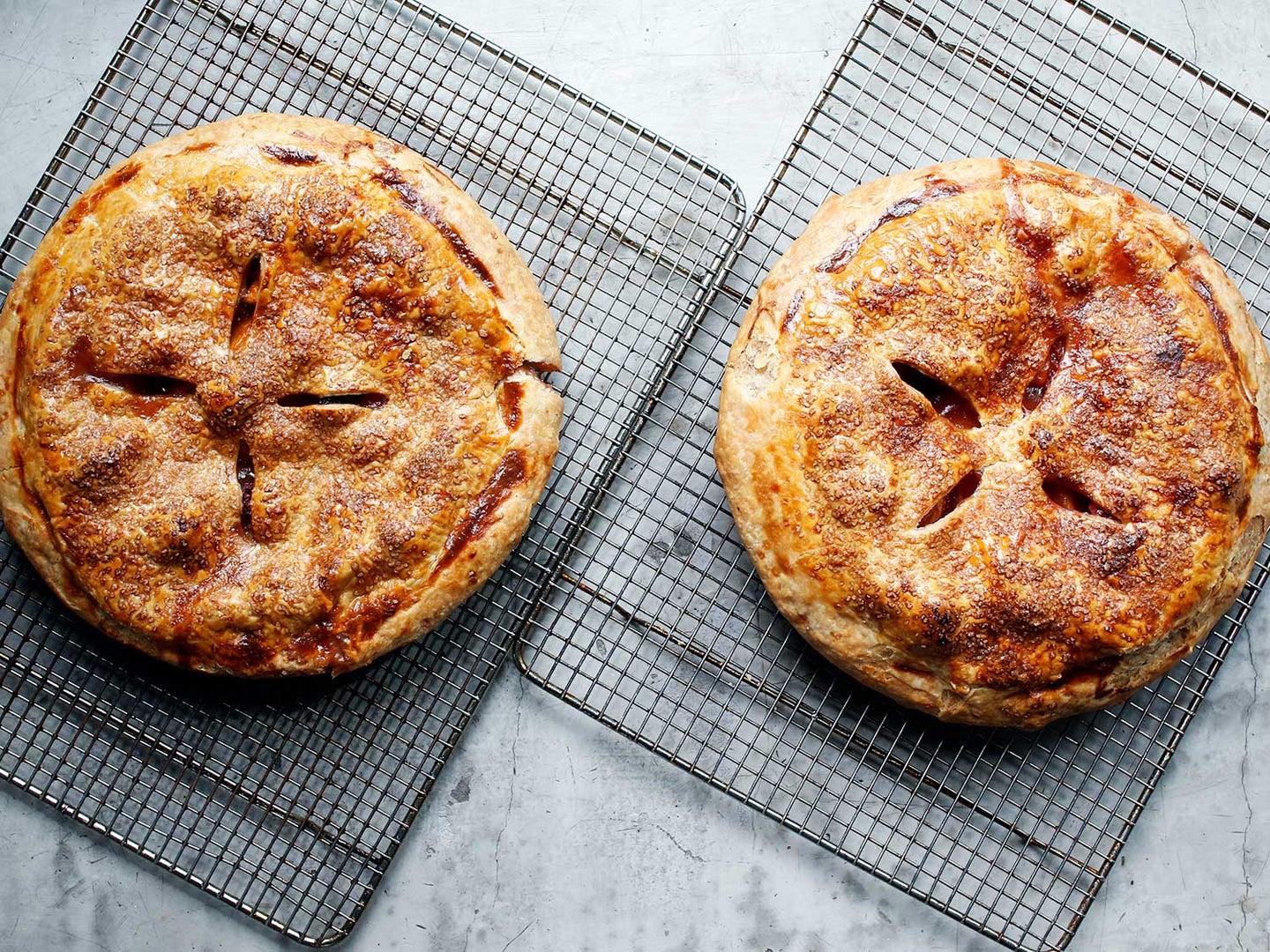 We may earn revenue from the products available on this page and participate in affiliate programs.
Pie bakers seeking inspiration need look no further than the steady unfolding of the seasons. The last blush of summer peaches makes room for autumn's bounty of crisp apples, jammy plums, and buttery pears. As back-to-schoolers take stock of their school supplies, now is a fine time to update your pie baking tool kit.
Once relegated to a humble kitchen drawer and a sensible cabinet flanking the oven, kitchen tools were no-nonsense, no-frill utensils that got the job done with little fanfare. Today, kitchen equipment borders on the extreme, with an abundance of choices in a variety of price ranges. There are instances where you can skip the bells and whistles and others where it makes sense to splurge. Whether your kitchen is cozy or commercial, stay focused on getting the right tool for the job.
Unlike a one-size-fits-all box of fresh crayons, kitchen tools are personal. It's always preferable to investigate kitchenware up close if you can, particularly rolling pins and knives, so you can get an idea of what feels the most comfortable in your hands. By visiting a retailer boasting an assortment of kitchenware, you will be able to try things on for size. Thankfully, once you've done your homework, most items are easily accessible online and can be shipped directly to your door.
For anyone staring down an empty pie plate and a fruit bowl overfilled with the best of the season, here are the pie baking tools you will find yourself reaching for again and again.
Set of 3 Pyrex Mixing Bowls
The Pyrex brand knows its way around a kitchen, having been an integral part of American kitchens since 1915. The unique properties of the glass kitchenware, (see-through, withstands temperature changes, doesn't react with ingredients) makes it dependable and long-lasting. The three glass bowls nest one inside the other, helping to free up valuable kitchen cabinet real estate.
Balloon Whisk
A good whisk can multi-task while boasting a comfortable grip. This balloon whisk is a favorite because it works agreeably in both narrow and wide mixing bowls. Sturdy and well constructed, I like the fact that it's also non-slip. It runs the gamut of tasks from blending ingredients to whipping egg whites into meringue or heavy cream into lofty peaks.
Food Service Strength Plastic Wrap
Plastic wrap does more than seal out interlopers. The right plastic wrap is heat resistant in the oven, provides an airtight seal to keep baked goods fresh, and protects pastry, pie, and cookie dough while they chill. This one boasts a non-skid, refillable box of BPA Free Professional Plastic Wrap.
Large Rimmed Baking Sheet
Long lasting, non-warping, and easy to clean, this baking sheet does it all. It fits most standard ovens and is my first line of defense for catching and containing enthusiastic pie drips. It's essential whether you are baking one pie or several. You can also use it to roast vegetables, fish, or meat.
Parchment Paper
Besides being heat-resistant, non-stick, and re-usable, parchment paper provides a wonderful surface for rolling out pie shells, top crusts and decorative cut-outs. Lining a baking sheet with parchment paper catches any drips that bubble over during baking and also protects the bottom crust from prolonged heat. A piece of parchment paper also protects the top of a pie from over-browning. I reuse parchment paper again and again and then some.
Rolling Pin
A rolling pin is a highly personal choice, but the Farberware Classic Wood Rolling Pin is comfortable to use in all pastry applications. Boasting a smooth work surface, good solid construction, and comfortable handles, it is also easy to clean.
Pie Plate
Once again, Pyrex delivers with a pie plate that happily accommodates a nine-inch pie, with consistent baking results and easy clean-up. This pie plate is no-fuss and always makes a welcome gift, (filled with a homemade pie, of course.)
Pastry Cutter
This pastry cutter means business. Equipped with heavy-duty stainless steel blades that glide through cold butter with ease and a soft grip rubber handle, it is a multi-tasking favorite. Whether making pie dough, biscuits, scones or crumble toppings, it does the job efficiently and cleans up like a dream.
Bench Scraper
A bench scraper is something I use every single day, in my home kitchen and also at a Baker's Bench in a commercial bakery. A good bench scraper does more than divvy up sticks of cold butter into manageable cubes; it helps to transfer pie dough from a countertop to a pie plate, removes stubborn bits of pie dough from a rolling pin, and makes a clean sweep of work surfaces. If you're a cake baker, a bench scraper can lend a smooth finish to frostings and buttercreams. It also handily makes neat cuts through yeast doughs and precise markings when cutting bar cookies.
Pastry Brush
Pastry brushes can be fickle; promising the moon yet not delivering. The biggest bug-a-boo with pastry brushes is finding a bristle or two tagging along in a clear view of your freshly baked goods. I've used both silicone brushes and natural bristle brushes, and I prefer natural bristles. The Carlisle 1.5 inch basting brush, which sports a high quality, lacquered hardwood handle, is my favorite. I treat it with care, handwashing it and letting it air dry. With heavy use and over time, it may need replacing, but this is the brush that has proven the most durable, with the least amount of bristle shedding.
Paring Knife
The Victorinox is a small workhorse, a 3¼" paring knife with a stay-sharp blade and contoured nylon handle. It is extremely comfortable to use for long periods of time (think flats of strawberries or bushels of apples) with a vibrant red color that makes the task at hand feel more celebratory than drudgery. Expertly crafted in Switzerland since 1884, these knives have a lifetime guarantee against defects in material and workmanship.
Wire Rack
This cooling rack pairs neatly with the abovementioned Nordic Ware large rimmed baking sheet. Crafted out of stainless steel, it is more sturdy than most, and enhanced with the addition of a cross bar, strong enough to accommodate generously filled pies. And if you're someone who has juggled a large cooling rack in a small sink full of dirty dishes, you'll be pleased to learn that this rack is dishwasher safe.
Peeler
The Kuhn Rikon is a peeler that means business. The carbon steel blade is extremely sharp and stays sharp, even after excessive use. It is ergonomically designed, making it comfortable to use whether you're right-handed or left-handed. The peeler must be hand washed and dried. (It is the peeler that laughs in the face of hundreds of apple pies, but due to its extremely sharp blade, it is a tool that is not to be taken lightly.) I couldn't face Thanksgiving without it.