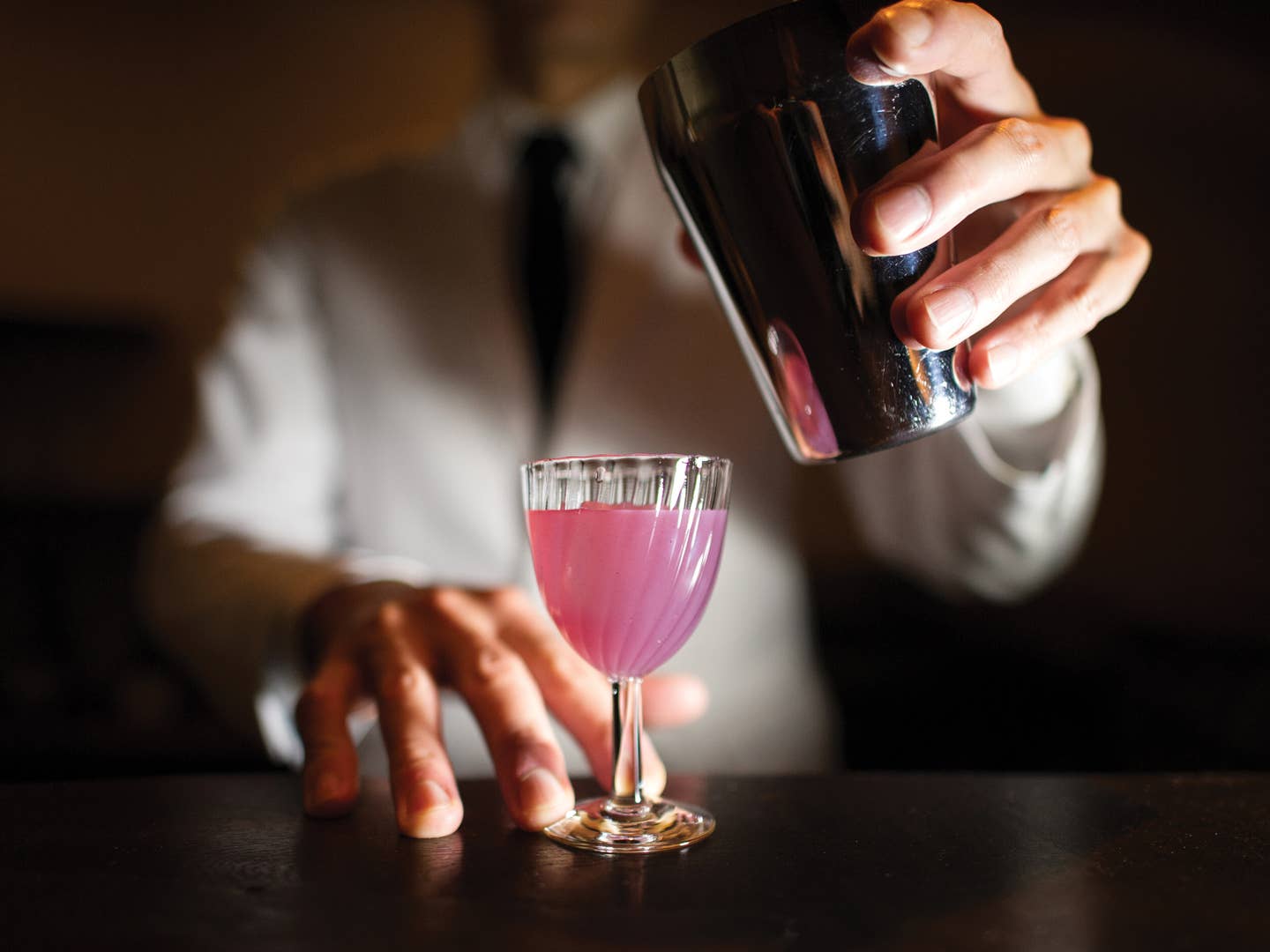 Drinks
Tiny Cocktails are the Best Thing Since Bitters
Big rewards come from small glasses, and you can drink a whole lot more of them
"Can you stay for one more?" Gen Yamamoto asks as he reaches behind his bar in Tokyo's Minato district for his mixing glass. I'm already four drinks deep—so are the two young Japanese couples next to me; they don't speak English, but they turn to hear my response anyway. Typically after four drinks, I come up short in the reply department, but Yamamoto's drinks aren't typical: they're compact, most presented in glasses just a few notches wider than a shot glass. I'll save you anymore suspense: I went for it.
It's not just the size of the cocktails at Gen Yamamoto that make the bar exceptional by Tokyo and Western standards. For one, Yamamoto only offers an omakase drink menu. You choose whether you want four or six drinks and then he plays cruise captain for the rest of the night, guiding you through a series of cocktails that highlights the fruits and herbs of the season. Most bartenders like talking about booze, but Gen speaks sparingly, and when he does it's about grapes and yams. Pulling up a seat at his bar is like taking a field trip to a farm and tasting an apple variety you never knew existed—except, at Gen's pristine bar, you don't have to smell the manure. It's fall when I pull up a seat there, so I get introduced to the tart Kagawa kumquats and the juicy sweetness of Hokkaido grapes. Still, it's the perfect size of Yamamoto's cocktails that sticks with me when I fly home the next day. All of sudden every time I order a cocktail in a bar I have the same reaction I do at movie theatres when I order a coke and get a bucket in return: Really? That's a small?
The thing is, tiny cocktails aren't new (or unique to Japan). The New York Stork Club's 1946 bar book has a recipe for a Manhattan as small as one ounce. What's surprising is that they're not still common. Small drinks have big perks: You finish them faster, so they don't sit around turning warm; plus, they're specifically suited for recipes with strong flavors like onion, which is used in Gibson variations, that are most tasty in controlled portions. When I ask one of my favorite bartenders back in New York, Tristan Willey of Brooklyn's Long Island Bar, what he thinks of teeny cocktails, he enthusiastically offers me one of his signature "Martinys" or a "Snackiri." "The cool thing about cocktails is that their recipes function in ratios perfectly," says Willey. "If you need a half cocktail, just chop the recipe in half."
Here's what a tiny cocktail hater will argue: small cocktails are a burden for the home entertainer or a bartender at a high-volume bar. Because guests drink them faster, the bartender will wind up spending too much time grinding out thimbles of booze, instead of enjoying the party (or keeping up with thirsty customers). Great point, but there's a simple solution for that at home: "I like to pre-batch things like Martinis with the necessary dilution in a bottle. Then I just keep it in the freezer, and pour out little sips as needed," says Willey.
All this goes without saying that we can't forget the biggest benefit of tiny cocktails: That is, that you can sample more of them. Which brings us to cocktail numero cinco. Yamamoto mixes shochu with warm Japanese yam and grates dark chocolate over the top, the flakes collecting in a heap on the surface like a pile of leaves. It's surprisingly light, like a slice of sweet potato pie that's been whipped at rocket speeds and warmed into a frothy caramel. After a sip, I attempt the only word I've picked up after a week in Japan: "Oishii!" Both couples cheer.
Gen Yamamoto
Anniversary Building 1F
1-6-4 Azabu-Juban, Minato-ku, Tokyo 106-0045
Reservations accepted up to one month in advance: E: office@genyamamoto.jp T: +81-3-6434-0652