Tunisian Braised Veal With Dried Greens (Tunisian Molokhia)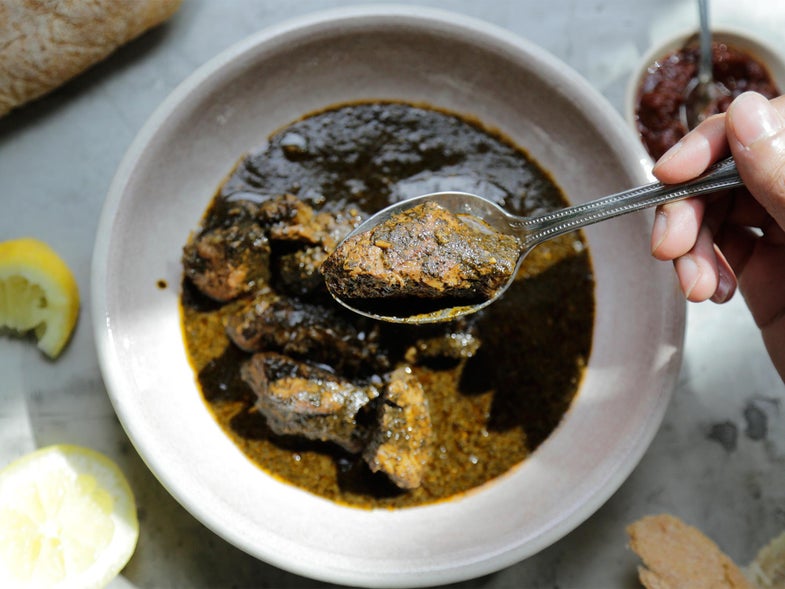 The leafy, grassy-tasting green molokhia (also known as jute or Jew's mallow) is a vegetable widely used in its fresh or frozen state across North Africa and the Middle East, however Tunisians use a dried and finely ground version of the leaves to make this rich, hearty green stew. The powder has a mucilaginous thickening quality similar to okra or filé powder, giving the finished dish a silky consistency. Consider it a nourishing, restorative aphrodisiac. Look for dried molokhia at Middle Eastern and North African grocery stores, or online.
Tunisian Braised Veal With Dried Greens (Tunisian Molokhia)
A Tunisian-style sauce rich with spices and a grassy-tasting green molokhia perfectly compliments the braised veal in this take on the popular North African dish.
Time: 5 hours
Ingredients
3⁄4 oz. dried molokhia leaves
2⁄3 cup plus 1 Tbsp. olive oil
2⁄3 cup molokhia powder
1⁄4 cup tomato paste
2 tbsp. finely minced garlic (from 6 cloves)
2 tsp. harissa paste, plus more for serving if desired
1 tsp. ground coriander
1 tsp. ground caraway
Kosher salt
1⁄2 tsp. freshly ground black pepper
2 lb. boneless veal such as shoulder, shank, or another stewing or braising cut, cut into 2-inch pieces
Lemon wedges, for serving
Baguette or other crusty bread, for serving
Instructions
In a sieve or spice grinder, grind molokhia leaves into a powder, which should yield about ⅔ cup.
In a large saucepan, bring 8 cups of water to a low boil. Set a heatproof liquid measuring cup next to the stove.
In a large Dutch oven or heavy-bottomed pot over low heat, combine the oil and molokhia; let cook just until lightly bubbling and sizzling, then immediately and briskly whisk in about one cup of the boiling water. As soon as the water is completely incorporated, whisk in another cup. Raise the heat to medium and whisk in the remaining hot water; bring to a simmer, then reduce the heat to medium-low, cover and cook, stirring every 20 minutes to prevent the bottom from burning, until the mixture has turned a dark, nearly black green, 2 to 2 ½ hours.
Whisk in the tomato paste, garlic, harissa, coriander, caraway, a generous pinch of salt, and the pepper. Add the veal, then raise the heat to medium-high to bring the mixture back up to a simmer. Once simmering, reduce back down to medium-low, then continue cooking, uncovered, stirring every 15-20 minutes until the meat is tender, and the sauce has thickened and reduced by about two thirds, 1 ¾ to 2 hours.
Taste and adjust the seasoning as needed. Ladle into bowls and serve with lemon wedges for squeezing, more harissa if desired, and crusty bread.