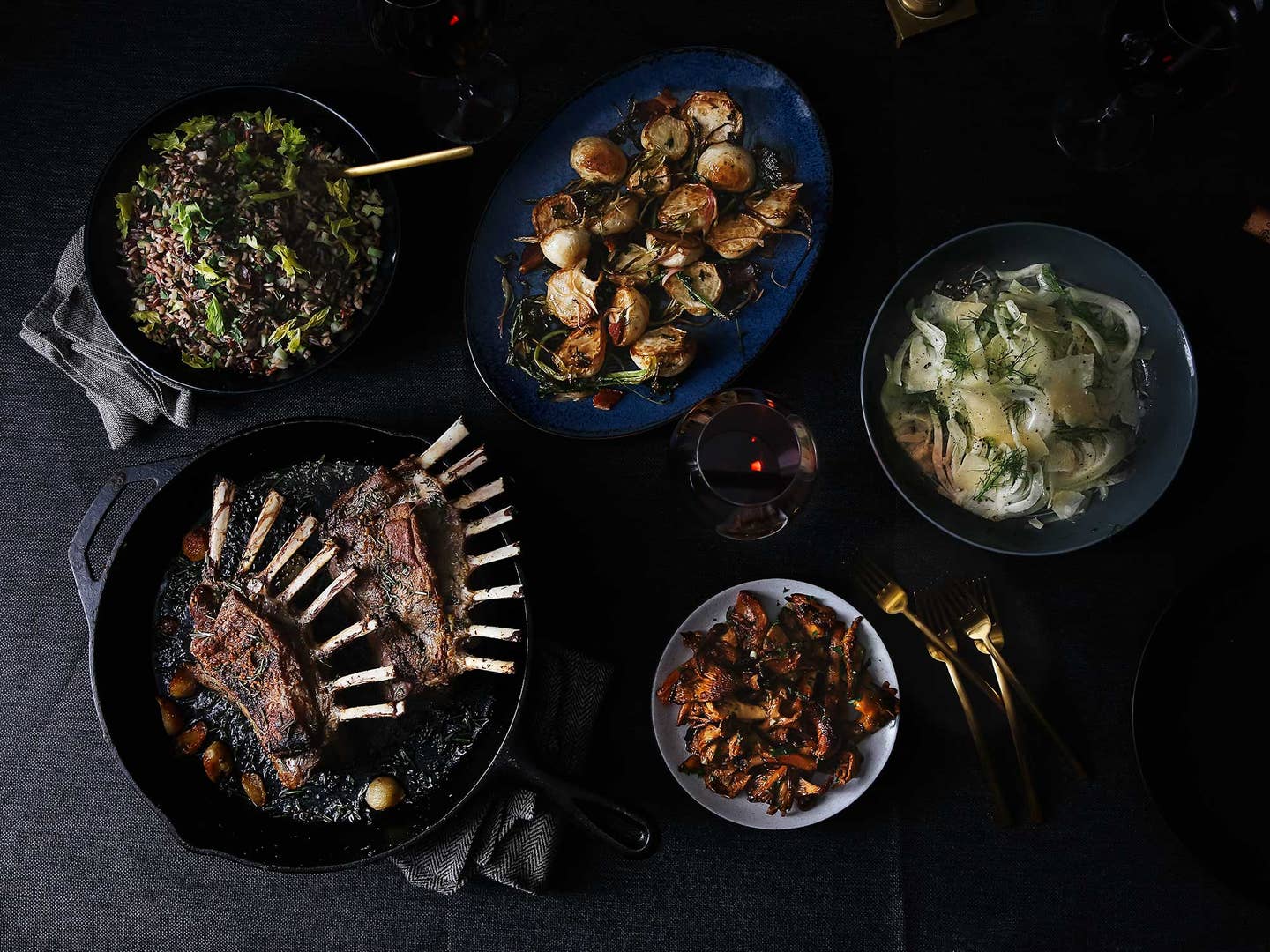 Recipes
The Ultimate Holiday Dinner Menu, in Under Two Hours
Test kitchen director Stacy Adimando shares six timeless, easy holiday recipes from the SAVEUR archives—with notes from her own Christmas dinner test run this week
It's exactly one week until Christmas, which means—as the test kitchen director of a major food magazine—my text and emails are basically a constant stream of friends and family and colleagues asking, "What should I make for our holiday dinner?!"
For many of us, there are a few common pillars that define a holiday-worthy dish. Seasonality factors in: there's no point turning to tomatoes on Christmas, say, when the markets are flush with flavorful produce from chanterelles to turnips to pears. A good holiday dish also has to be easy to scale up to suit the number of folks you are feeding (for my sister and I this year, that's around 35!). And finally, most people look for something special and stand-out about dishes to serve on holidays—either that the dish looks ornamental, has an over-the-top factor, or will just be something your guests haven't ever seen before. No pressure, right?
Right. It is possible to have all of this and still find time to watch holiday movies on the couch with your pants discreetly unbuttoned in between courses. The trick is to choose recipes that distribute the work among various times of the day and various parts of the kitchen (rather than choosing all long, slow roasting recipes, for example, which cause a traffic jam in the oven.) Some dishes should be served chilled so they're ready in the refrigerator hours before, others can be quick-sautéed in pans 10 minutes before the meal, and the remaining recipes can roast or bake—some quickly and others slowly.
To prove that this is possible and that you can do it all—in under two hours with minimal help—, I revisited the SAVEUR recipe archives online. This compilation of 6 timeless dishes are a perfect, easy to pull off menu of starters, entrees, and sides to turn to if you don't have a go-to repertoire of holiday staples. Or, even if you do.
I made this recipe almost exactly as written, except that when I couldn't find delicata squash at the market, I pivoted and used acorn squash. (Hell no I wasn't going to another market just for a single squash.) I also happened to have sour cream leftover in the test kitchen fridge after a recent mid-afternoon nacho binge, so I used that in place of the crème fraiche called for as a garnish in the recipe. Finally, I thought the soup was perfectly sweet on its own, so I replaced the suggested drizzle of maple syrup with a fruity extra-virgin olive oil. The results: This is a sweet, satisfying, and just-fancy-enough starter. You can make this literally days ahead and reheat and garnish just before serving.
Rack of lamb is a crowd-pleaser, and in terms of roasts, it's a smart choice for a holiday because the total time it spends in the oven is only about 10 to 15 minutes. You can buy the racks already Frenched, and fully season them up to a day before you cook them. I picked up a few racks and doubled this recipe. The lamb came out perfectly—my only tweak was to add about 5 minutes of cooking time to the roasting step because the lamb was a bit too rare for my taste when it came out. I loved the trick about tossing the garlic cloves into the pan just before roasting—they flavored the drippings and were delicious to munch on themselves as an accessory to the dish. But since we're big garlic lovers in my family, I also grated about 3 of the recipe's total garlic cloves on a microplane and slathered the mixture onto the seared lamb before roasting it.
This is one of those dishes that tastes equally good at room temperature as it does hot, so I boiled the rice a few hours in advance of eating to get the clunky pot out of the way as early as possible. Bonus: You boil the rice like pasta, in far too much water, so there's almost no chance you can over- or undercook it. (I heavily salted my rice boiling water with about 1 tablespoon kosher salt.) The recipe calls for cooking the celery along with the other aromatics (onions, garlic), but I thought crisp celery would add a nice texture dimension to this dish, so I left mine raw after finely chopping it. And I completely omitted the step of sauteeing the rice, aromatics, and stock all together in the pan (I didn't use the stock at all).
I prefer a salad of crisp, cold shaved fennel over a lettuce green any day. And after turning to this on so many holidays, now my family does, too. This version could not have been simpler, which I loved, because I know it would add something light and bright to the meal while taking almost no time at all. Slice the fennel even a day ahead, and store it in a bowl of cold water in the refrigerator. I added the juice of about half a lemon to give the salad a kick of acidity, and shaved all the cheese into big thick strips using a vegetable peeler.
If you haven't had a turnip in a while, get thee to a grocery store. I'm not sure why people don't flock to this as a go-to ingredient in lieu of always serving potatoes or another heavy starch at holiday meals. They are filling and starchy but the smaller ones take just minutes to prepare and still retain a pleasant crunch when cooked in this way. We left the greens attached to ours instead of cooking and dressing them separately; in one fell swoop, both parts of the turnip were cooked. And rather than waste time cutting raw bacon into lardons, I crisped mine whole in a skillet then coarsely shattered the pieces over the top. You can serve this warm or at room temperature, and you can also make the bacon well in advance: it doesn't need to be hot either.
Chanterelles are rare, hyper-seasonal, and expensive, which is why just a small batch of these golden-brown pan-sautéed ones was my "splurge" side dish. As impressive as they are and as much of a treat to eat, these chanterelles are an incredibly easy, one-pan dish that you can do at the very last minute when it's time to serve (read: when everything else is already done). The secret is to get the pan scorching hot, not overcrowd it (cook in batches instead), and stir or shake the pan infrequently to let the mushrooms deeply brown. I even forewent the bacon in this dish—substituting olive oil for the bacon fat—because I had used bacon in the turnip dish before. The mushrooms were meaty, sunny colored, and a delicious accent to the lamb.