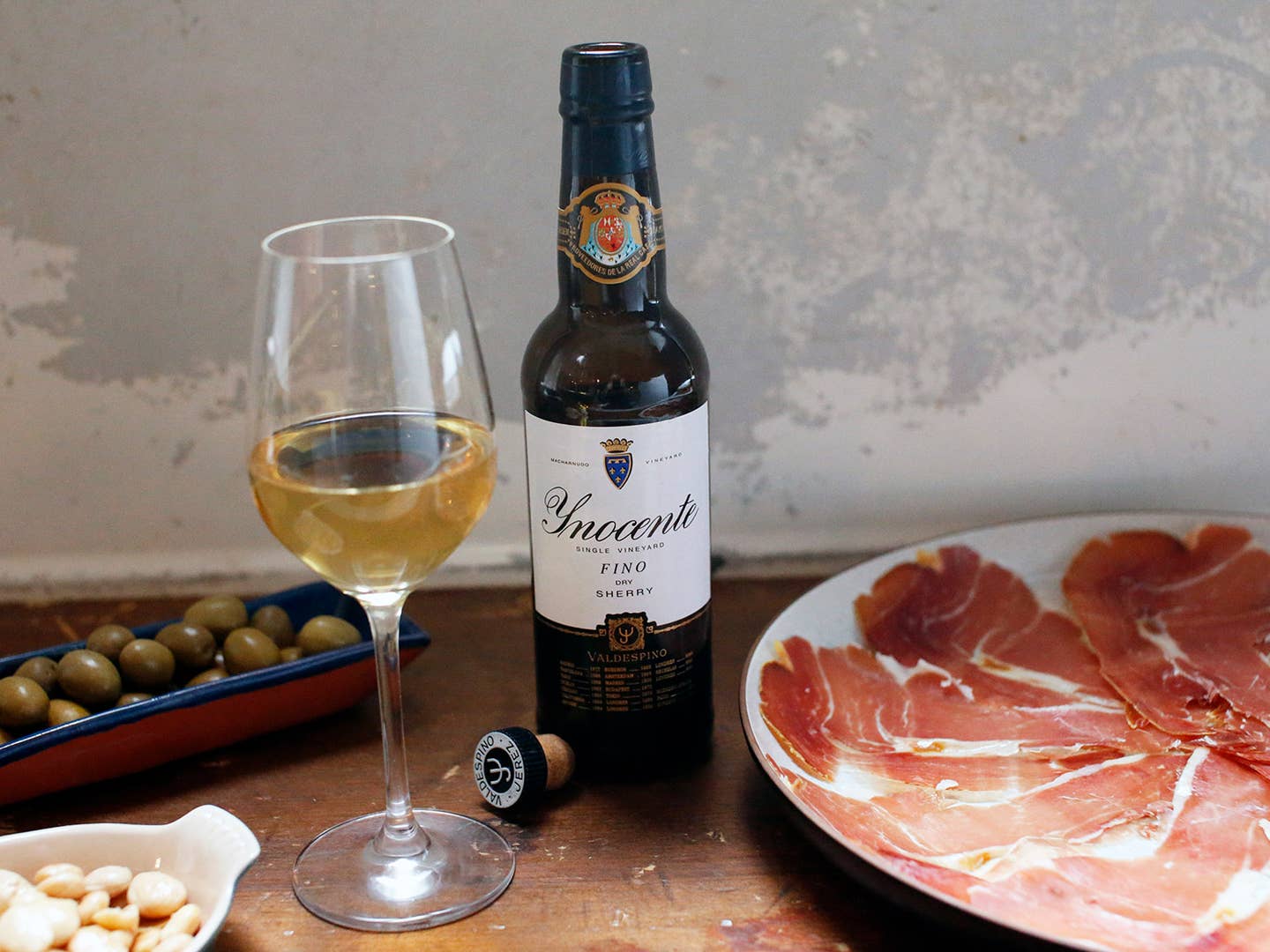 Drinks
Valdespino Inocente Might Be the Best Wine Bargain in the World
One of the world's greatest wines, for the cost of a Chipotle burrito
If you care about wine, an unhappy fact of life is that the prices of your favorites are probably going up every year. What was yesterday's under-hyped gem gets big on Instagram, and all of a sudden the new vintage is double what you used to pay, if you can find it at all. I am usually happy for the winemakers, especially if they're a small-scale independent operation—they work unbelievably hard, and more or less nobody is in this to get rich. But it is still a bummer!
So I was surprised by my reaction when I was browsing my local wine shop recently and saw a half-bottle of one of my favorite wines, Valdespino Inocente, going for $11. I was vaguely offended? It seemed somehow unjust for one of the world's great wines to be going for that little. At the same time, though, it objectively rules that you can grab a bottle for the price of a Chipotle burrito.
And Inocente is one of the world's great wines. It's generally understood that these wines express the soil they were grown in, the terroir. Inocente comes exclusively from Macharnudo, a martian landscape of white chalk on a hill outside of Jerez, in southwest Spain. It's the product of careful and traditional winemaking, too: Inocente is fermented in wooden barrels with indigenous yeasts. Then it's aged for ten years or so under a veil of protective yeast as it moves through a ten-stage system of barrels called a solera.
But you know what? Don't get bogged down in the details. Sherry is one of those categories that sommeliers and other wine geeks enjoy and buy much more than the general drinking public. I think this is because there's so much minutiae, as though you can't drink and enjoy it without a perfect understanding of the solera system, or being able to rattle off the difference between a palo cortado and an oloroso.
Instead, if you've got an extra $11 in your grocery budget this week, just give it a shot. Some geeky wines can sometimes be hard to find outside of major cities, but this isn't one of them. If you live in the United States, the best wine shop near you will likely be able to special-order it at the very least. And if you don't like Inocente on its own, it also works nicely in cocktails.
The best wines are more than a beverage—they're a portal into another culture that happen to get you buzzed. So pick up some almonds and olives, maybe some jamón if you're feeling fancy, and pour yourself a well-chilled glass. You are not going to find a greater monument to Spanish culture between here and the Prado Museum.