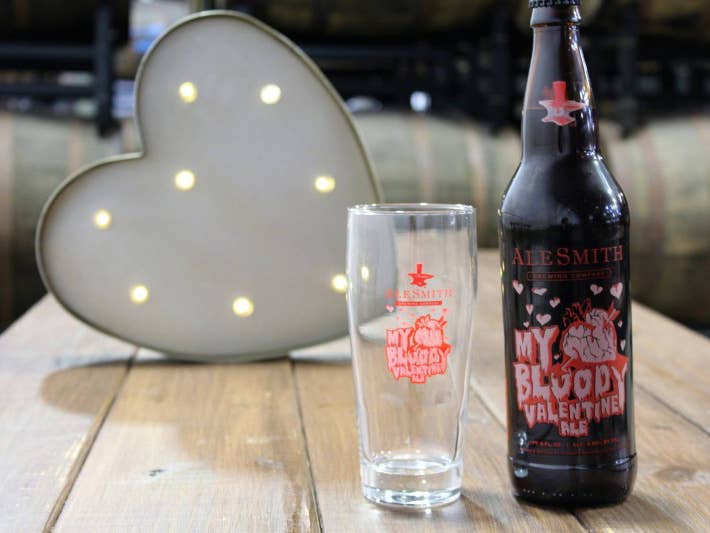 Drinks
The Brew: Valentine's Day Beers to Help You Drink Away the Pain
Three beers to get you through everyone's least favorite holiday.
Whether you're coming off a difficult breakup, celebrating a blossoming love affair, or just plain wanting to hook up for the night, Valentine's Day offers countless reason to drink.
If you're timeworn and wary of the holiday like me, you'll probably be staying in—in which case a big bottle of syrupy stout, like Brooklyn's Black Ops or Foothills' Sexual Chocolate, would be perfectly acceptable, especially as a post-dinner drink with a big slice of chocolate cake. But after a week of eating more than my fair share of Reese's mini peanut butter cups and assorted truffles from the communal office candy bowl, I'll be ready for something sans chocolat.
One option is AleSmith's My Bloody Valentine Ale, a 6.66% ABV ruby-colored ale with aromas of perfumed flowers and an unexpectedly sweet, caramel-like finish. Amber ales are traditionally well balanced and approachable which means that they're quite easy to pair with food (along with saisons and brown ales, they're the workhorses of beer-and-food pairings), but notice that on the back of the bottle AleSmith recommends pairing this beer with "jilted lovers, reservations for one, or your favorite emo record," the latter of which would have me rocking American Football's pensive 1999 self-titled album or, more embarrassingly, Taking Back Sunday's saccharine "Tell All Your Friends." It would also pair equally well with anything from the world's saddest cookbook.
If your heavy heart requires something with a little more oomph, in terms of both bitterness and alcohol content, try hunting down a bottle of Bitter Valentine. With its brilliant orange color and huge aromas of grapefruit, pine, and resin, this double IPA from Williamsburg, Virginia's Alewerks, is one of the best beers made on the East Coast. This year's batch was bottled just this week, which means that it's impeccably fresh and should be in stores soon. Sadly it's nearly impossible to find outside of the Old Dominion.
Finally, for those who have need of something tart, dark, and sour this year, check out The Bruery's intriguing Tart of Darkness. The base beer is a simple stout, but The Bruery—experimentalists through and through—age it in oak barrels with a proprietary blend of souring bacteria and yeast. The result is a sour stout that is one of the best beers I've tried recently. Powerfully flavorful and complex to no end, the tartness is rounded out with a smooth sweetness from the roasted malts and an unexpected, almost red wine-like tannic structure. The flavor profile changes almost from sip to sip, with nutty richness giving way to waves of face-puckering sourness. For a food pairing, think about complimentary flavors, like tart goat cheese and dried sour cherries. And, if you must, you could even drink it with a heart-shaped box of dark chocolate candies.