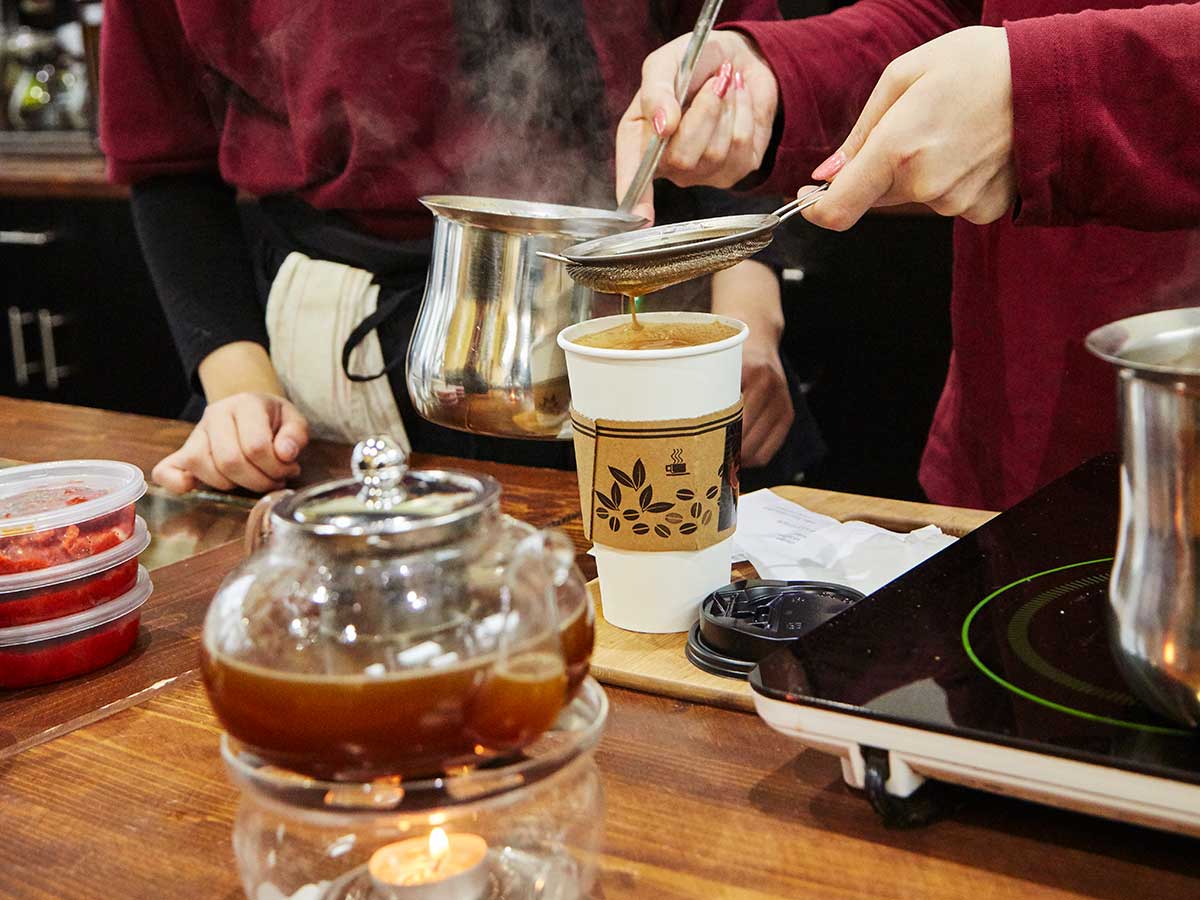 Drinks
This Michigan Coffee Shop is Bringing Yemeni Coffee to the Masses
And its immigrant owner is helping a country in conflict, one cup at a time
When someone mentions the country of Yemen, many might be hard pressed to make an association beyond the civil conflict that's been happening there for the last four years, causing untold deaths and devastation. To most outsiders, details are scarce and known personalities even rarer—the faces, the culture, and the traditions are largely hidden away by violence.
Ibrahim Alhasbani, who came to the U.S. from Yemen's capital city Sana'a in 2011—during a different crisis there—wants to change that, through something many people everywhere can relate to: coffee.
Alhasbani is one of nine siblings, almost all of whom remain in Yemen along with his parents but for one brother also in the U.S. There, since the time he was growing up and still today, his family farms coffee. After several years living in New York, he moved to Dearborn, Michigan, in 2016 to be near his wife's family in time for their first child to be born. Two years later, he opened Qahwah House, selling hard-to-find Yemeni coffees and beans imported directly from his family's farm in the Haraz region.
"I always had plans to do something with the coffee. I know that Yemen is the birthplace of coffee and I wanted to share that with people," he says. In his home country, every city, every area, has its own style, made with different methods and spices. There and at his shop, these might include a mix of cardamom, ginger, cinnamon, or all three. "Some drinks use just the coffee husk," Alhasbani adds. "It's like decaf—it doesn't have a lot of caffeine."
That version, called qishr, which is also served at Qahwah House, actually comes from the coffee plant's so-called cherries, which contain seeds wrapped inside husks. They are removed from the fruit, then dried inside their husks. To make qishr, the husks (with the beans removed) are brewed with ginger and cardamom to make a spicy, low-caffeine drink that's halfway between a tea and coffee.
Sana'ani style coffee is a kind made in Alhasbani's hometown of Sana'a, and is his favorite. Medium roasted beans are mixed with fragrant cardamom. Mofawar, an identical blend, adds cream. Rada'ey is a light roast brewed with ginger and cardamom. And jubani, which Alhasbani says is the most popular with his Michigan customers, is a mixture of medium- and light-roasted beans, husks, and cardamom, cinnamon, and ginger.
While he introduces people to types of Yemeni coffee drinks daily, he and his shop also offer a dose of history. "We try to tell people about the story of coffee, when it started, who were the first to try it. How it got everywhere in the world," says Alhasbani. Wild coffee likely originated in Ethiopia, but the beans then made their way across the Red Sea to Yemen where they were cultivated. It was said to be initially adopted by Sufi Monks as early as the 1400s to help them stay awake for midnight prayers, and eventually it spread to everyday use, according to Mark Pendergrast in his book Uncommon Grounds: The History of Coffee and How it Transformed our World. By the mid-1500s, the majority of coffee consumed in the world came from Yemen.
The Ottomans took control of Yemen in 1536 and the Yemeni port of Mocha was the main exit point for the beans. As a result, coffee from the region was eventually referred to as "mocha"—slightly different than its meaning today. "Yemen was the first to commercialize coffee on a large scale," writes Jeff Koehler in his book Where The Wild Coffee Grows. While the details on when exactly Yemen started growing its own coffee beans remain less concrete, according to Koehler, the Ottomans drove the advancement of the farming there, financing the construction of terraces and irrigation networks that greatly expanded the cultivation.
As coffee's popularity grew, people brought seeds to other countries and gradually the trade expanded. "By 1720, Mocha's coffee trade had peaked and it lost its monopoly. The port's decline was steady," Koehler writes.
Coffee has yet long remained a part of Yemeni people's everyday life. Alhasbani remembers spending time at his family's farm, picking the berries from the window of the adjacent house and smelling his mother roast and grind beans. "In Yemen, if you visit anyone, before they give you water they have to give you coffee," he recalls. "I can't even remember when I started drinking coffee because I was so little, I was a kid."
The country hasn't had much of a foothold in the global coffee industry since the 16th century, and yet it's increasingly known today among coffee connoisseurs for growing some of the best beans in the world. These can fetch a price of up to ($45 for just 4 ounces)[https://www.portofmokha.com/product/9559523846]. But at Qahwah House, the prices hover around $30 for a pound of beans, about $5 for a cup of coffee, and $20 for a pot. Alhasbani has been able to avoid charging customers a premium thanks to his family's farm. "We can control the price," he says. So far, he has brought over two shipments of green beans from there, the last one arriving two months ago. "When we send the shipment from Sana'a to Aden, that's the worst part. It's a big risk because we don't know what will happen on the roads because of the fighting and attacks from outside," he says. "From Aden it goes on a boat first to Saudi Arabia and then into Virginia. It takes about three months until I receive the shipment."
These days, Alhasbani spends hours at the shop roasting coffee beans in five-pound batches. He recently signed a lease at a larger location in Dearborn where he plans to get a bigger roaster so he can start selling more beans wholesale. The new location will also have storage room and another café.
Through the growth, his mission remains the same: "I have to support my family there and it's my mission to give back. People can't find food in Yemen and are dying from hunger," he says. To that end, he recently paid for food for 100 families for one month. He also donates to education causes locally and in Yemen. He hopes to do more, but for now, it will be from Michigan, through coffee.
"It's not just about a shop, it's about the story of Yemeni coffee beans," he says. "I want to show people what we have—that it's not just bad things over there—and how we can do something for Yemen and help the people there."