The 2017 SAVEUR Gift Guide: New Cookbook Essentials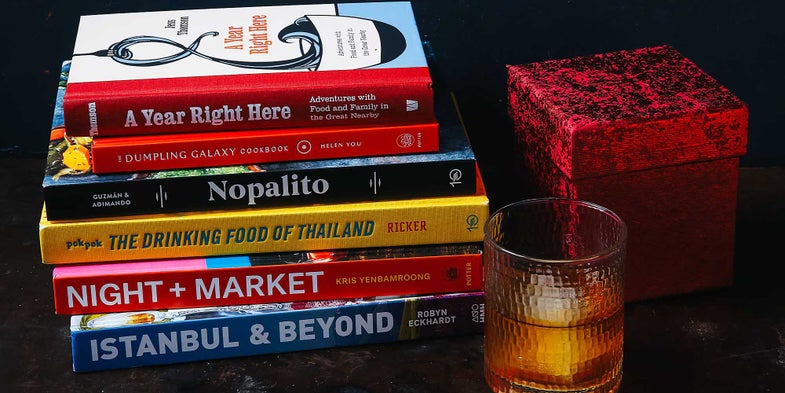 2017 was a strong year for cookbooks, with baking bibles, new guides to diverse cuisines, and must-read yarns on food and culture the world over. Here's our favorite releases, new and old, for everyone on your list.
Hands down, the best baking book of the decade. Stella Parks was an award-winning pastry chef before she became a recipe developer, and she's always been something of a mad genius. BraveTart covers the wide and complicated world of American desserts, exploring the science and anthropology behind red velvet and pumpkin pie in equal measure.
Los Angeles chef Kris Yenbamroong's debut cookbook represents the best of the U.S.: bridging his Thai heritage with his American identity while drawing influences from everywhere for a wildly creative project that's uniquely his own. He can cook, of course, but he's also a chef of color who's changing the way journalists and eaters talk about food. In Night+Market, the recipes and stories are Thai, but also not Thai, and LA but also hyper-specifically Yenbamroong. It's American cooking, with everything that connotes.
SAVEUR test kitchen director Stacy Adimando pairs up with Mexican-born chef Gonzalo Guzmán, who named the book after his beloved restaurants in San Francisco (nopalito also means "little cactus leaf" in Spanish), for a modern introduction to Mexican cooking. It's a mash-up of his favorite regional dishes from all around Mexico, and a love letter to the ingredient that he, and many other chefs from southern Mexico, call king: corn masa.
This book (written by Robyn Eckhardt and shot by David Hagerman) does an incredible job of covering the diversity of Turkish food. You can find everything from standard street foods, like balik ekmek, to hearty salads from the Anatolian region of Turkey. The food is great and the photography is stunning, and you will definitely learn a lot about the country.
Test kitchen associate Kat Craddock spent a good chunk of last winter testing through the recipes in the new POK POK book on Thai drinking food. Long story short, Kat didn't poison herself while testing home-fermented sausage, all the recipes worked, and she closed out the project with a newfound obsession with and appreciation for Thai cuisine. The spicy, aromatic ribs cooked under water is a new family favorite and the garlicky sour pork sausage fermented in banana leaves is addictive and delicious with sticky rice–just don't forget to chill a few cans of beer to wash it all down.
For this dumpling-making manual, Saveur editor Max Falkowitz teamed up with Helen You of New York City's acclaimed Dumpling Galaxy to give you all the tools and technical insights you need to make Chinese jiaozi—dumplings—in classic combinations like pork- and chive and American originals like salmon and dill. It's the perfect thing to give to someone looking for a new cooking project.
In the beginning of A Year Right Here, author Jess Thomson describes what she calls "The Here List": a physical list of places in the Pacific Northwest that she wanted to see and experience with her family, including her son Graham, whose mobility is limited by cerebral palsy. Her adventures span an entire year, and she does everything from razor clamming to truffle hunting. It's funny, sad, and emotional, and a perfect food-related read for the holidays.
Cipe Pineles was an award-winning designer and art director who lent her talents to the likes of Vogue, Glamour, and Seventeen Magazine back when women's magazines were just beginning to take off. A lifelong food-lover, she had hand-painted a book of recipes that she never managed to publish. A few years ago, Wendy MacNaughton and Sarah Rich discovered the long-lost manuscript at an antiquarian book fair, and have since published it as Cipe had originally intended. With beautiful paintings, the original and adapted recipes, and essays from designers, artists, and food folks alike, the book is a treasured testament to Cipe and her art.
A chef memoir that stands the test of time, Gabrielle Hamilton's Blood, Bones, and Butter is brutal, heartbreaking, and inspiring in equal turns. By the time you're finished, you'll want to be Hamilton's new best friend, and you'll stand with her in judgment with her towards anyone who can't appreciate a proper negroni.