The 2017 SAVEUR Gift Guide: Home Decor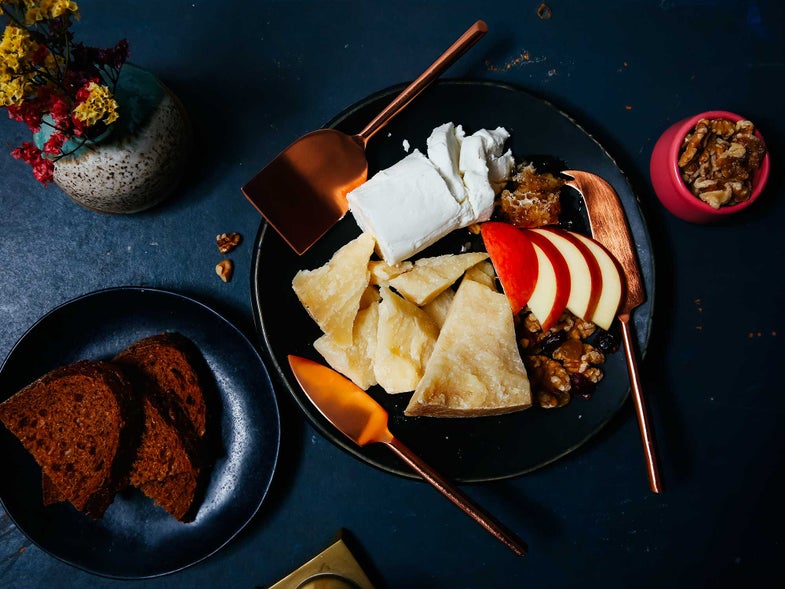 We've rounded up the stemware, serving platters, ceramics, and other design objects that we'd kill to have in our homes.
We can't emphasize the importance of having a beautiful cutting board on hand for impromptu cheese plates, baguettes, or preserves. These angular oak boards are perfect for serving, and also look lovely hung on the wall of a kitchen.
Are you sick of looking at your old clunky water filter, and the amount of space it takes up in your refrigerator? Soma solves these problems, and more, with their sustainable and sleek design. Not only does this double as an elegant water carafe for your next dinner party, but this product and its packaging are green and made from recyclable materials.
There's a joke going around the office that you know you've made it when you have Aesop hand soap at your kitchen sink. A favorite of trendy restaurant bathrooms around the world, the soap has a luxurious feel and lasting natural aroma from a blend of woodsy and citrusy essential oils. At $40 a pop, it's not what you'd call a standard purchase, which makes it the perfect treat for a friend.
Recreation Center, the ceramic outlet of Josephine Noel, is known for it's bright colors and geometric patterns, and her series of pitchers is no different. They sell out quickly, but if you miss the one you're after, there's always another design to immediately fall in love with. The pitchers are our favorites, but the plates, mugs, and planters are stunning too.
Wolfum is the textile / pattern company of Annabelle Inganni, and her wooden breakfast tray features a charming all-over print of a quartered boiled egg. Made from birch and printed at her LA studio, all of her products blend geometric patterns with organic elements that are as beautiful as they are functional.
Add warmth and color to your cheese plate with these copper cheese knives, a more affordable way to bring copper into the kitchen.
A thick strap of leather to protect an Ikea coffee table is overkill, you say? Nonsense. Skip flimsy fabric and fragile clay for these handsome coasters.
This japanese titanium mug is extremely light for backpacking. The rest of the year, it communicates to your coworkers that you're rugged and outdoorsy like no Yeti ever could.
Made to the specs of the INAO, the French wine tasting bureaucracy, these glasses are the normcore answer to gigantic and fragile Zaltos, and are the perfect thing for sipping a few ounces of whatever you feel like.
Ayers' mug designs make an excellent gift that straddles both rustic and modern—the geometric shapes lend angularity to otherwise (a beautifully) rough-hewn ceramic finish.
Colectivo 1050 is the commercial arm of Innovando la Tradición, a project founded by Kythzia Barrera to support, preserve, and advance Oaxaca's 35 distinct pottery traditions. In a Oaxaca City storefront and online, 1050 sells a range of pieces made by their artisan partners, including this stunning wood-fired water jug polished with quartz on the exterior to develop a rich, almost metallic sheen. Its swooping curves, shaped by potter Silvia García, won over the curators at the MoMA Design Store, and it's beautiful enough to keep on the table as a centerpiece.
PIECES home design was born to give people options. Playing with color, shape, and material, every element of their products are customizable, and the options are only limited to your imagination.